Donor Gratitude
Wilf Family Celebrates Thirty-One Years of Scholarship Support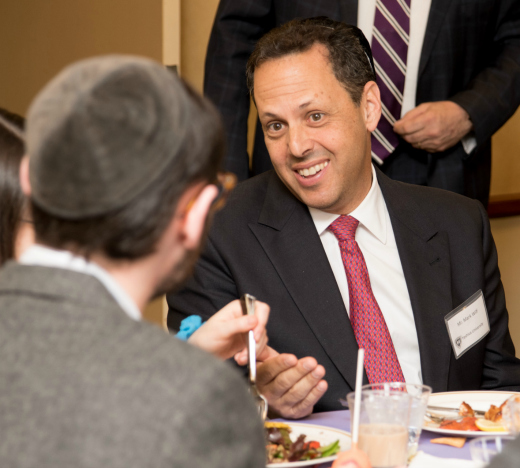 Yeshiva University President Richard M. Joel hosted the annual Wilf Scholarship Luncheon on Monday, April 11, 2016. Forty student recipients of financial assistance from the Wilf Family Distinguished Scholarship Fund met with members of the Wilf family and senior YU administrators. The Wilf family has been among the most generous donors to YU. In addition to providing scholarship assistance, the family named the men's campus in Washington Heights and created a new cardiovascular research center at YU-affiliated Albert Einstein College of Medicine. Zygi Wilf and his wife, Audrey, were there, along with Leonard, Mark, Jonathan, Steven, and Brett Tanzman.
As President Joel noted in his opening remarks, "This luncheon marks thirty-one years of scholarship support from the Wilf family." In 2015-2016, the program supported 96 students and disbursed $1,537,793.  "It has always been a small number of people who have lead society and civilization," he said directly to the students. "The people who invest in you, invest in you because they precisely want that from you.  You have leadership roles, and that's why you're here today."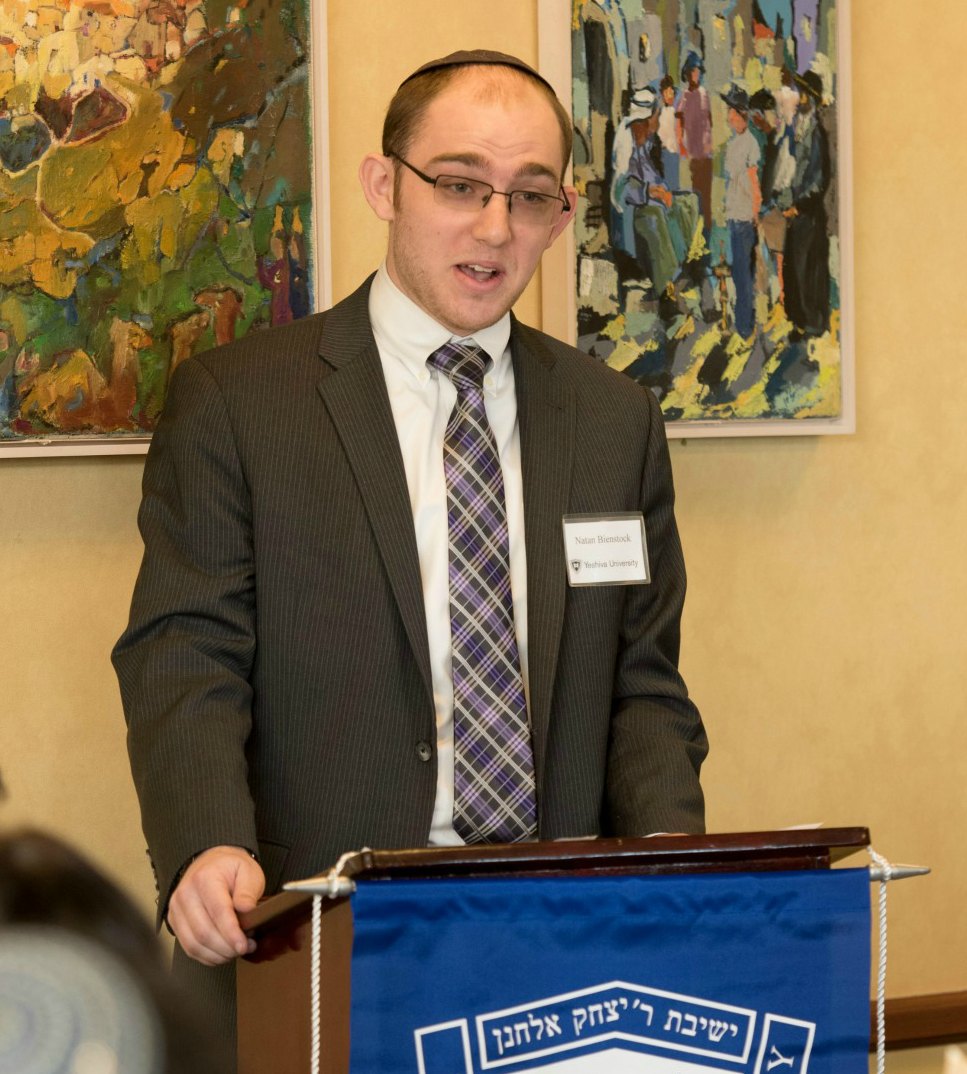 President Joel then introduced Natan Bienstock, a senior in the Jay and Jeanie Schottenstein Honors Program and a Wilf Family Scholarship recipient. Being at YU, Bienstock said, has made so many things possible. As often as he can, he tries to give back through volunteering and coaching. "This is just part of my attempt to repay the tremendous debt that I owe the Wilf family for believing in me and allowing me to fulfill my dream of attending Yeshiva University."
Several students volunteered to speak about the ways their scholarships have helped them.  Elan Teichmann, a senior, spoke with pride about how Torah Umadda has made him value intellectual openness. Through his actions, he said, he will strive to ensure that Judaism always plays a part in the great conversation going on in the world.  Avital Shulman enjoyed the variety of options open to her, from research with her professors to taking a music course where her final composition was played by a professional quartet.
Alexander Maged's life was literally changed by the scholarship, since it allowed him to connect with Jewish life in a way that has brought him great delight and direction.  Chana Bushee, from a small city in Wisconsin, echoed the same sentiment, thrilled that she had so many opportunities to pursue her passion for pre-med and research.
When Leonard Wilf took his turn at the podium to respond on behalf of the family, he marveled at the three decades of support his family has given the University, and described what he called his "philanthropic truism" about providing scholarships: "If you give a building, you give a building," he said.  "But if you give a scholarship, you not only invest in the University, you invest in people.  In my way of thinking, we get a 'two-fer' for that investment – in you as a person and in the University as a whole."
Mark Wilf, who received an honorary degree from YU at the 91st Annual Hanukkah Dinner and Convocation in December 2015, added that "it gives us such hope and energy to know that the Jewish community and the future are in such good hands."  He lauded President Joel for his leadership and promised that the family's support will continue.  "We love coming and being with all of you, and we wish you all the best for many years to come."

(l-r): President Richard M. Joel, Mark Wilf, Zygi Wilf, Audrey Wilf, Steve Wilf, Jonathan Wilf, Brett Tanzman, and Leonard Wilf.
 Annual Scholarship Reception: A Time for Thanks
On Tuesday, March 15, 2016, President Richard M. Joel and the Board of Trustees hosted the Annual Scholarship Reception, on the Israel Henry Beren Campus.  The reception brought together scholarship donors and the students they support for an evening of celebration, sharing, and gratitude.  Marjorie Diener Blenden, a member of the Board, ably emceed the event, and Arianne Pinchot and Jacob Herenstein,  two YU students, spoke on the importance of their scholarship support.
Philip Friedman, treasurer of the Board, recounted his upbringing in the Soviet Union where he had to learn Hebrew for his bar mitzvah in secret, and observed that his passionate support for education comes from the belief that no Jewish student "should be denied an education that teaches them their religion and beautiful heritage."
This is why, in 2009, he endowed the Alexander Friedman Scholarship Fund in honor of his father, which awards multiple need-based scholarships each year, complete with offers of paid summer internships at Friedman's company for the students and possible full-time employment once they graduate.  "I feel very grateful to be able to give back and make it possible for many people who might not have had the chance to pursue Jewish studies to do so in such a fine place as YU."
Arianne Pinchot, who hails from Skokie, Illinois, is graduating this May with a degree in education.  She spoke with feeling about how important YU is to her family: four out of the five children in her family are currently enrolled in YU (not to mention her 26 cousins and 13 aunts and uncles who have attended YU, with five more coming next year).  Arianne and her three siblings are getting some scholarship support.  "Today, because of your generosity, every student has the chance to attend Yeshiva University and partake in all of the incredible opportunities offered here," adding that "you enable me, my family, and the rest of the student body to strive for greatness as individuals and as contributing members of am yisrael [the people of Israel]."
Jacob Herenstein, from Teaneck, New Jersey, majoring in accounting with a management minor, echoed Pinchot's gratitude for how a scholarship has made it possible for him to pursue a future in real estate.  Herenstein is very active in campus life, from being Vice President of the Yeshiva Student Union to peer tutoring at Sy Syms School of Business, and loves the variety of opportunities that can be found "nowhere but here."  "In real estate," Herenstein said, "nothing happens without committed investors.  The same must be said about education, and donors like you are the investors that make it possible for students like me to succeed."
In Fiscal Year 2014, YU awarded $45.9 million in undergraduate scholarships.  To read more testimonies about YU scholarship assistance, click here.
Please Continue Your Support
Your gift to Yeshiva University enables us to provide a superb education in both Jewish and secular studies, as well as opportunities for Jewish leadership and interaction with communities throughout the world. We would be pleased to arrange for you to visit our campuses or to introduce you to a student who has benefited from the generosity of donors like you.
For more information and to arrange an appointment, please contact us at 212.960.5376 or DonorRelations@yu.edu.