---
Our History
---
Yeshiva University has grown from a small yeshiva offering some secular education to Jews on the Lower East Side of Manhattan in 1886 to a prestigious, multifaceted institution that integrates the knowledge of Western civilization and the rich treasures of Jewish culture.
Yeshiva University today supports three undergraduate schools (including honors programs and Torah studies programs), seven graduate and professional schools, renowned affiliates such as the Albert Einstein College of Medicine and the Rabbi Isaac Elchanan Theological Seminary, a diverse multitude of scholarly centers and institutes, and several libraries, a museum and a university press, located on campuses both in the United States and Israel.
One of the marvelous aspects of a Yeshiva University education is the way the University's multiple disciplines intersect. Students pursuing semicha at the Seminary can also take advanced courses in counseling and therapy from the Ferkauf Graduate School of Psychology or Wurzweiler School of Social Work. Students at Sy Syms School of Business are tutored by renowned Roshei Yeshivas on Jewish law and contracts, while science researchers at Stern College for Women convene conferences that bring together leading lights of science, bioethics and religion. Computer science majors sit in on lectures by the chief information officers of huge institutions as they struggle together to master the ethical dilemmas posed by big data and algorithms.
Add to this intellectual ferment such activities as humanitarian missions to flood-ravaged areas, scores of student publications, running national non-profit organizations founded by YU students like College EDge and START Science and a respected athletics program, and it is clear that Yeshiva University is a vibrant, forward-looking institution that offers its students multiple ways to design lives and careers of service and purpose.
Past Presidents
Now in its second century, Yeshiva University has been led by four presidents. Learn more about the visionaries whose lives and ideas have uplifted YU and its mission: our past leaders Dr. Bernard Revel, Dr. Samuel Belkin, Dr. Norman Lamm and Dr. Richard. M. Joel.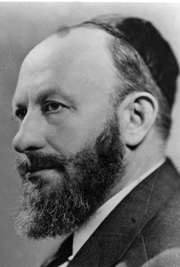 Dr. Bernard Revel pioneered Yeshiva University's ideological mission of Torah Umadda, the concept of a successful, creative synthesis of the study of Torah and the arts and sciences.
Educated at several great European Talmudical centers and later at the University of Pennsylvania, he was awarded a PhD by Dropsie College in Philadelphia, the first conferred by that school. He exemplified in his own life the harmonious blending of knowledge that was a key factor in his vision.
In 1915, Dr. Revel became president of Yeshivat Eitz Chaim and Rabbi Isaac Elchanan Theological Seminary, which had been chartered by New York State in 1897. From the merger of these two institutions, guided by Dr. Revel, Yeshiva University would evolve.
In 1928, the institution's charter was amended to authorize the granting of Bachelor of Arts and Bachelor of Science degrees. This made possible the establishment of Yeshiva College, the first college of liberal arts and sciences under Jewish auspices. That same year, the Main Building (now David H. Zysman Hall) was dedicated, marking the beginning of the Washington Heights campus.
In 1933, the institution was authorized to grant honorary degrees of Doctor of Humane Letters and Doctor of Laws, and several years later, incorporated a graduate program, now the Bernard Revel Graduate School of Jewish Studies.
Dr. Revel served as president until his death in 1940.
Dr. Revel's greatest legacy was the creation of the nation's first liberal arts college under Jewish auspices, the realization of his ideal of a vital synthesis of Jewish and general studies, which became the philosophical foundation for Yeshiva University.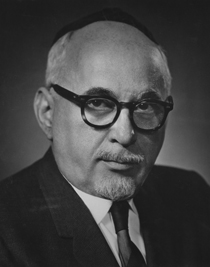 Dr. Samuel Belkin, elected president of Yeshiva University in 1943 and inaugurated a year later, developed the University's philosophy of synthesis with a broad academic and physical expansion program.
Like his predecessor, he studied at a succession of European yeshivot and at major American universities, Harvard and Brown, receiving a PhD from the latter. Under his leadership, Yeshiva became a university in 1945—the first under Jewish auspices—and grew steadily.
During Dr. Belkin's administration, the University's charter was amended 11 times, each change adding new degrees and new schools. Stern College for Women opened in 1954 with 33 students, and in 1955 the Albert Einstein College of Medicine admitted its first class of 56. Two years later, the Sue Golding Graduate Division of Medical Sciences was added. Also during that year, the School of Education and Community Administration divided into two units, now the Ferkauf Graduate School of Psychology and the Wurzweiler School of Social Work.
In 1959, Dr. Belkin announced his "Blueprint for the Sixties," a program of intense development. The plan resulted in the completion of a library, classrooms, residence hall, and science and student union facilities at the Main Campus (now the Wilf Campus in uptown Manhattan), classroom and residence hall facilities at the midtown campus, new quarters for the Graduate Center (now Brookdale Center in Greenwich Village) and a hospital and other medical facilities at Einstein.
Dr. Belkin guided the creation of the Benjamin N. Cardozo School of Law, the first law school in North America under Jewish auspices, formally dedicated in April 1976. In 1975, at the request of the Board of Trustees, Dr. Belkin assumed the position of chancellor. He died the following year.
Dr. Belkin's dream, which he turned into reality, was to build a university that would encompass the four dimensions of human knowledge: the study of natural science; the study of social sciences; the study of man himself; and the study of the moral and spiritual purposes of life.
Dr. Norman Lamm—distinguished rabbi, philosopher, teacher and author—was elected president of Yeshiva University in August 1976, succeeding Dr. Samuel Belkin and Dr. Bernard Revel. He was the University's third president and the first native-born American to head the nation's oldest and most comprehensive Jewish institution of higher learning. He served as chancellor of the University and rosh ha-Yeshiva of its affiliated Rabbi Isaac Elchanan Theological Seminary from 2003 until his retirement on June 30, 2013. He died on May 31, 2020 at the age of 92. 
Born in Brooklyn, NY, in 1927, Dr. Lamm received his elementary and high school education at Yeshiva and Mesivta Torah Vodaath. In 1945, he entered Yeshiva College, where he continued his Jewish learning and undertook a liberal arts program with a major in chemistry. He graduated summa cum laude in 1949 and was class valedictorian.
Upon graduation, Dr. Lamm pursued advanced scientific studies at the Polytechnic Institute of Brooklyn while continuing his Judaic studies and rabbinic scholarship. He was ordained as a rabbi by YU's affiliated Rabbi Isaac Elchanan Theological Seminary in 1951 and earned a PhD in Jewish philosophy from the University's Bernard Revel Graduate School in 1966.
During the 17 years preceding his election as president, Dr. Lamm served on the Yeshiva University faculty, culminating in his appointment as the Erna and Jakob Michael Professor of Jewish Philosophy in 1966. A pulpit rabbi for 25 years, he served as spiritual leader of the Jewish Center in Manhattan. Prior to that, he served as assistant rabbi of New York City's Congregation Kehilath Jeshurun and then as rabbi of Congregation Kodimoh in Springfield, MA.
Dr. Lamm gained wide recognition for his writings and discourses on interpretation of Jewish philosophy and law, especially in relation to problems involving science, law, technology and philosophy in the modern world. He authored over 15 books, including The Religious Thought of Hasidism: Text and Commentary, which won the coveted 1999 Jewish Book Award in Jewish Thought.
Rabbi Lamm edited or co-edited more than 20 volumes, including The Library of Jewish Law and Ethics. He was the founder and first editor of Tradition and associate editor of Hadarom, a journal of Jewish law; founder of the Torah U-Madda Journal; and founder of the Orthodox Forum.
Dr. Richard M. Joel became Yeshiva University's fourth president on September 21, 2003, and was named Bravmann Family University Professor in April 2010.   He became president emeritus in June 2017 when Rabbi Dr. Ari Berman began his service as president of the University.
Over his 14 years tenure, Dr. Joel built on the illustrious tradition of this storied institution by placing a renewed emphasis on the student experience, academic excellence, Torah scholarship and communal involvement.
Under his helm, Yeshiva University built the Jacob and Dreizel Glueck Center for Jewish Study, established the Center for Jewish Future, established the Katz School, and developed programs in order to obtain an EMBA, Masters in Accounting, Masters in Quantitative Economics, Masters and PhD in Applied Mathematics, Masters in Marketing, and Masters in SLP.  These initiatives kept YU in the forefront of leading universities, along with expanding the use of technology by launching online education programs on the high school, college and graduate levels.  He was fortunate enough to assemble a remarkable group of academic and administrative leadership that brought luster to all of Yeshiva.
With these advancements, and guided by the distinctive belief in education as a process of "ennobling and enabling" young women and men to build whole and meaningful lives, Yeshiva emerged as North America's Torah-informed university. Further, with his guidance, Yeshiva Universityexpanded its focus far beyond the walls of the university, whether through professional and rabbinic placement globally or service learning missions worldwide.  This was accomplished with the enhancement of the thriving rabbinical school, via groundbreaking initiatives such as a mental health training program in tandem with Yeshiva's Ferkauf Graduate School of Psychology.
With his characteristic charm and wit, Dr. Joel was often spotted around Yeshiva's campuses engaging with students and learning about them; one of his great pleasures at Yeshiva is in serving on its faculty and teaching his weekly course. His devotion to the well-being of the students led to the establishing of new student life programs.  Following his lead, the university has further developed a culture of warmth.
Dr. Joel is renowned as a charismatic leader and a captivating orator, and has traveled globally to dialogue with audiences on values-driven education, communal leadership, and Jewish identity. Just as Yeshiva University has embraced its role as the flagship institution of Modern Orthodoxy, President Joel has in many ways became more than a university president but a true spokesperson for the Jewish people.  It is that aspiration in mind that led to the creation of the annual ChampionsGate program, which brings together lay leaders from various Jewish communities to help advance the Jewish story with the guidance of Yeshiva University Rabbis and professionals. 
Before taking the helm at Yeshiva, Dr. Joel earned his reputation as a dynamic force with young people as president and international director of Hillel: The Foundation for Jewish Campus Life. There, he facilitated an extraordinary renaissance of Jewish life on campuses through building numerous new facilities, partnering in the creation of Birthright Israel, and using engagement and empowerment models to reach Jewish youth.
Growing up in Yonkers, NY, Joel earned his B.A. and J.D. from New York University where he was a Root-Tilden Scholar; he has received honorary doctorates from Boston Hebrew College and Gratz College. He also served as assistant district attorney and deputy chief of appeals in the Bronx, and Associate Dean and Professor of Law at YU's Benjamin N. Cardozo School of Law.
Dr. Joel considers his greatest accomplishment marrying his best friend and partner, Esther, who holds a Ph.D. from Yeshiva's Ferkauf Graduate School of Psychology. Together, they have six children, all of whom attended Yeshiva University, and eleven grandchildren, who are the great joy of their lives.