Shabbat at YU
Join us for Shabbat on Campus!
Shabbat offers a unique opportunity to relax with your peers, participate in exciting social programming and gain insight from Roshei Yeshiva and guest speakers. Hundreds of students, on both the Wilf and Beren campuses, take part in the Shabbat programming each week. If you're looking for a one of a kind Shabbat experience, with great food, insightful speakers, interactive programming and uplifting ruach, then on campus is the place to be for Shabbat!
Join Us for Shabbat
Steps to Sign Up for Shabbat on Campus (must complete both steps):
1) Please first purchase your meal ticket at OneCard.yu.edu
2) Please look at your emails each week for a form to choose your seats for meals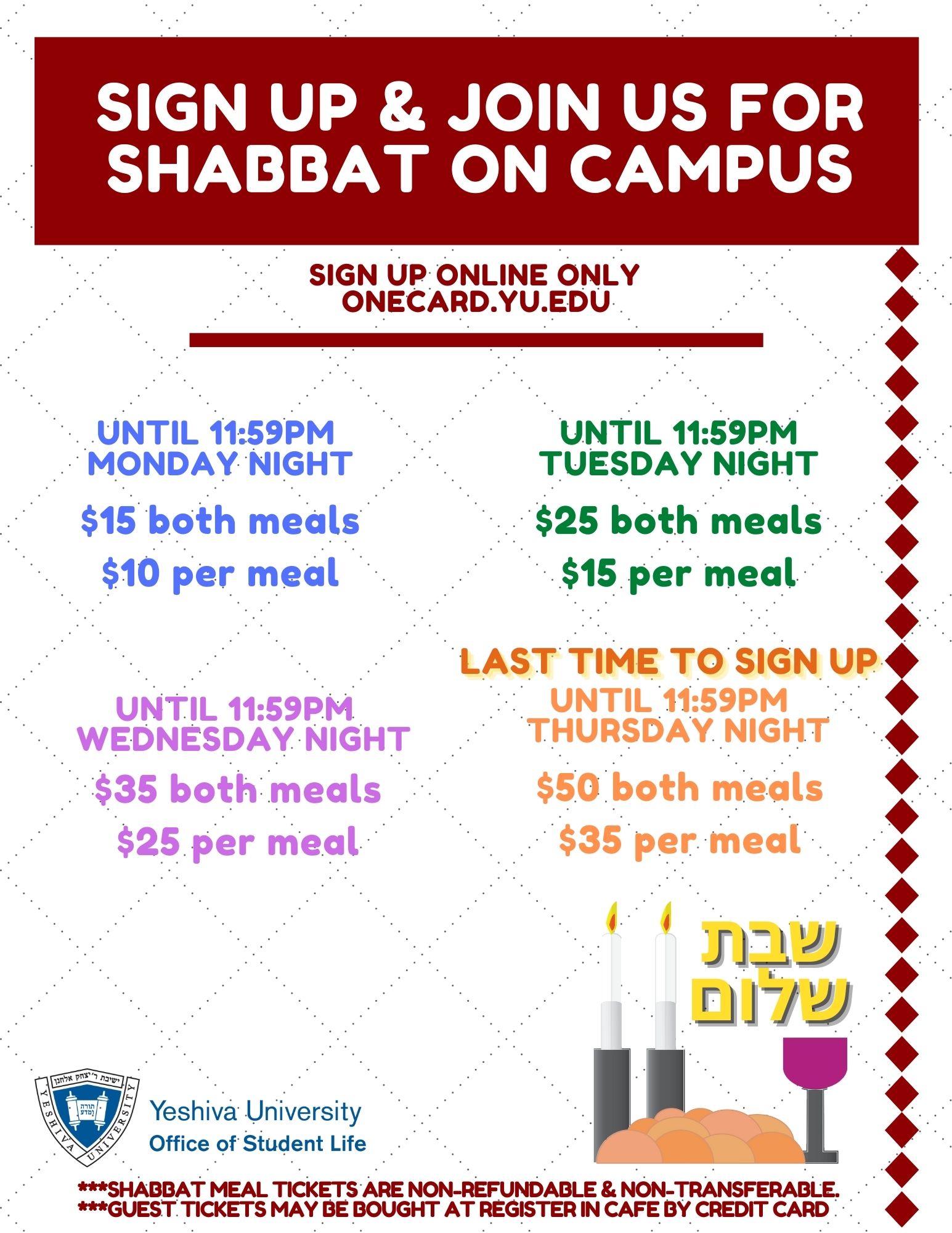 ---
Things You Didn't Know About Shabb@Beren
On average,160 women stay in for Shabbat each week.
We have a Campus Rabbi and Rebbetzin as well as an Av and Eim Bayit in each week. They have super cute children, and they are pretty fabulous, too!
In past semesters we have hosted the Maccabeats, Ystuds, Jew in the City, Busy in Brooklyn, and many other guests.
Shabbat is constantly improving with student feedback and participation through our Shabbat Enhancement Committee (SEC). They work tirelessly to make Shabbat happen each week.
The only thing missing from Shabb@Beren is YOU!
Eruv Map
To sign up for Shabbat, please visit OneCard.yu.edu and enter your credentials to purchase a meal ticket.
Each week features a different guest, insightful shiurim, and fun activities. Students can expect Shabbat on campus to be an enriching and exciting experience!