Student Life
Welcome to Yeshiva University
Kosher dining and fitness centers on every campus. Guest lecturers such as Rabbi Jonathan Sacks and Tommy Hilfiger. Student-run councils and clubs. Men's and women's sports teams. Whether you're looking for a peaceful corner of the library to study or a jam-packed cafeteria to hang out with friends, you'll find it here, at Yeshiva University.
Pictured Below:
Top - Students enjoy dinner in Rockefeller Park before departing on a digital Scavenger Hunt through Tribeca, Orientation Fall 2018.
Bottom - Go Maccabees!
Our 15 NCAA teams need you: on the field and in the stands!
Shabbat Schedule Parshat Noach (October 12-13)
Please follow this link to the Speaker Request form.
Please follow this link to the Event & Fund Request form.
    *Note: Due to the way the calendar falls this year, events may be requested for dates no earlier than Thursday, October 11.
Students have questions...we have answers@yu.edu.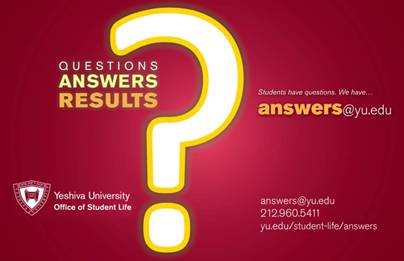 Sign up today for an unforgettable Intersession experience!
1. Winter Service Mission in Thailand
2. Intersession in Hi-Tech Israel
3. Coast - to - Coast California Winter Business Trip
Can't decide which one you want to join? Attend an info session to learn about all three opportunities (detailed in forms)!