Please follow us on Facebook.  
The Arch of Titus Project on Coursera! 
The Arch of Titus: Rome and the Menorah explores one of the most significant Roman monuments to survive from antiquity, from the perspectives of Roman, Jewish and later Christian history and art. The Arch of Titus commemorates the destruction of Jerusalem by the emperor Titus in 70 CE, an event of pivotal importance for the history of the Roman Empire, of Judaism, of Christianity and of modern nationalism. Together with your guide, Professor Steven Fine, director of the Center for Israel Studies, you will examine ancient texts and artifacts, gaining skills as a historian as you explore the continuing significance of the Arch of Titus from antiquity to the very present. Course members will accompany Professor Fine on virtual "fieldtrips" to museums and historical sites in Los Angeles and New York where you will "meet" curators, scholars and artists. You will attend an academic colloquium and even "participate" in office hours. Students will participate in the latest advancement in the study of the Arch - the restoration of its original colors. You will learn how color was used in Roman antiquity and apply that knowledge to complete your own 'color restoration' of the Arch of Titus menorah relief. Read more about this project on the YU News.

 
The YU Center for Israel Studies 2015 conference, commemorating:
Yitzhak Rabin: Twenty Years After
View the entire conference at: https://www.youtube.com/watch?v=oYZ3cLT3v5U
 Sunday November 1, 2015, 10:00-4:00,   
 Weissberg Commons, Yeshiva University,   
 500 West 185th St, New York.  
For the security of all, admission is only upon presentation of a valid ID.
President Richard Joel
, Yeshiva University  
Ambassador Ido Aharoni
, Consul General of Israel in New York   
Mrs. Dalia Rabin,
Chair, Yitzhak Rabin Center, Tel Aviv  
10:30-1230.  Session 1:  From the Yeshiva    
1:30-4:00.  Session 2:  From the University  
Dr. Robert O. Freedman
(Johns Hopkins), 
The Ups and Downs of US-Israeli Relations Since the Rabin Assassination   
Dr. Akiva Covitz
(YU),
 Responses to Extremism in Democratic Societies through the Lens of the Rabin Assassination   
Dr. Selma Botman
(YU),  
The Arab World's Reaction to the Assassination of Yitzhak Rabin    
Concluding Comments,
Steven Fine
(YU)
Kel Maleh Rahamim, Rabbi Ozer Glickman  
This event is co-sponsored by: 
The Consulate General of Israel in New York  
 The Yitzhak Rabin Center, Tel Aviv
YU Undergraduates refute claims that the Menorah is at the Vatican in an open letter to President Shimon Peres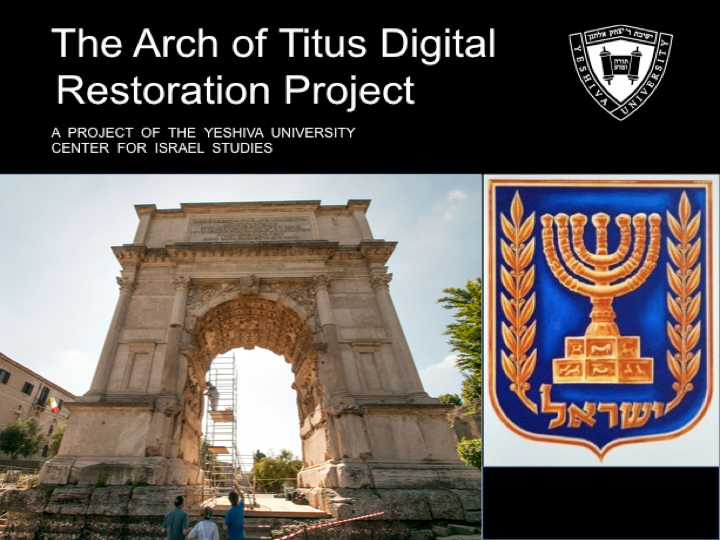 JUST PUBLISHED!
The newest publication of the CIS, based upon our 2011 conference:
Talmuda de-Eretz Israel: Archaeology and the Rabbis in Late Antique Palestine brings together an international community of historians, literature scholars and archaeologists to explorehow the integrated study of rabbinic texts and archaeology increases our understanding of both types of evidence, and of the complex culture which they together reflect. This volume reflects a growing consensus that rabbinic culture was an "embodied" culture, presenting a series of case studies that demonstrate the value of archaeology for the contextualization of rabbinic literature. It steers away from later twentieth-century trends, particularly in North America, that stressed disjunction between archaeology and rabbinic literature, and seeks a more holistic approach. http://www.degruyter.com/view/product/204 
Table of Contents
  Contents
  Steven Fine and Aaron Koller
  Preface v
  Shawn Zelig Aster
  Mishnah Baba Metsia 7:7 and the Relationship of Mishnaic Hebrew to
  Northern Biblical Hebrew 1
  Jonathan Milgram
  Mishnah Baba Batra 8:5 – The Transformation of the Firstborn Son from
  Family Leader to Family Member 19
  Noa Yuval-Hacham
  Mishnah Avodah Zarah 4:5 – The Faces of Effacement: Between Textual and
  Artistic Evidence 29
  Joshua Weistuch and Ben Zion Rosenfeld
  Tosefta Ma'aser Sheni 1:4 – The Rabbis and Roman Civic Coinage in Late
  Antique Palestine 53
  Yonatan Adler
  Tosefta Shabbat 1:14 – "Come and See the Extent to Which Purity Had Spread"
  An Archaeological Perspective on the Historical Background to a Late
  Tannaitic Passage 63
  Uzi Leibner
  An Illustrated Midrash of Mekilta de R. Ishmael, Vayehi Beshalah, 1 –
  Rabbis and the Jewish Community Revisited 83
  Lawrence H. Schiffman
  Jerusalem Talmud Megillah 1 (71b–72a) – "Of the Making of Books":
  Rabbinic Scribal Arts in Light of the Dead Sea Scrolls 97
  Alexei Sivertsev
  Jerusalem Talmud Sanhedrin 2,6 (20c) – The Demise of King Solomon and
  Roman Imperial Propaganda in Late Antiquity 111
  Burton L. Visotzky
  Genesis Rabbah 1:1 – Mosaic Torah as the Blueprint of the Universe –
  Insights from the Roman World 127
  R. Steven Notley
  Genesis Rabbah 98:17 – "And Why Is It Called Gennosar?" Recent
  Discoveries at Magdala and Jewish Life on the Plain of Gennosar in the Early
  Roman Period. 141
  Galit Hasan-Rokem
  Leviticus Rabbah 16:1 – "Odysseus and the Sirens" in the Beit Leontis
  Mosaic from Beit She'an 159
  Steven Fine
  Babylonian Talmud, Sukkah 51b – Coloring the Temple: Polychromy and the
  Jerusalem Temple in Late Antiquity 191
  Sacha Stern
  Babylonian Talmud, Avodah Zarah 16a – Jews and Pagan Cults in Third-
  Century Sepphoris 205
  Steven D. Fraade
  The Rehov Inscriptions and Rabbinic Literature: Matters of
  Language 225
  Stuart S. Miller
  "This Is the Beit Midrash of Rabbi Eliezer ha-Qappar" (Dabbura Inscription)
  Were Epigraphical Rabbis Real Sages, or Nothing More Than Donors and
  Honored Deceased? 239
  Laura S. Lieber
  The Piyyutim le-Hatan of Qallir and Amittai: Jewish Marriage Customs in
  Early Byzantium 275
  Afterwords
  Eric Meyers
  The Use of Archaeology in Understanding Rabbinic Materials:
  An Archaeological Perspective 303
  Daniel Sperber
  The Use of Archaeology in Understanding Rabbinic Materials: A Talmudic
  Perspective 321
The Center for Israel Studies, established in 2007, is an expression of the longstanding relationship between Yeshiva University and the land and State of Israel. The center nurtures excellence in interdisciplinary scholarship and the teaching of Israel throughout history and across disciplines, with a keen focus upon the modern state.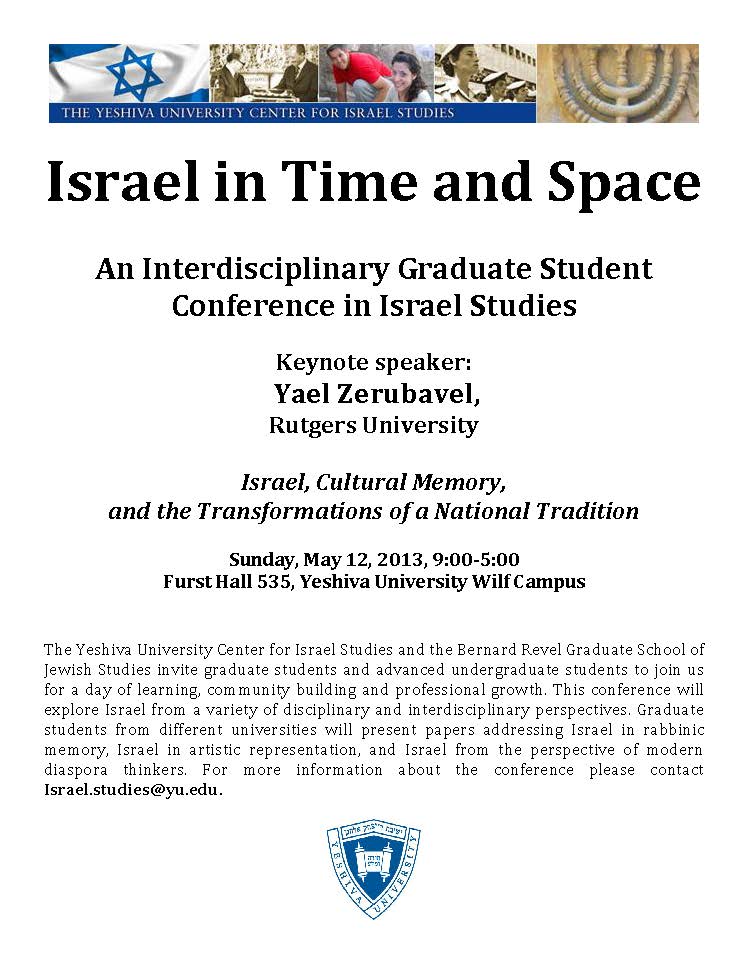 Folktales of Israel Videos Now Online!
Enjoy footage from our Fall 2011 conference Folktales of Israel: A Festival Honoring Professor Peninnah Schram, now available online:


 
Happy Yom Ha'Atzmaut from the CIS!
The CIS wishes the entire YU Community a happy Yom Ha'Atzmaut! In this video, Rabbi Dr. Bernard Rosensweig, Professor of Jewish History at YU, remembers Yom Ha'Atzmaut 1948, when he was a student at Yeshiva College. Enjoy!
Byzantium and Islam: Age of Transition at the Metropolitan Museum of Art
The CIS was deeply involved in Byzantium and Islam: Age of Transition, an exhibition at the Metropolitan Museum of Art that ran from March 14 to July 8, 2012. Click here for information on the CIS events and the conference that we sponsored together with the Met in conjunction with the exhibition: