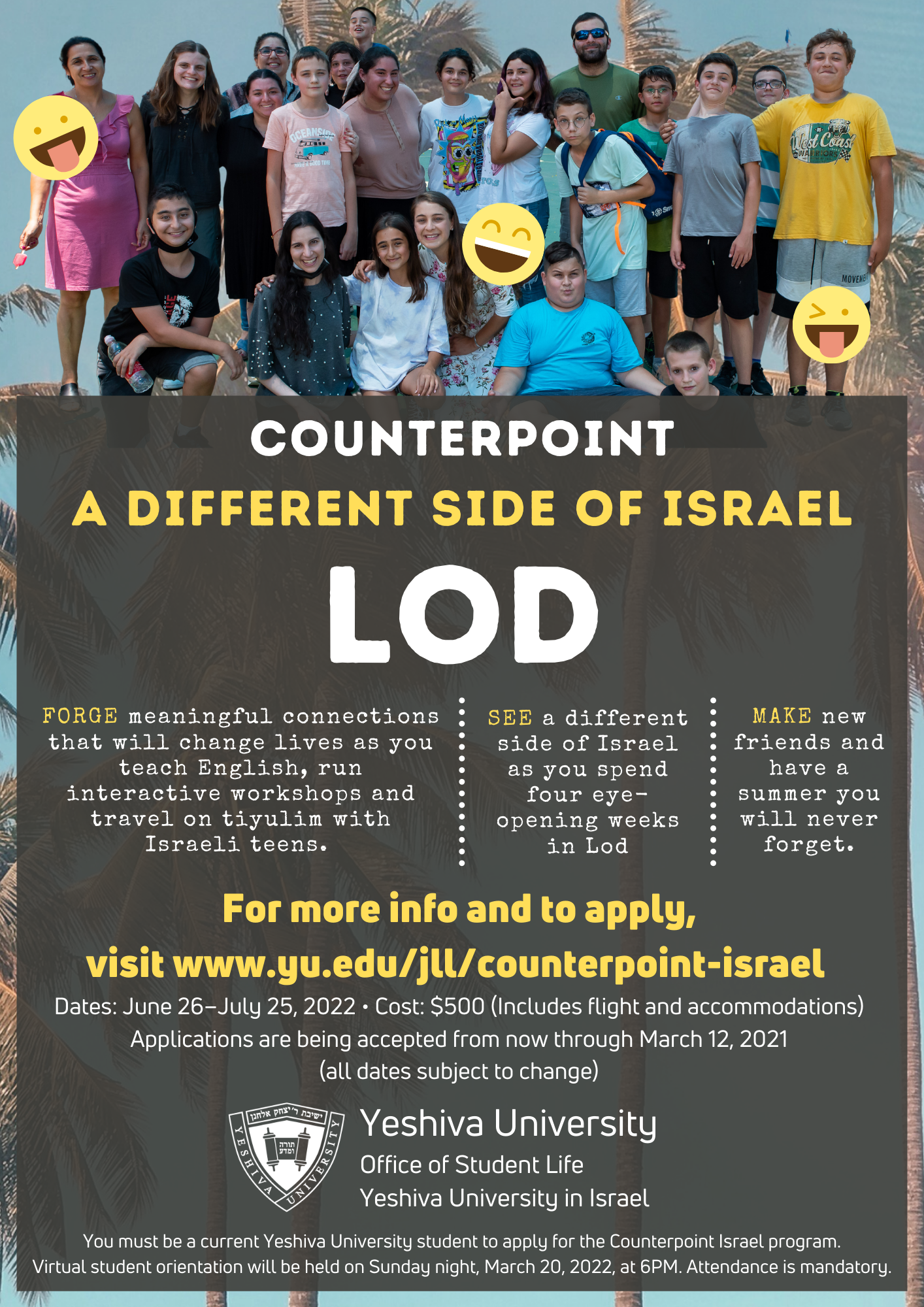 About Counterpoint Israel
Counterpoint Israel works on a service-learning model specially designed by Yeshiva University's Center for the Jewish Future. Currently operating in the city of Lod, yet having successfully integrated in 8 cities over the past 16 summers and in many cities during the winters, Counterpoint Israel is based on two key elements – activism and learning – all backed by the great resources of a major university.
In Summer 2012, Yeshiva University commissioned Research Success to conduct an external evaluation on the first seven years of Counterpoint to determine whether the program succeeds in meeting its goals towards the campers, counselors and host communities. The results demonstrate that Counterpoint helps the Israeli teens enhance their English written and oratory skills and bolster their self-confidence and sense of empowerment; impacts the counselors' personal and professional lives; and creates positive systematic change in the host communities – all the while suggesting ways to further increase the potential scope of impact.
Program
Over the course of the summer, a group of Yeshiva University students is chosen to run an English summer camp for Israeli teens that provides them with a safe, and healthy atmosphere and an educational framework by providing workshops in the arts, sports, and English language. Through the individualized attention that counselors give each teen, Counterpoint Israel allows for personal growth and strengthens each camper's sense of self-confidence and self-worth.  Counterpoint Israel is run in close partnership with the World Zionist Organization, local Department of Education, City mayor, English teachers, and parents.
While the YU students are involved in running the camps, they are also engaged in supplementary studies, workshops and classes that relate directly to the work that they are doing. These learning opportunities take a full day form in seminars that are run in the weeks prior to the camp, and in the week following. Curriculum includes social activism; Zionism studies; urban studies about the local region; leadership training, pedagogic and textual studies.