Faculty Directory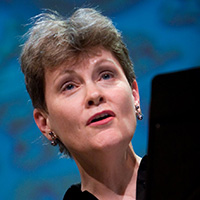 Marcia
Young
Instructor in Music; Director of Performance Studies
BA, University of St. Catherine,
MFA, University of Minnesota,
Marcia Young was cited by the Washington Post for her "elegant, dark-hued soprano voice" and "winning mixture of formal restraint and emotional intensity." She is a member of My Lord Chamberlain's Consort, Duo Marchand (with lutenist Andy Rutherford), and the medieval trio Trefoil, which has toured widely since its founding in 2000. She also performs as a duo partner with lute virtuoso Christopher Morrongiello. In recent seasons Young has appeared with the viol consort Parthenia, the renaissance band Piffaro, and the Folger and Newberry Consorts; at the Metropolitan Museum of Art, The Cloisters, the Center for Jewish History, the Yale Center for British Art, the CityMusic Series in Columbus, the Yale University Collection of Musical Instruments, Amherst and Boston Early Music Festivals, the Ars Antiqua series in Chappaqua, New York, the HotShops gallery space in Omaha, and the Lute Society of America Conference and Seminar in Cleveland. Young has toured and recorded with Pomerium and Early Music New York, and has taught vocal and instrumental classes at the San Francisco Early Music Society's summer workshop. Also a music journalist, she has written for Opera News, Playbill and Channel Thirteen, and occasionally hosts classical music programs for WQXR-New York.
Specialist in applied music. Performance, pedagogy, voice production, harp and keyboard instruments, and historically informed performance practice.
Phi Beta Kappa (inducted in junior year)
Beren campus - Stanton Hall (245 Lexington)
Room#410