Faculty Directory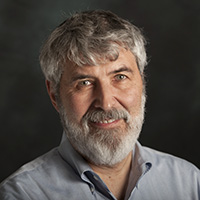 Joshua
H.
Bacon
Associate Professor of Psychology
BS, City College of the City University of New York,
PhD, New York University,
Professor Joshua Bacon became an assistant professor at Tufts University in Boston after receiving his doctorate. In 1984, he joined the Yeshiva University Department of Psychology. His area of research is perception and cognition and, in particular, cognitive impairment and rehabilitation in patients with multiple sclerosis. He is an adjunct assistant professor in the NYU Medical School neurology department and a member of the clinical and research team in the NYU Hospital for Joint Diseases' Multiple Sclerosis Care Center. He is currently working on a cognitive rehabilitation program for MS patients with cognitive impairments and is the principal investigator of a project to develop a diagnostic battery measuring subtle cognitive impairments in the early stages of MS. Undergraduate students from Stern College are involved in this research and have been coauthors on a number of poster presentations at conferences of the Academy of Neurology and the Multiple Sclerosis Consortium.
Beren campus - 215 Lexington Ave
Room#422