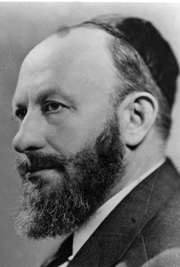 Dr. Bernard Revel
Dr. Bernard Revel pioneered Yeshiva University's ideological mission of Torah Umadda, the concept of a successful, creative synthesis of the study of Torah and the arts and sciences.
Educated at several great European Talmudical centers and later at the University of Pennsylvania, he was awarded a PhD by Dropsie College in Philadelphia, the first conferred by that school. He exemplified in his own life the harmonious blending of knowledge that was a key factor in his vision.
In 1915, Dr. Revel became president of Yeshivat Eitz Chaim and Rabbi Isaac Elchanan Theological Seminary, which had been chartered by New York State in 1897. From the merger of these two institutions, guided by Dr. Revel, Yeshiva University would evolve.
In 1928, the institution's charter was amended to authorize the granting of Bachelor of Arts and Bachelor of Science degrees. This made possible the establishment of Yeshiva College, the first college of liberal arts and sciences under Jewish auspices. That same year, the Main Building (now David H. Zysman Hall) was dedicated, marking the beginning of the Washington Heights campus.
In 1933, the institution was authorized to grant honorary degrees of Doctor of Humane Letters and Doctor of Laws, and several years later, incorporated a graduate program, now the Bernard Revel Graduate School of Jewish Studies.
Dr. Revel served as president until his death in 1940.
Dr. Revel's greatest legacy was the creation of the nation's first liberal arts college under Jewish auspices, the realization of his ideal of a vital synthesis of Jewish and general studies, which became the philosophical foundation for Yeshiva University.