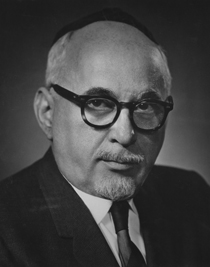 Dr. Samuel Belkin
Dr. Samuel Belkin, elected president of Yeshiva University in 1943 and inaugurated a year later, developed the University's philosophy of synthesis with a broad academic and physical expansion program.
Like his predecessor, he studied at a succession of European yeshivot and at major American universities, Harvard and Brown, receiving a PhD from the latter. Under his leadership, Yeshiva became a university in 1945—the first under Jewish auspices—and grew steadily.
During Dr. Belkin's administration, the University's charter was amended 11 times, each change adding new degrees and new schools. Stern College for Women opened in 1954 with 33 students, and in 1955 the Albert Einstein College of Medicine admitted its first class of 56. Two years later, the Sue Golding Graduate Division of Medical Sciences was added. Also during that year, the School of Education and Community Administration divided into two units, now the Ferkauf Graduate School of Psychology and the Wurzweiler School of Social Work.
In 1959, Dr. Belkin announced his "Blueprint for the Sixties," a program of intense development. The plan resulted in the completion of a library, classrooms, residence hall, and science and student union facilities at the Main Campus (now the Wilf Campus in uptown Manhattan), classroom and residence hall facilities at the midtown campus, new quarters for the Graduate Center (now Brookdale Center in Greenwich Village) and a hospital and other medical facilities at Einstein.
Dr. Belkin guided the creation of the Benjamin N. Cardozo School of Law, the first law school in North America under Jewish auspices, formally dedicated in April 1976. In 1975, at the request of the Board of Trustees, Dr. Belkin assumed the position of chancellor. He died the following year.
Dr. Belkin's dream, which he turned into reality, was to build a university that would encompass the four dimensions of human knowledge: the study of natural science; the study of social sciences; the study of man himself; and the study of the moral and spiritual purposes of life.