Faculty and Administration
Rabbi Dr. Herbert C. Dobrinsky, Vice President for University Affairs, Co-Founder of Sephardic Studies Programs and Consultant to Jacob E. Safra Institute of Sephardic Studies and all other Sephardic Divisions
Rabbi Moshe Tessone, Director of Sephardic Community Program, YU Jewish Studies Faculty (teaches courses at Yeshiva College and at Stern College for Women), and Faculty at the Philip and Sarah Belz School of Jewish Music (teaches Sephardic Liturgical Music and Cantillation)
Rashei Yeshiva
Rabbi Eliyahu Ben Haim, Sephardic Rosh Yeshiva Chairholder, Maxwell R. Maybaum Chair in Talmud and Sephardic Halakhic Codes (teaches Talmud class for 20-24 students (majority 65-75% are Sephardim) a leading Sephardic Rabbinic Authority for the Greater Sephardic Community)
Rabbi Mordechai Benhaim, Rosh Yeshiva
Rabbi Abraham Sarfaty, Faculty member of YU's Mazer Yeshiva Program and an assistant to Rosh Kollel, Rabbi Hershel Schachter of the Marcos and Adina Katz Kollel.  Also, instructor of Sephardic Halakha and Codes to Maybaum Fellows at RIETS.
Academic Faculty
Professor Daniel Tsadik, Assistant Professor of Sephardic and Iranian studies at the Bernard Revel Graduate School of Jewish Studies. (Noted scholar of Iranian Jewish Studies and Middle Eastern Countries and Jews Living under Islam). Also teaches undergraduate courses at YC and SCW.
Professor Ronnie Perelis, Chief Rabbi Dr. Isaac Abraham and Jelena (Rachel) Alcalay Assistant Professor of Sephardic Studies at BRGS (teaches Judeo Spanish history and literature, and history of Balkan Jewish Communities)
Rabbi Hayim Angel, Faculty YC, Professor of Bible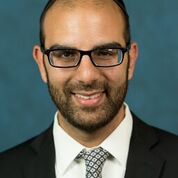 Rabbi Dan Cohen, Edmond J. Safra Sephardic S'gan Mashgiach at RIETS.
Rabbi Yosef Chaim Yanetz :  Rabbi Yosef Yanetz is Assistant Rebbe for the Sephardic class at MYP Yeshiva college.
Rabbi Yanetz was ordained Yoreh Yoreh and Yadin Yadin from RIETS.
He holds M.A. In Jewish Philosophy from Bernard Revel Graduated School. and currently pursuing Ph.D. In Talmud and Jewish History.
Rabbi Yanetz is the author of the Sefarim Vezot Ha'Beracha, and Shivchei Chaim.
Rabbi Lawrence Hajioff, Jewish Studies Faculty, Stern College for Women
Rabbi Richard Hidary, Faculty, Stern College for Women, Assistant Professor of Jewish History
Rabbi Nissim Elnekaveh, Library Consultant on Ladino and Sephardic Materials
Rabbi Steven Schneid, Faculty Belz School of Jewish Music, teaches Safrut (Torah calligraphy according to Sephardic tradition)
Joseph Angel, YC, Assistant Professor of Bible
Rabbi Gideon Shloush, Faculty, Stern College for Women, Adjunct Instructor of Judaic Studies