Faculty Directory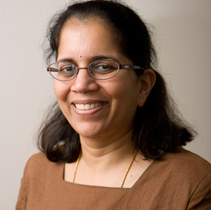 Rajalakshmi
Viswanathan
Professor of Chemistry; Co-Chair, Department of Chemistry
PhD, Oklahoma State University,
Dr. Raji Viswanathan is a professor of Chemistry. She joined Yeshiva College as an assistant professor of chemistry after postdoctoral fellowships at Rice University and Princeton University. She also served as the Associate Dean of Academic Affairs of Yeshiva College from 2009 - 2013.
Her current research interest lies in the areas of computational chemistry and biology. Her expertise is in the areas of molecular dynamics and electronic structure theory. She has studied the nature of hydrogen bonding in model polypeptides using quantum mechanical methods. She has also contributed to the understanding of the role of proteins in biomineralization. Her current project is to develop computational methods to identify protein-protein interfaces at the residue level and extend this application to the identification of epitopes in antigens. 
Current Members: Moshe Carroll, Avi Bodzin, Shahar Lazarev, Ethan Abizadeh, Alexandra Roffe
Past Group Members: Mordechai Walder, MS Program, Northwestern University
Evan Edelstein, Research Intern, Einstein College of Medicine
Her most recent publications include:
"Protein Binding Supersites," Viswanathan R, Fajardo E, Steinberg G, Haller M, Fiser A. Protein binding supersites, 2019, PLoS Comput Biol 15(1): e1006704.
"Meta-DPI, a Metamethod for Predicting Protein Interfaces," M. Walder1, E.Edelstein1, S. Lazarev1, M. Carroll1, J. E. Fajardo2,  A.Fiser2, and R.Viswanathan1,*, Bioinformatics, submitted for review, 2021.
She has been a PRF Summer Research Fellow and visiting scientist at Hunter College, CUNY, and an NSF Summer Fellow at the University of Knoxville. She received a Research Corporation Grant for "Structure and Properties of Gas-Phase Molecular Clusters" and an NSF/ILI grant for "Introduction of Computational Methods across the Undergraduate Curriculum."
Her recent co-authored publications include "Hydroxyapatite Growth Inhibition by Osteopontin Hexapeptide Sequences," "Effect of Solvent Environment on the CO Band Position in the Infrared Spectroscopy of [Fe(CN)4(CO)2]2-," and "Through Hydrogen-Bond Vibrational Coupling in Hydrogen-Bonding Chains of 4-Pyridones with Implications for Peptide Amide I Absorptions: Density Functional Theory Compared with Transition Dipole Coupling."
Wilf campus - Belfer Hall
Room#1606