Faculty Directory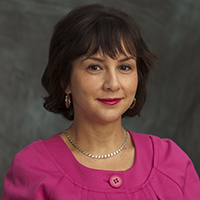 Margarita
Vigodner
Associate Professor of Biology
BSC, Ben Gurion University,
Other, Tel Aviv University,
PhD, Tel Aviv University,
Other, Rockefeller University,
Beginning as a doctoral candidate and continuing thereafter, Dr. Margarita Vigodner has been working in the field of spermatogenesis, male fertility, and reproductive health.
Current research in her laboratory focuses on characterization of the role of Small Ubiquitin-like Modifiers (SUMO) proteins in germ cells. Projects focus on identification of the targets of sumoylation and characterization of SUMO-regulated pathways responsible for germ cell proliferation, differentiation, and stress response (including the oxidative stress caused by tobacco smoke).
Dr. Vigodner was awarded a 4 year grant from NIH (500.000) to study targets of symoylation in germ cells. She also received a 5-year grant ($500,000) from the Flight Attendant Medical Research Institute (FAMRI) to study the effect of the tobacco smoke on male fertility.
She is coauthor of numerous journal articles and reviews in high-ranked journals
Beren campus - Stanton Hall (245 Lexington)
Room#347A