Faculty Directory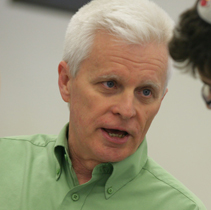 Barry
W
Potvin
PhD, University of North Carolina,
Dr. Barry Potvin is a professor in the biology department at Yeshiva College and a visiting professor in the cell biology department at Albert Einstein College of Medicine. He received his PhD in genetics from the University of North Carolina, Chapel Hill, and has also been a research scientist and an instructor in human genetics at Columbia University.
His primary teaching responsibilities include: Genetics, Microbiology, Biochemistry, and Public Health. His research interests focus on various aspects of glycobiology, differentiation, and cellular functions including endocytosis.
Among other awards, he has received an American Cancer Society Scholar Grant to conduct research in cell biology, multiple Mellon Foundation Awards to develop new courses and study somatic cell hybridization and gene transfer, and a Cottrell College Science Grant.
His coauthored publications include "New Liver Cell Mutants Defective in the Endocytic Pathway," "Complex N-glycans Are the Major Ligands for Galectin-1, Galectin-3 and Galectin-8 on Chinese Hamster Ovary Cells," and "LEC12 and LEC29 Gain-of-Function CHO Mutants Reveal Mechanisms for Regulating VIM-2 Antigen Synthesis and E-Selectin Binding."
Wilf campus - Belfer Hall
Room#1408