Faculty Directory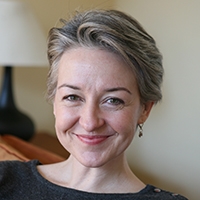 Ann
Marie
Peters
Associate Professor of English
BA, University of Notre Dame,
PhD, City University of New York,
Dr. Ann Peters is an associate professor at Stern College. She earned her BA in English from the University of Notre Dame and her PhD from the Graduate Center, City University of New York. Her main writing and teaching interest lies in mid and late twentieth century American literature, the fiction of place, literary non-fiction, and autobiography. She has taught a wide range of courses in the field, from general survey courses in nineteenth and twentieth century American literature to a number of upper level courses: Literature and the Environment, The Literature of New York, Literature and Culture of the 1890s, The Essay, Writing Women's Lives, and American Literary Nonfiction. In 2014, her book, HOUSE HOLD: A MEMOIR OF PLACE, a weaving of personal narrative and literary readings, was published by the University of Wisconsin Press. She is currently working on a book about midwestern artist communities, focusing on a community of writers and artists living in Portage, Wisconsin in the 1930s.
Twentieth-Century American Fiction, Creative Nonfiction, Autobiography, the Essay.
Ann Peters was the 2011 recipient of the Dean Karen Bacon Award for Excellence. In 2012, she was the recipient of the 2012 McGinnis-Ritchie Award given by The Southwest Review for best essay published that year. In 2013, her essay, "A House on the Ledge," was a notable essay in THE BEST AMERICAN ESSAYS OF 2013.
Professor Peters has published in The Southwest Review, Women's Studies Quarterly, and other publications. Her book, House Hold: A Memoir of Place was published in 2014.
Beren campus - 215 Lexington Ave
Room#705