Faculty Directory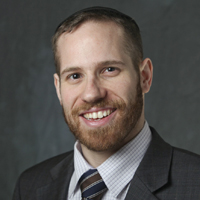 Moshe
Krakowski
BS, University of Chicago,
PhD, Northwestern University, 2008
Dr. Moshe Krakowski has a Bachelor's Degree in Philosophy from the University of Chicago, a PhD in the Learning Sciences from Northwestern University, and prior to joining the faculty at Azrieli spent two years as a post-doctoral scholar in the psychology department at University of Chicago.
Dr. Krakowski's research interests include conceptual change and cognition, ultra‐Orthodox Jewish education, worldview, epistemology, and culture in schools, curriculum development in Judaic studies, and problem-based learning.
The University of Chicago Lee Family Foundation Prize
Dr. Krakowski has published on topics ranging from worldview and education, spatial intelligence, pedagogy, cognitive change, and Jewish culture in education. See CV for a complete listing.
Wilf campus - Belfer Hall
Room#305