Faculty Directory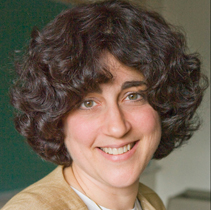 Naomi
Cohen
Grunhaus
Associate Professor of Bible
PhD, New York University, 2003
MA, New York University, 1994
MS, New York University, 1987
BS, Brooklyn College, City University of New York, 1985
Dr. Naomi Grunhaus is Associate Professor in the Rebecca Ivry Department of Jewish Studies at Stern College. She received her PhD in Judaic studies from New York University, an MA and MS from New York University, and a BS from Brooklyn College.
Dr. Grunhaus is currently researching modifications in Radak's views between his writing the linguistic Shorashim and writing his commentaries. Her teaching interests include the Latter Prophets, Book of Deuteronomy, Jewish exegetical polemics, medieval Jewish biblical exegesis, and exegesis after the Jewish enlightenment.
Dr. Grunhaus is the recipient of a publication grant from Yeshiva University, as well as the Murray and Madeleine Baumel Faculty Incentive Award. She has twice received a Yeshiva University Summer Full Support Research Student Award and twice received a Ms. E. Billi Ivry Faculty Research Incentive Award.
Dr. Grunhaus' book: The Challenge of Received Tradition: Dilemmas of Interpretation in Radak's Biblical Commentaries was published in 2012 by Oxford University Press. The book explores the interplay between peshat and derash in Rabbi David Kimhi's biblical commentaries. Her article, "Radak's Exegetical Use of Quotations from Rabbinic Literature in his Sefer ha-Shorashim" will be published in a volume of proceedings from a conference at Aix-en-Provence University.
Find Naomi Grunhaus' publications on YAIR: Yeshiva Academic Institutional Repository.
Beren campus - Stanton Hall (245 Lexington)
Room#604