Faculty Directory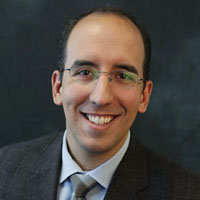 Jeffrey
S.
Gonzalez
Professor of Psychology, Ferkauf Graduate School of Psychology
PhD, University of Miami, 2005
MA, University of Miami, 2002
BA, Rutgers University, 1999
Dr. Gonzalez's research focuses on identifying psychological and cognitive factors involved in treatment adherence in chronic illness. He has a particular interest in understanding 1) how beliefs about illness and treatment relate to illness self-management and 2) how depression and distress are associated with worse outcomes in chronic illness. Over the last several years, Dr. Gonzalez has focused on investigating the relationship between depression/distress and treatment nonadherence in HIV/AIDS and diabetes mellitus and on developing psychosocial interventions to treat depression and improve skills for disease self-management. He is a faculty member of the Diabetes Research and Training Center and has academic appointments in Medicine (Endocrinology) and Epidemiology and Population Health at Albert Einstein College of Medicine.
jeffrey.gonzalez@einstein.yu.edu
Resnick campus - Rousso Building
Room#133