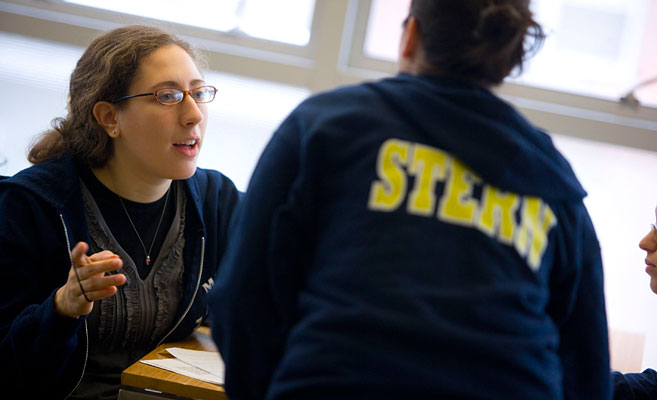 Departments & Programs
Undergraduate Studies
Now in the second half of its first century, Stern College for Women has developed a broad set of educational programs, internship and research opportunities as well as cultural enrichment programs to develop the talent of individual students like you. Our rigorous curricula, spanning a wide range of disciplines in Jewish studies, the humanities, sciences and social sciences, prepare you for careers, graduate study and leadership and to both contribute to society and take on the challenges of tomorrow.
Additionally, we offer combined and joint programs in disciplines including engineering, dentistry, optometry, Jewish studies and social work in conjunction with the University's graduate schools and other leading universities.
Undergraduate Jewish Studies
Yeshiva University attracts women who want to develop their entire being—whose idea of success includes professional fulfillment, strong family and rich spiritual life.
Stern College for Women's Rebecca Ivry Department of Jewish Studies offers the country's largest and most diverse undergraduate Jewish studies program for women. Designed to expose students to the beauty of Torah study and the depth of Jewish tradition, the program offers valuable training in rigorous thought, exposure to research methods and opportunities for independent work. It empowers them to become dynamic participants in Jewish life and to pursue careers in Jewish education.
The Mechinah Pathways Program within the Rebecca Ivry Department of Jewish Studies is designed for students new to Hebrew language and textual study, who aspire to attain a broad-based Jewish philosophical and text-based education.
Combined and Joint Programs
In conjunction with Yeshiva University's graduate schools and other leading universities, Stern College offers you the opportunity to earn a combined or joint degree in disciplines ranging from business administration and social work to Jewish education and Jewish studies. This wealth of programs affords you educational experiences that would not be possible within the bounds of single disciplines.
Graduate Program
Stern College for Women offers a unique and challenging Graduate Program of Advanced Talmudic Studies, which leads to a master's degree in biblical and Talmudic interpretation. It is open to students with extensive backgrounds in advanced Jewish studies.