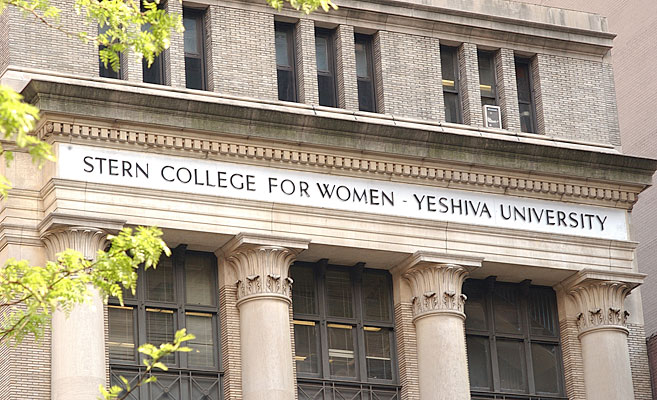 Our mission, closely intertwined with the University's Mission Statement, is as follows:
"We bring wisdom to life by combining the finest, contemporary academic education with the timeless teachings of Torah. It is Yeshiva's unique dual curriculum, which teaches knowledge enlightened by values, that helps our students gain the wisdom to make their lives both a secular and spiritual success."
History of Stern College for Women
Founded in 1954 with a major gift from Max Stern, president of Hartz Mountain Products, Stern College for Women is a pioneer in the field of women's education. We offer women the unprecedented opportunity to earn their bachelor's degree in the arts and sciences and immerse themselves in rigorous Jewish studies at the same time, in the same place.
Though ambitious, our beginnings were humble. Our inaugural class consisted of just 32 students and one building: 253 Lexington Avenue, formerly the Packard Junior College. Out-of-town students boarded at a series of hotels until September 1965, when the college converted a $4 million apartment complex on East 34th Street into a dormitory building.
A Growing Reputation for Excellence and Diversity
Over the next dozen years, word about the unique community taking shape at Stern College spread. Enrollment blossomed from a handful of metropolitan and out-of-state students to more than 500 from across the country. Whether they had graduated from the Samuel H. Wang Yeshiva University High School for Girls (established in 1948) or from a Midwestern public school and a Talmud Torah program, young Jewish women flocked to Stern College, seeking the chance to explore academic and professional fields in a setting that strengthened their religious commitment.
Under the direction of Mrs. Cecile Feder, first head of Stern College and its first registrar, and later Deans Dan Vogel, Norman E. Frimer and David Mirsky, we developed a multi-tiered Jewish studies curriculum that embraced these diverse backgrounds and levels of religious awareness. Our students began to reflect the wider Jewish community, as young women from Canada, South America and Europe brought their own culture and perspective to the campus in midtown Manhattan.
Our First Female Dean and an Ever-Expanding Curriculum
In September 1977, we appointed our first female dean: Dr. Karen Bacon, a 1964 alumna with a doctorate in microbiology. During her tenure as dean, academics have expanded and evolved.
In the 1980s, we introduced the study of Talmud, a foundational text of Jewish religion previously inaccessible to women, to our Judaic curriculum. That department became the Rebecca Ivry Department of Jewish Studies in 1986.
We also began to attract high-level faculty from other universities around the country, including biologist Harvey Babich, philosopher David Shatz and theoretical physicist Lea Santos.
Stern Today: Infinite Possibilities
Today, more than 1,000 students from across the United States and countries that span the globe attend Stern College. It is truly a gathering place of people and ideas, from Colombia to Morocco, Seattle to Teaneck. United by their quest for both unparalleled intellectual engagement and spiritual exploration, our students are ground-breakers. They become pioneers in their fields, whether as the first volunteer to serve on the US base at the South Pole, as a clerk for the Supreme Court of Israel or a professor of comparative literature at a Chinese university.
The S. Daniel Abraham Honors Program, begun with a major gift from philanthropist S. Daniel Abraham in 1999, has attracted students of ever-higher academic caliber to the college, where they engage in once-in-a-lifetime research opportunities and forge rewarding relationships with faculty mentors.
We have come light-years from our simple start with a handful of young women and a visionary dream. Our campus has grown from one building and a hotel to five dormitories bustling with students and three state-of-the-art classroom buildings. In December 2009, the beloved 245 Lexington Avenue building was renamed Stanton Hall in recognition of board member Ronald P. Stanton and his ceaseless dedication to Yeshiva University, including a gift of $100 million dollars to fund the Stanton Legacy.
That's where we've been so far. The best is yet to come.