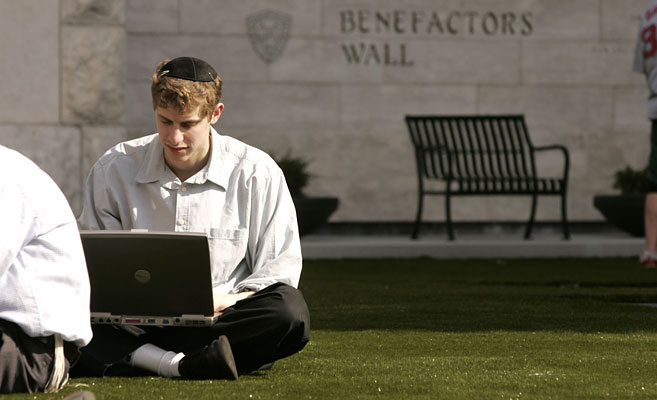 About
Founded in 1928 as the undergraduate college of liberal arts and science for men of Yeshiva University, Yeshiva College embodies a unique mission: to combine Jewish learning with the study of Western and worldwide culture. Our students pursue a rigorous dual education program that combines liberal arts and sciences and preprofessional studies with the study of Torah and Jewish heritage. We provide academic majors in multiple disciplines, all leading to the BA degree. Combined and joint programs are also available with the University's graduate and professional schools as well as with other leading colleges and universities.
Why Yeshiva College?
A premier Torah education at every level, which provides a spiritual, moral and ethical foundation for secular studies
A comprehensive secular curriculum with an enviable record of success in enabling students to pursue professional and graduate studies
A select liberal arts and sciences college with an excellent faculty who are strongly committed to the intellectual, social and emotional growth of their students
An opportunity to be part of a vibrant research community by engaging in cutting-edge research with faculty mentors
A chance to enroll in graduate classes in Jewish studies, social work and psychology and pursue a combined BA/MA degree or obtain internships at our professional schools (Albert Einstein College of Medicine and Benjamin N. Cardozo School of Law)
A world-renowned program of academic Jewish studies taught with the tools of the academy and a deep reverence for tradition
A multitude of ways to fully participate in campus life, including intercollegiate and intramural athletic teams, a cappella groups and musical ensembles, college newspapers and journals, clubs and political action groups
A location that allows students to access New York City's diverse cultural institutions and academic resources
A place to call home, to engage with and study alongside tomorrow's leaders, to create lifelong friendships and networks and to be part of a vibrant Jewish community
Visiting Our Campus
We are located at the Wilf Campus, easily accessible by car or public transportation. If you are a prospective student, we strongly encourage you to take a campus tour to get a feel for the University and to see what your life on campus might be like. Tours are arranged through Yeshiva University's Office of Undergraduate Admissions; 646-592-4440.
Please contact us if you have additional questions about Yeshiva College.