Faculty
David L. Schwed, JD – Director of MS in Cybersecurity
Dave most recently served as the Chief Information Security Officer for Galaxy Digital, a diversified merchant bank dedicated to the digital assets and blockchain technology industry.  He was responsible for leading the vision, strategy, and execution for all facets of information security while building out the information technology infrastructure. He also assumed a lead role as a trusted advisor to the Risk Committee, assessing emerging threats in the financial services industry and measuring their potential to impact company operations.
Previously, he was a co-founder, CIO and General Counsel of MASS Communications, a leading connectivity and telecom management provider that takes a consultative approach to deliver a full suite of voice, data, risk management and security solutions. He has more than 21 years of Information Technology, Information Security, and Risk Management experience. He has worked in the financial services sector at a senior level for BNY Mellon, Merrill Lynch, Salomon Smith Barney, and Citigroup.  He has also served as an expert witness in a criminal case in the field of computer forensics.  David is a Certified Information Systems Auditor and Certified Information Systems Security Professional and also the recipient of the SmartCEO Executive Management Award (General Counsel).
Dave is a member of the New York Bar and graduated Magna Cum Laude from Hofstra University School of Law where he was an associate editor of the Hofstra Law Review.
Lev Feldman, MSIS, MBA – Practitioner in Residence
Lev Feldman is an accomplished Information Security executive with over 20 years of expertise gained at large global enterprises: MetLife, Marsh Inc, Merrill Lynch, Salomon Smith Barney and Major Financial Global Institutions. Lev's current role is Senior Vice President (SVP) at the CISO Office. He currently works at one of the largest systemically important financial institutions (SIFI). He has earned an MBA in Global Management as well as a Master of Science in Information Systems, and has obtained leading industry certifications such as: Certified Information Security Manager (CISM) by ISACA, Certified Information Systems Security Professional (CISSP) and Certified Cloud Security Professional (CCSP) by ISC², Certificate of Cloud Security Knowledge (CCSK) by CSA and Information Technology Infrastructure Library (ITIL).
David Whipple, Ph.D., CISSP – MS in Cybersecurity Practitioner in Residence
Dr. Whipple has a 26-year background in Military in information security and IT, and 16 years working with commercial organizations in banking and finance, healthcare, e-commerce, power and critical infrastructure, and travel and hospitality. His academic research and publications center on the relationships between risk management, information security, and organizational culture.
Dr. Whipple is currently a chief security officer for an international company. He is an ardent supporter of business enablement with security technologies that reduce organizational risk to an acceptable level and reduce costs associated with buying the security boutique-of-the-week solutions that don't always integrate. He has a long history of working with businesses to translate confusing security principles into understandable business objectives.
David Gianna, M.S., MBA – Instructor
David Gianna is a seasoned veteran of the information systems and cybersecurity industry. He specializes in security of payments, specifically the use of the Payment Card Industry Data Security Standard (PCI DSS) to reduce risk to cardholder data. Currently a Business Risk & Control Officer at the Wells Fargo Bank, he has provided professional services across the retail, transportation, communications, and banking industries at companies including IBM, Verizon, and Protiviti. A pilot, he also volunteers with the Civil Air Patrol (CAP)—the civilian auxiliary of the United States Air Force, where he holds the rank of Captain—and has also served in various IT and cyber security capacities.
David is a member of several professional organizations, including (ISC)2, ISACA, and formerly of OWASP. He holds an MS in computer science and an MBA with a concentration in information systems from Marist College; he is currently pursuing his PhD in Technology/Cybersecurity at Capitol Technology University. He serves on the advisory board for Cybersecurity graduate programs at Pace and Rutgers Universities. At the Katz School, he teaches Architecture of Secure Operating Systems, Applications, and Devices.
Atif Ghauri, M.S. – Instructor
Atif Ghauri is a managing partner at Mazars USA, an international audit, tax and advisory firm, and a cyber security practice leader, responsible for all aspects of the business from sales to service delivery. He founded Mazars in 2018 and has built it into a global delivery center that includes cyber security fusion centers. A cyber security expert for 20 years, he patented an algorithm for security analytics on embedded consumer devices monitoring user-activity anomalies. Prior to Mazars, he was chief technology officer for the Herjavec Group, the world's largest independently owned Managed Security Service Provider, where he led a three-year, $250 million geographical expansion. As senior vice president of managed security services, he led sales and strategy for the company's most profitable and fastest-growing business. Ghauri holds a master's degree in technology management from the University of Pennsylvania's Wharton School and bachelor's degree from Schreyer Honors College at Penn State University.
Tia Hopkins, MS – Instructor
Tia Hopkins is the VP of Global Sales Engineering with eSentire, a leading provider of Managed Detection and Response (MDR) services offering with capabilities to protect more than $6 trillion in assets under management  Tia has also participated in a number of speaking engagements including serving as a member of an expert panel at a private Cybersecurity Expo and delivering a workshop at the Apex CISO Assembly; she also frequently delivers industry insight sessions at conferences such as RSA, Black Hat, and Infosecurity Europe. She currently holds the Certified Information Systems Security Professional (CISSP), Certified Ethical Hacker (C|EH), Certified Hacking Forensics Investigator (C|HFI), Information Technology Infrastructure Library (ITIL) certifications; and currently holds various vendor specific certifications including Cisco Certified Network Associate (CCNA) and Cisco Certified Network Associate - Security (CCNA-S). Tia also has a BS in Information Technology, MS in Information Security and Assurance, MS in Cybersecurity and Information Assurance, and plans to continue her education in pursuit of an MBA in IT Management.
David Imre, CISA, CFE – Instructor
David Imre is currently the Head of Information Technology Audit for the Americas division of a top 20 global bank and has over 15 years of internal and external audit experience, primarily focusing on the financial services sector and other highly regulated industries.  Over the years, he has developed expertise related to risks and controls involved in securing information technology and protecting information assets.  He is currently an adjunct professor teaching Risk Management and Cybersecurity in the Katz School's MS in Cybersecurity program.
David holds the Certified Information Systems Auditor (CISA) and Certified Fraud Examiners (CFE) credentials in addition to a BS in Computer Science and Business and MS in Applied Mathematics.
Sivan Tehila, MS – Instructor
Sivan Tehila, Director of Solution Architecture at Perimeter 81, is a cybersecurity expert with over 14 years of experience in the industry. She served in the Israel Defense Forces as an Intelligence Officer and then in various field positions including CISO of the Research and Analysis Division and Head of the Information Security Department of the Intelligence Corps. Sivan was honorably discharged as a Captain. After 10 years of military service, Sivan worked as an Information Security Officer and profiler at defense technology company RAFAEL and as a cybersecurity consultant for the Israel Railways. Recently, Sivan has dedicated herself to promoting women in Cybersecurity. As part of this initiative, she founded the Leading Cyber Ladies community in NYC and Cyber19w in Israel. She is currently an adjunct professor teaching Cybersecurity Audit, Assessment, and Testing in the Katz School's MS in Cybersecurity.
Sivan received her B.A. in Political Science & Criminology from Bar-Ilan University, and her MS in Business Development from Haifa University. She is also a Certified CISO from Technion – Israel Institute of Technology.
Aleksandr Zhuk, D.M. – Instructor
Aleksandr Zhuk is a Vice President of Information Security at Amalgamated Bank. Aleksandr has 20+ years of experience delivering business value in Fortune 100 financial services and startup organizations.  He is the creator and co-founder of Business Relationship Management Institute, a go-to source of professional learning and a community catalyst for more than 20,000 BRM professionals in 40 countries around the world.  Aleksandr holds a doctorate in Management and Organizational Leadership and has taught graduate courses in Leadership Strategies. Dr. Zhuk has published numerous articles on the topics of IT and business management. He holds BRMP, CISM, CISSP, CRISC, CSM, ITIL Expert, and other leading professional certifications.
General [ret.] Eli Ben Meir, LL.M.
General [ret.] Eli Ben Meir served in the Israel Defense Forces for over 30 years in the highest echelons of Intelligence, Operational and Technological positions.  His was the  Chief Intelligence Officer – a position that serves as the Commander of the Intelligence Corps including the vaunted cyber units. He also served as Head of the Research Division in which he was the "national assessor", responsible for assessing intelligence threats to the State of Israel in all sectors and areas. He provided regular intelligence briefings to the Prime Minister of Israel and the Security Cabinet, the highest level commanders from the IDF and Israeli Security Agencies as well as foreign political and intelligence leaders. 
General Ben Meir also served in the Israeli Embassy in Washington DC as the IDF's Intelligence attaché to the US. In this position he worked to strengthen the ties between the two countries and their respective militaries.  
Since his retirement from the military 2016, General Ben Meir has focused on the realm of cyber security. He currently serves as the VP of Cyber and Intelligence at Sdema Group and is the founder and partner in CyGov, a cyber security startup. Additionally, he serves as an adviser to numerous companies and projects from the Hi-tech sector. General Ben Meir teaches at the Interdisciplinary Center in Herzliya. He is a frequent guest commentator on Israeli and international television and radio and has a weekly column in Israel's Maariv newspaper.
Nadav Zafrir, Co-Founder and CEO, Team8
Nadav Zafrir is the co-founder and CEO of Team8. Prior to founding Team8, Nadav was the founder of the Israel Defense Forces' Cyber Command, and the Commander of "Unit 8200"- an elite military technology unit that has become an incubator for Israel's renowned high-tech sector. Team8 uses its collective cybersecurity and data science expertise and leverages its vast international network to identify the right problems that can then be developed into innovative, category-leading and category-inventing companies. Team8 is backed by some of the world's most renowned businesses including Cisco, Microsoft, AT&T, Walmart, Airbus, Softbank, Accenture, Qualcomm, Moody's, Munich-Re, Dimension Data, Nokia and Scotiabank.
Nadav holds an LL.B from the Interdisciplinary Centre and an MBA from Tel-Aviv University and Kellogg School of Management at Northwestern University.
Shira Shamban  
Shira Shamban is a security researcher and technical expert with a focus on threat intelligence. Shira started her professional career in cybersecurity as a military officer in the elite intelligence unit 8200 of the Israel Defense Force. During her 13-year service in the military, she acquired hands-on experience in cybersecurity and intelligence operations while earning an engineering degree from Tel-Aviv University. 
After her military service, Shira turned to security innovation in business. As the Head of Security Research at Dome9 Security, she is now leading the company's security research, in order to implement its results in Dome9's products and by that help organizations embrace the public cloud securely. Shira is focused on creating actionable insights out of large masses of data, and designed the company's cloud intrusion detection product. 
Shira strongly believes in empowering women in the world of technology. She volunteers as a lecturer, a mentor and an organizer in forums such as SheCodes, Cyber Ladies and OWASP-WIA. Shira is also an active board member in the Israeli branch of OWASP, and in the advisory board of two stealth mode start-ups. Shira is a contributor in several online magazines, and speaks at conferences such as RSA, SecTor, BSides.
Rhea Siers, Senior Fellow for Law and Policy, Institute for Information Infrastructure Protection (I3P) 
Rhea Siers combines her operational, legal, and policy experience from thirty years in the US Intelligence Community to bring a multifaceted approach to cybersecurity and national security issues. She served as the NSA's senior representative to the FBI, as well as the NSA's Deputy Associate Director for Policy; led operational and intelligence production as a senior manager; and served in NSA's Office of General Counsel.  As an attorney and policy expert in the cybersecurity arena, Ms. Siers was selected as a "Cyber Trail Blazer" by the National Law Journal (2014). She works with companies and organizations designing cyber security programs tailored to the challenges of different industries. She is on the editorial board of The Journal of Law and Cyber Warfare and a co-author of the book Cyber Warfare: Understanding the Law, Policy, and Technology (2015). Her articles and interviews about cyber deterrence, attribution, intelligence and the Middle East have appeared In several publications including The Cipher Brief and WSJ.
Ms. Siers sits on the Board of the Millennium Alliance, which focuses on providing guidance to senior executives on digital transformation. She is on the faculty of both the Elliott School of International Affairs at George Washington University and Johns Hopkins University, where she teaches on cyber threats, intelligence, terrorism, and transnational security issues.
Jeffrey Lipson 
Jeffrey 'JPL' Lipson is an experienced entrepreneur, a Reserve Marine Colonel with over 26 years of military service and an avid technologist. Jeff's last active duty tour was at the National Security Agency with Marine Forces Cyber Command.  He deployed overseas numerous times to include Iraq, Liberia and Bosnia.  A career intelligence and communications officer, Jeff is a recognized subject matter expert in the fields of information assurance and cybersecurity, and has a Master's degree from The Pennsylvania State University. Jeff currently serves on the Board of Directors for Immaculata University's Cybersecurity Program and on the Board of Trustees for the Montgomery School. Jeff is equally active in philanthropy by serving as an involved member of the Philadelphia Committee for the Marine Corps Scholarship Foundation.
Dimitrios Tzimas, Ph.D.
Dr. Dimitrios Tzimas has more than 20 years of technology experience, including 10 years in CTO level positions in the finance and education sectors. He is currently an Executive Director of Cyber Security at UBS, leading a global team. Prior to joining UBS, Tzimas was the Managing Principal of XQUISITEC, a boutique firm providing technology risk assessment services, technology strategy and Cyber Security guidance to companies in various industries across the globe, including defense, financial services, higher education, private equity and innovative start-ups.
Prior to founding XQUISITEC in 2006, Dr. Tzimas was a partner and Chief Technology Officer at Caxton Associates, a leading hedge fund, where he was responsible for redesigning and implementing its technology infrastructure. Dr Tzimas also had overall responsibility for technology strategy and Information Security. Prior to joining Caxton Associates, Dr. Tzimas was the Chief Technology Officer at St. John's University where he developed the technical architecture for a distributed computing multi-campus environment serving 20,000 users. 
Dr. Tzimas earned a Ph.D. in Mathematics from the Massachusetts Institute of Technology, with a concentration in Mathematical Logic  and a BA/MA combined degree from the City University of New York. He was also an Exchange Scholar at the University of California at Berkeley. He has taught Computer Science and Mathematics at MIT, Trinity College and St. John's University. Dr. Tzimas is CISSP, HCISSP, CISM and Cloud Computing certified (CCSP).
Sounil Yu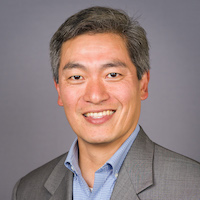 Sounil Yu is the chief information security officer in residence at YL Ventures and a security innovator with 30-plus years of hands-on experience creating, breaking and fixing computer and network systems. He is the creator of the Cyber Defense Matrix, a framework for rationalizing technologies, measuring control coverage and effectiveness, identifying control gaps, optimizing resource allocation and organizing security design patterns, and the DIE Triad Resiliency Framework, which advocates for three new paradigms for how to secure systems. He serves on the board of directors for the FAIR Institute and SCVX Corp., and co-chairs Art into Science: A Conference on Defense, which aims to advance the field of security defense. In a career spanning more than three decades, Yu has been granted 22 patents covering a wide range of topics, including threat modeling, graph databases, intrusion deception, endpoint security monitoring, tracking media leaks, attributing malicious requests and devices to organizations, detecting logic bombs, security portfolio optimization, and neutralizing stolen files. Before joining YL Ventures, he was chief security scientist at Bank of America. He holds a master's degree in electrical engineering from Virginia Tech, and bachelor's degrees in electrical engineering and economics from Duke University.
Shay Zandani, EMBA
Shay Zandani brings decades of experience, from small start-ups to Fortune 15 companies, across the US, Latin America, and European markets. Currently a partner in the New York office of KPMG LLP's Advisory Services practice, he focuses on the financial services industry and cyber security innovation. He began working in cybersecurity in the 1990s on the nation-state cyber battlefield, as founder of the Information Warfare Department at the Israeli Air Force (IWD). Under his leadership, the IWD pioneered the use of data manipulation for cyber offense. For over a decade, Shay served as CEO of Kesselman Global Risk Management Solutions (GRMS), a subsidiary of PricewaterhouseCoopers (PwC) in Israel, where he focused on conducting risk and cybersecurity maturity assessments for large, global enterprises. In 2013, Shay was elected president of ISACA, after seven years as the head of ISACA's professional committee. He has also been involved with ISACA's global task force for the CSX cyber exams.
Shay earned his EMBA from Northwestern University, and his bachelor's and master's degrees in Computer Science from The Open University of Israel.