Clinical Psychology Program, PsyD
Students have been receiving doctoral training at the Clinical Program at Yeshiva University's Ferkauf Graduate School of Psychology for more than 50 years. The program (PsyD) was established in 1979 and has been fully accredited by the American Psychological Association (APA) since 1985.
Our mission is to provide students with doctoral-level training in the conceptual and empirical foundations of clinical psychology, to enable them to become knowledgeable and thoughtful academic scholars, and to train them intensively in a variety of assessment, research, and therapeutic approaches. Students are exposed to a curriculum that integrates relevant research and the scientific foundations of psychology, applied theories, field training, and practical experiences within a wide range of psychological services.
The Clinical Psychology Program, PsyD (five-year program; 116 credits), provides students with the knowledge and skills to assume the role of professional psychologist in diverse settings. The program provides a full-time sequence of training that consists of four years of coursework, practica, and supervised experiences, culminating a full-time internship in the fifth year.
Program Director
Lata K. McGinn
Lata.McGinn@einstein.yu.edu
646.592.4394
Student-Centered Training
The Clinical Psychology Program is committed to providing a supportive, student-centered training environment to ensure that students are able to smoothly navigate their graduate experience. There are a variety of formal structures and processes in place to guide students as they proceed through the program, including one-on-one academic advisement, clinical advisement (assessment and therapy), and research advisement. Students also receive one-on-one and group mentorship from senior students. The director of externship and internship training also provides extensive guidance and mentorship (one-on-one and in a weekly professional seminar) on externship and internship placement and training. Finally, the program director oversees the advisement and mentorship process and also offers one-on-one advisement to students and the clinical program provides a number of ways for students to become involved and provide feedback including class representative, the Organization of Psychology Students (OPS), and teaching assistant positions. Read more about these opportunities.
Dr. Lata K. McGinn was awarded the "Outstanding Service to ABCT" award by the Association of Behavioral and Cognitive Therapies in November 2020. Click here to read more about it.
Dr. Leanne Quigley was featured in the article in YU today titled "Studying the Dynamic Interaction Among Thought, Feeling and Behavior" where she describes her passion for studying how emotion and cognitions interact to make people susceptible to psychological problems and how they can be harnessed to overcome these problems. Click here to read the article. 
Students Receive Accolades for Research
At the 54th ABCT Conference in November 2020, Alison Manning '21 presented a poster titled "Mediators and Moderators of Social Anxiety and Co-morbid Depression: Loneliness, Belongingness, and Perceived Social Support," and Lianna Trubowitz '21 presented a poster titled "The Impact of a Guided Mood Induction in Inducing and Modifying Symptoms of Sadness among Adolescents," which they co-authored with their mentor Dr. Lata K. McGinn.  
George Lederer '21, David Friedman '21, and Alejandra Zamora '23 collaborated with their research mentor Richard Zweig, Ph.D. on a chapter entitled  "Personality disorder in later life". The chapter is in press to be published in G. Asmundson, (Ed.), Comprehensive Clinical Psychology (2nd ed.). Oxford, UK: Elsevier.
Clinical PsyD Ferkauf Older Adult Program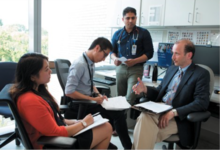 The Ferkauf Older Adult Program was featured by the APA Monitor as one of the model doctoral programs that provide training in the delivery of integrated mental health services to older adults. Learn more about this exciting news.