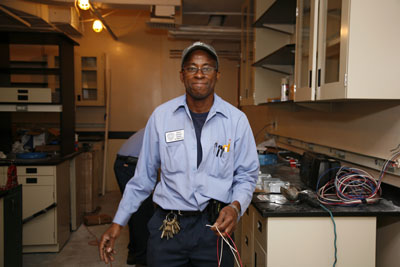 Equity Compliance & Title IX
EQUAL EMPLOYMENT OPPORTUNITY STATEMENT
NOTICE OF NONDISCRIMINATION & ANTI-HARASSMENT
Yeshiva University has a long-standing commitment to equal opportunity and affirmative action. We apply every good faith effort in achieving nondiscrimination and equality of opportunity in employment and in all spheres of academic life.
All University-wide decisions with regard to faculty, staff and students are based on equitable and equally applied standards of excellence. Non-Discrimination & Anti-Harassment procedures have been established, both as a legal obligation under applicable law and as a visible and formal expression of institutional policy.
GOALS OF OUR POLICY
The University's policy is designed to insure that recruitment, hiring, training, promotion, and all other personnel actions take place, and all programs and activities involving students, both academic and non-academic, are administered without regard to race, religion, creed, color, national origin, sex, age, disability, veteran or disabled veteran status, genetic predisposition/carrier status, marital status, sexual orientation, gender identity, citizenship status, sexual and other reproductive health decisions or decision making or any other protected classes under the law. In addition, this policy is designed to maintain a work and academic environment free of harassment and intimidation.
UNLAWFUL HARASSMENT
Unlawful harassment includes harassment based on race, religion, color, creed, age, national origin or ancestry, sex, marital status, physical or mental disability, veteran or disabled veteran status, genetic predisposition/carrier status, sexual orientation, gender identity, sexual and other reproductive health decisions or decision making, or any other basis made unlawful by any applicable law, ordinance, or regulation.
Unlawful harassment may be found in a single episode, as well as in persistent behavior. Sexual harassment (and sexual assault) is a form of unlawful harassment.
DEFINITION OF SEXUAL HARASSMENT
The Equal Employment Opportunity Commission (EEOC), defines sexual harassment as: "Unwelcome sexual advances, requests for sexual favors, and other verbal or physical conduct of a sexual nature constitute sexual harassment when (1) submission to such conduct is made either explicitly or implicitly a term or condition of an individual's employment, (2) submission to or rejection of such conduct by an individual is used as the basis for employment decisions affecting such individual, or (3) such conduct has the purpose or effect of unreasonably interfering with an individual's work performance or creating an intimidating, hostile, or offensive working environment."
ZERO TOLERANCE
Yeshiva University is committed to maintaining an environment for learning and teaching that is free of unlawful harassment. The University has adopted a policy of zero tolerance with respect to unlawful harassment as being antithetical both to the academic values of the University and the need for a work environment that is free from even the appearance of unlawful harassment or coercion.  The University strives to provide a place of work and study free of harassment, intimidation or exploitation.  Where harassment has occurred, the University will act promptly to stop the harassment, prevent its recurrence, and discipline and/or take other appropriate action against those responsible. Unlawful harassment in any form is a violation of University policy. 
POLICY ENFORCEMENT
The responsibility for the University's affirmative action/equal opportunity and anti-harassment policy lies with all associate and assistant deans, chairpersons, department heads, directors, administrators, managers and supervisors in their areas of responsibility and requires the commitment of the entire University community. Administrative and investigative responsibility has been assigned to the Senior Director of Talent Management & Equity Compliance, Renee Coker.
Renee Coker and the University's Title IX Coordinator, Chaim Nissel, Psy.D. are responsible for ensuring University compliance with Title IX of the Higher Education Act of 1972, which prohibits discrimination on the basis of sex in education program and activities. 
In addition to the Title IX Coordinator or a Deputy Title IX Coordinator, inquiries regarding Title IX may be directed to the United States Department of Education's Office of Civil Rights ("OCR"). This agency may be contacted as follows:
United States Department of Education, Office for Civil Rights
Region 2 – New York
Jacob Javits Federal Building
26 Federal Plaza - Suite 3312
New York, NY 10278
Voice Phone: (800) 368-1019
Fax: (212) 264-3039
TDD: (800) 537-7697
U. S. Equal Employment Opportunity Commission - New York District Office
33 Whitehall Street, 5th Floor
New York, NY 10004
(800) 669-4000
TYY: (800) 669-6820
Fax: (212) 336-3790
QUESTIONS AND ANSWERS
If you have any questions relating to equal opportunity, affirmative action, non-discrimination, anti-harassment and/or sexual harassment; or, if you wish to pursue a possible violation of the University's policy, please contact a member of the University's Panel on Unlawful Harassment or Renee Coker, Senior Director of Talent Management & Equity Compliance, at renee.coker@yu.edu or (646) 592-4336. The office is located on the Wilf Campus, 2495 Amsterdam Avenue, Belfer Building, Room 806, New York, NY 10033.
CORRECTIVE ACTIONS
When warranted, the University will take appropriate corrective action to remedy all violations of this policy, up to and including termination and/or expulsion. Where appropriate, the University may also report discriminatory conduct to licensing boards. Yeshiva University prohibits any form of retaliation against any employee or student for filing a bona fide complaint or for assisting in a complaint investigation.