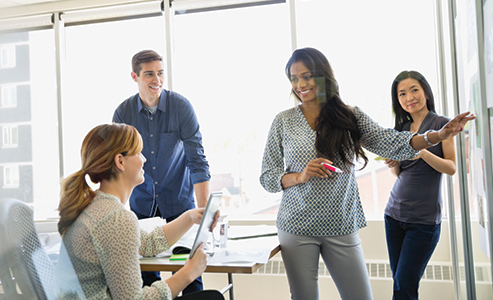 Katz School Programs
The Katz School follows in Yeshiva University's tradition of academic excellence, featuring programs applied sciences and mathematics; technology, data, and design; health sciences; and those emerging and expanding professions that are being transformed by technology innovations.
Each degree program is developed in consultation with leading employers, practicing professionals, and research-active faculty to ensure that what you learn is valuable now and many years into your career. The curriculum is heavily project-oriented, so you learn by doing rather than just memorizing facts. In addition, projects provide you with the opportunity to work in teams, a critical skill for 21st-century organizations around the world.
Graduate Programs
Earning a graduate degree from the Katz School at Yeshiva University will give you a unique edge. We created our specialized master's degrees with your career preparation in mind, designing curricula in direct response to needs in the marketplace. Discover how our master's degrees will make you stand out to employers.
Undergraduate Programs
Learn how our AS in Management can help you get started on your college career.
Pathways
Pathways provides YU graduating seniors with easy and seamless admissions into cutting-edge graduate programs at the Katz School. Receive a 50% tuition scholarship and become job ready in just one year. Browse available Pathways programs and get admissions details. 
Pathways Benefits
50% tuition scholarship 
Guaranteed admissions
STEM OPT-eligibility for international students
Become job ready in just one year
Summer Session
With the full benefit of Yeshiva's faculty and resources, our Summer Sessions can round out your transcript and accelerate your progress towards graduation.
An Academic Powerhouse
Our professionally-oriented programs incorporate the strategies, policies, methodologies, and technologies essential to each discipline. In addition, the faculty—a team of practicing professionals and published scholars—work together to build lessons that balance the right amount of theory and science with practical skills and tools.
Programs are available on-campus and online, so you'll have a choice in how you learn. Regardless of format, everyone at the Katz School is dedicated to enabling your academic pursuits and long-term professional success. We combine cutting-edge academic programs, a committed faculty, as well as a vast network of alumni and employers, to connect you with career opportunities and internships in New York City and beyond.
U.S. News & World Report has continually ranked Yeshiva as one of the nation's top 100 universities. Read more to decide which of our programs best fits your interests and lifestyle, and then apply to begin your path to success.