Rabbi Joseph B. Soloveitchik zt"l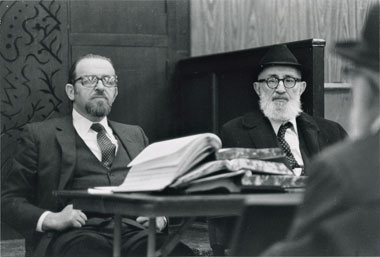 RIETS' standing as one of the world's great yeshivot derives in large part from its unique faculty.
Among the most illustrious Gedolei Torah was Rabbi Joseph Baer Soloveitchik zt''l, a towering scholar, philospher and teacher who had a profound impact on Jewish thought in our age. He was a leading authority and exponent of Halacha and the mentor of two generations of spiritual leaders. Senior rosh yeshiva at RIETS—the Lieb Merkin Distinguished Professor of Talmud and Jewish Philosophy—for over 40 years, he was also a Bernard Revel Graduate School of Jewish Studies faculty member.
Rabbi Soloveitchik was familiarly known as ''the Rav,'' an appellation of mentor and guide instantly recognized in every sphere of Jewish life and intellectual endeavor. Shunning the spotlight and generally not publishing his works, he had the legendary power to deliver unparalleled discourses spanning the Talmud, Jewish law, philosophy and contemporary issues.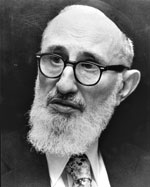 Rabbi Soloveitchik was born in Poland in 1903, scion of an enduring rabbinic dynasty. His grandfather, Rabbi Chaim of Brisk, developed an innovative system of Talmudic study—the acclaimed ''Brisker method''—which stressed incisive analysis and precise classification. Trained by his father, Rabbi Moses Soloveitchik, in this approach, the Rav earned a PhD in philosophy at the University of Berlin in 1931 and came to the United States the following year.
In 1941, Rabbi Joseph Soloveitchik was appointed rosh yeshiva at RIETS, succeeding his father, who, as rosh yeshiva since 1929, had transplanted the Brisk legacy on American soil. The Rav enriched this system of learning through a creative fusion of Jewish and Western scholarship.
In 1983, through an endowment by Maurice H. Saval, RIETS' Semikhah Program was renamed the Rabbi Joseph B. Soloveitchik Center of Rabbinic Studies. The Rav's ordination of some 2,000 rabbis over nearly half a century is unmatched and extends his influence beyond the borders of time and place.
Selected Teachings by the Rav
On the Love of Torah (YUTorah.org)
The Nine Aspects of the Haggada (YUTorah.org)
Rav Soloveitchik on the Pesach Haggada (YUTorah.org)
Remembering the Rav
Legacy of Rav Soloveitchik, by Rabbi Hershel Schachter (YUTorah.org)
Memories of the Rav, by Rabbi Hershel Reichman (YUTorah.org)