HARAV HAGAON R. AHRON HALEVI SOLOVEICHIK ZT"L
1917-2001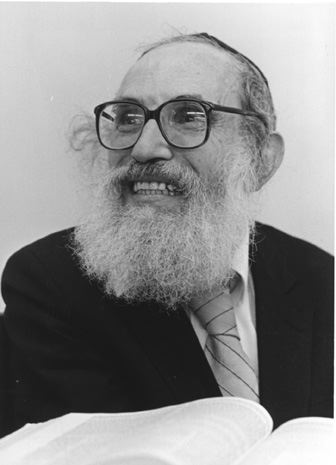 Rabbi Ahron Soloveichik was the son of Rabbi Moshe Soloveitchik zt"l, grandson of Rabbi Chaim HaLevi zt"l, and brother of Rabbi Yosef Dov Soloveitchik, zt"l. Rabbi Soloveichik was born in 1917 in Khislavichi, Russia, where Rav Moshe served as rabbi, moved to Poland with his family in 1920 and immigrated to the United States in 1930.
Rabbi Soloveichik was a graduate of Yeshiva College, a musmakh of RIETS, and held a law degree as well. Rabbi Soloveichik was a talmid of both his father, Rabbi Moshe, and later his brother, Rabbi Yosef Dov. Before joining the RIETS faculty, Rabbi Soloveichik taught at Mesivtah Tifereth Jerusalem and Yeshiva Rabbi Chaim Berlin. Upon moving to Chicago, he taught at the Hebrew Theological College and then founded the Brisk Yeshiva, where he served as dean until his death. Rabbi Soloveichik continued to teach at RIETS as well, traveling weekly from Chicago to New York after his brother R' Yosef Dov became ill. He also served as a pulpit rabbi in New York and Chicago.
For many years, Rabbi Soloveichik delivered a popular Parshat HaShavua Hashkafa shiur at RIETS. Well known for his strong, unwavering opinions on many issues, Rabbi Soloveichik often spoke about issues confronting the community, including his strong views on the Vietnam War. His clear, unyielding views in halakha, as well, led to the establishment of North America's first yashan-only bakery, in Chicago. Rabbi Soloveichik's tenacity was also evident in his continuing to commute, weekly, from his home and yeshiva in Chicago to RIETS in New York, even after a debilitating stroke made it difficult for him to walk.
Rabbi Soloveichik had many talmidim in Yeshiva and throughout the world, and he wrote sefarim both in Hebrew and English.