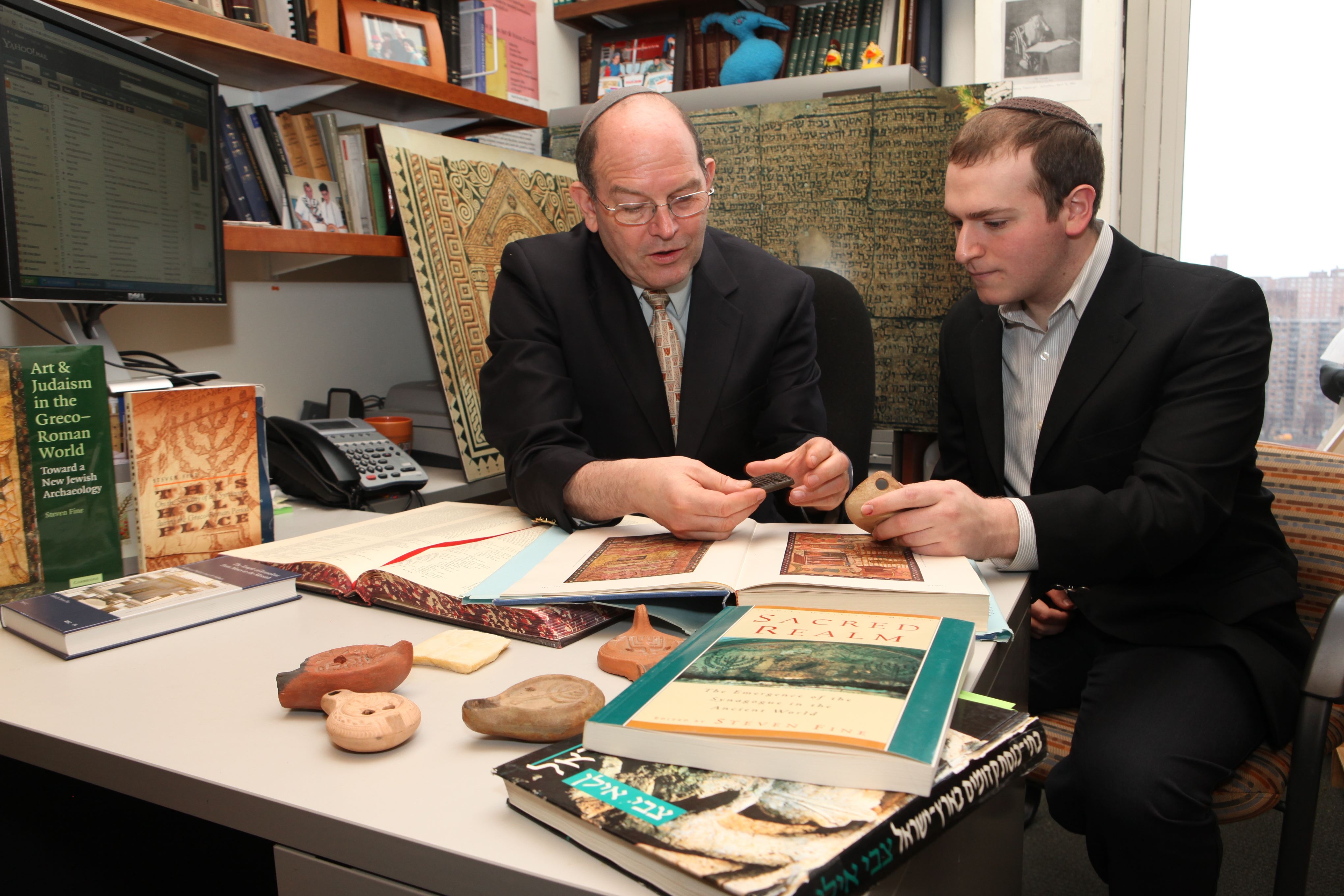 The Bernard Revel Graduate School of Jewish Studies, located at Yeshiva University's Wilf Campus in the Washington Heights section in upper Manhattan, is one of the world's largest centers of advanced Jewish studies. We offer MA and PhD degree programs, a remote MA in Philosophy, a joint MA/MS program with the Azrieli Graduate School of Jewish Education and Administration, as well as a joint BA/MA degree program for qualified undergraduates at Stern College for Women and Yeshiva College.
Please click below to learn more about our programs' requirements, how to apply and other essential admissions information.
MA Program: Admissions Requirements
Applicants must hold a bachelor's degree or its equivalent from a recognized college or university and have a grade point average of at least B (3.0). Academic background should include documented evidence of a Hebrew proficiency adequate for the required readings. In the absence of such evidence, a Hebrew reading test may be required as part of the admission process.
PhD Program: Admissions Requirements
Applicants must fulfill the following requirements:
Hold a bachelor's degree from a recognized college or university.
Possess a knowledge of Hebrew adequate for the pursuit of doctoral work.
The student's scores on the verbal, quantitative and analytical sections of the Graduate Record Examinations must accompany the application. The GRE reporting code for Revel is 6284.
Applicants holding a master's degree and those who have made substantial progress toward such a degree must submit a qualifying paper or papers, totaling approximately 70 pages, demonstrating the ability to pursue doctoral research.
Students applying directly out of college must submit a writing sample providing evidence of outstanding potential for pursuing such research.  Students admitted on this track must devote full time to their doctoral studies.
Applicants accepted into the program may be offered multi-year doctoral level fellowships.  It is understood that receipt of such fellowships beyond the first year is contingent upon satisfactory progress.   
Joint BA/MA-BS/MA Program: Admissions Requirements
General Requirements
Cumulative grade point average: 3.2
Average in Jewish studies: 3.4
Senior standing (94 credits)
Acceptance by the undergraduate dean and dean of Revel
Additional Requirements
Yeshiva College Students and Sy Syms School of Business Students
Completion of the Jewish Studies General Education requirements
Stern College for Women and Sy Syms School of Business Students/Beren Campus
Five of the six required semesters of Jewish studies core courses
Jewish Studies majors: at least 18 credits toward the major at SCW
Application Deadlines
Applications for admission to the doctoral program are considered only once a year for admission in the fall semester. The deadline for applications, including all supporting documents, is December 31 of the previous year (e.g., the deadline for fall 2017 admission was December 31, 2016). Late applications will not be considered. Applicants to the doctoral program must submit verbal, quantitative and analytical GRE scores. The GRE reporting code for Revel is 6284.
Applications for fall admission to the MA program, including all supporting documents, by students requesting scholarships and fellowships is March 13, 2018. Late applications will be considered, but priority in the granting of financial aid will be given to those who file by this date. For spring admission, students should apply at least two months prior to the semester in which they wish to be admitted. Please see the fall calendar for exact date.
Student Options/Degree Students
Students admitted with permission to work toward degrees are considered matriculated. They fall into two categories:
Regular Students: those who have met all conditions for admission
Provisional Students: Those who have not met all conditions of the application process but who may become regular students once all conditions for admission have been met. Provisional students do not automatically become regular students.
Nondegree Students
Students who wish to enroll for courses to meet their particular needs without entering a degree program are considered nonmatriculated. They fall into two categories:
Visiting Students: those in good standing at another school of Yeshiva University, who have the permission of the dean of that school and of the dean of Revel, may register for a limited number of courses
Transient Students: those in good standing at other colleges and universities, who have the permission of their home institution and of the dean of Revel, may enroll for courses for possible transfer to their home school
Undergraduate Students at Yeshiva University
Students who wish to enroll for courses to meet their undergraduate and/or graduate needs fall into two categories:
Bachelor's/master's (BA/MA) students: undergraduate students may apply for the joint BA/MA program
Undergraduate students taking graduate courses for undergraduate credit: With the permission of the college dean and the dean of Revel, undergraduate students may take graduate courses for undergraduate credit only. These courses cannot be converted to graduate courses should the student desire to enroll in Revel for a graduate degree.
Auditors
A limited number of persons with the appropriate background may, with the permission of the dean, register as auditors. They are required to pay a stipulated fee. The category of auditor does not entitle the student to submit any coursework or to receive an academic record. An auditor is not entitled to use any campus facilities.
Foreign Students
Foreign students applying for admission to the school are strongly advised to file applications for admission well in advance of the admission deadline in order to ensure sufficient time for evaluation. They should have forwarded to the Office of the Dean complete transcripts of previous academic training and a certified translation of each document written in a foreign language other than Hebrew.
In addition to all admission requirements, proficiency in English—verbal and written comprehension and expression—is a prerequisite for study. Applicants whose native language is not English must submit acceptable proof of their proficiency in English before being considered for admission. Normally the student is expected to demonstrate proficiency in English by receiving an acceptable score on the Test of English as a Foreign Language (TOEFL), administered by the Educational Testing Service. This test is given in various locations throughout the world several times a year. Information on the location of testing centers as well as other pertinent information can be obtained by contacting:
TOEFL
Educational Testing Service
PO Box 6155
Princeton NJ 08541-6155
Telephone: 609.771.7100
Equal Opportunity
The University is committed to a policy of equal opportunity and nondiscrimination in admission and all other facets of its educational programs and activities. The University encourages applications from qualified students regardless of sex, religion, age, race, disability, marital status, color, or national origin, within the meaning of applicable law.
Office of Disability Services
The Office of Disability Services assists students in obtaining reasonable accommodations for documented disabilities including physical, emotional, visual, hearing, learning disabilities, ADHD and temporary disabilities. If you believe you are in need of a disability related accomodation, please complete an intake form and return it to ODS, attention Abby Kelsen (akelsen@yu.edu) as soon as possible so that your request can be reviewed. For additional information regarding reasonable accommodations and documentation guidelines, please refer to the Office of Disability Services website.
Visiting Revel
Prospective students interested in visiting our campus should call (646) 592-4271.