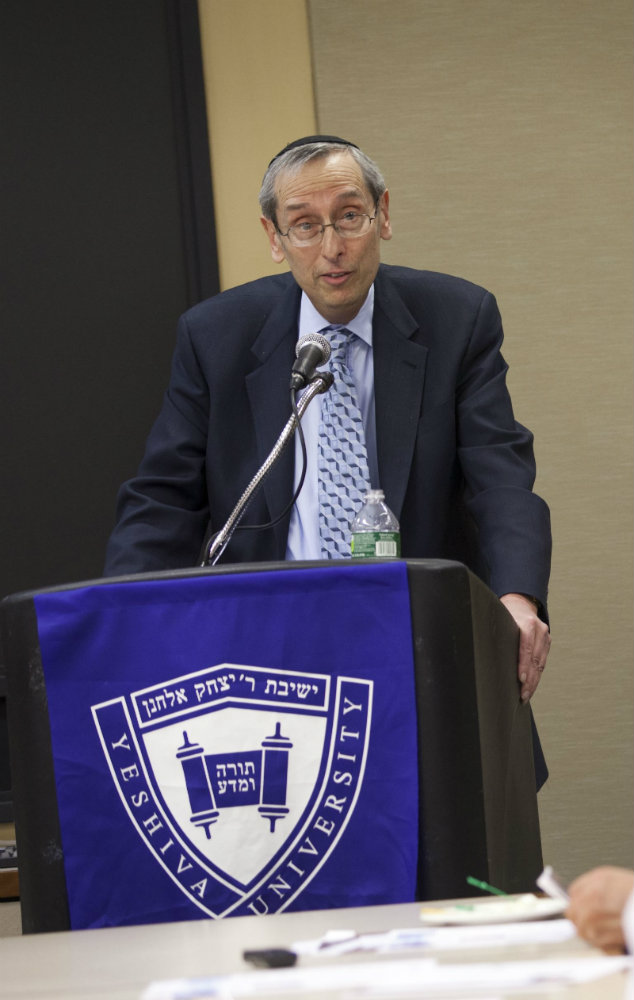 Welcome from the Dean: Memo to Students

 
TO:         All BRGSJS Students
FROM:     David Berger, Dean
DATE:     January 17, 2018
As the spring semester approaches, I invite you to examine the list of courses and the academic calendar that are accessible on this website. The calendar contains information about critically important deadlines with both academic and financial implications. Please study it carefully.
Registration
As the calendar indicates, online registration extends from December 5 to January 24. Instructions for online registration appear at the end of this memo. BRGSJS students are urged to avail themselves of this procedure.  
In person registration for the spring semester will take place Thursday January 18; Monday-Wednesday, January 22-24. Hours are listed on the Revel Academic Calendar. The registration process starts in the BRGSJS office (Deans Suite, 3rd floor, Furst Hall). Those students who cannot register online or at the specified time in person should call Ms. Washington at 646-592-4270 during regular office hours to make alternate arrangements.
Continuous Record
Students should be aware that they must have a continuous record at BRGSJS. MA students who have completed the course work but are making up assignments and/or studying for the comprehensive examinations, or students who wish to take a leave of absence, must register in the appropriate category during the regular registration period. 
Comprehensive Written Examinations for the MA Degree
Please note the March 23rd deadline for applying for the Comprehensive Examination for the May 2018 degree to be taken on May 9th.The deadline for applying for the Comprehensive Examination and graduation for the September 2018 degree is July 26th.
To take the examination a student must be an active student. This means that one must either be taking regular courses or be registered for Master's Research. (Active Student status in the spring semester is sufficient to establish eligibility for the September examination.) In addition, the student must have completed all the courses for the MA or be in the process of completing them during the spring semester. Students taking 5000 level courses during the spring that are required in their concentration must receive special permission from the office of the Dean to take the May examination; for the Bible concentration, such permission will generally not be granted. Students with an "Incomplete" on their record are not eligible to take the examination unless they have submitted the work necessary to remove that "Incomplete." The final grade itself does not have to be filed by the date of the examination.
Graduation
Students who expect to graduate in May 2018 must file an application for the degree by March 23rd. Applications are filed with the Registrar's office. Students should make certain that their academic record is in order. They must also determine that the final transcript documenting their undergraduate degree is on file.
Incompletes
The work for a given semester should normally be completed by the end of that semester, and instructors may require that this procedure be followed. With the instructor's permission, students may take up to an additional semester and a summer to complete their work. In the case of a summer course, the deadline is at the beginning of the following spring semester. Give your work directly to the instructor, an electronic copy must be filed with the office by the appropriate deadline. Fellowships will not be renewed and scholarships will not be granted if work is not submitted within this time frame. In special circumstances, a modest extension may be granted with permission of both the faculty member and the Dean.  Requests for such extensions must be made before the deadline. After the deadline, the course(s) in question may not be completed successfully and will not count toward the degree. Any additional courses that will consequently be needed to complete the degree will not be covered by financial aid.
Withdrawal from courses
Students who wish to withdraw from a course must file the appropriate form at the Revel office. If the form is submitted by February 15th, the course will not appear on the student's record. If it is submitted after this date but no later than March 26th, it will appear on the student's record with a "W". University policy requires students who drop a course after February 15th to pay tuition for the course. Consequently, those who have already paid for it will not be eligible for a refund. Those who were granted a tuition scholarship for it will be billed.
March 26th is the last day to drop a course. Students who do not file the appropriate form by that date must complete work in the course by the deadline(s) outlined in the section on Incompletes.  
Tuition Scholarships and Fellowships
Unless they have a scholarship and/or fellowship award letter that applies to the full 2017-2018 academic year, MA students wishing to receive an award for spring 2018 must submit a scholarship application. New applicants to the MA program wishing to receive an award for spring 2018 must also file a scholarship application. The applications are available online and in the Revel office.  Please be aware that scholarship funds for the academic year 2017-2018 have been largely committed, and so the availability of new scholarships for the spring semester will be limited.
Parking
Students apply for parking through the Security Office at 521 West 185th Street. See the Department of Safety and Security website for more information. Space is limited.
Graduate Student Health Insurance
Please see very important memo below.
Apologia
As I look at the occasionally harsh formulations in this memo, which purportedly welcomes you to the spring semester at BRGSJS, I am reminded of a cartoon by the renowned political cartoonist Herblock, who wrote in an age that most students will not recall.  In response to a proposal that all immigrants be fingerprinted, he drew an immigration official sitting behind a desk with a big smile on his face and his hand extended to a new immigrant.  In the hand was an open inkpad.  The caption read, "Put 'er there, pal!"
How do I rectify this rather mixed message?  My first reaction is inspired by the second chapter of the Greek textbook that I used as a YC student in the age of Herblock.  It followed the chapter on the alphabet and dealt with accents.  It began, as I recall all too distinctly, with a paragraph informing the reader that "a word with an acute accent on the ultimate syllable is called an oxytone, on the penultimate syllable—a paroxytone, on the antepenultimate syllable—a proparoxytone; a word with a circumflex accent on the ultimate syllable is a perispomenon, on the penultimate syllable—a properispomenon."  Even these authors, who were, as the remainder of the book confirmed, among the stellar students of the Marquis de Sade, felt a bit uneasy about this paragraph, and so they tried to make the student-reader feel better with a reassuring concluding sentence.  The best they could do was the following: "These terms, though formidable, will save much laborious periphrasis." 
I am, then, tempted to conclude this memo by saying, "These instructions, deadlines, and dire warnings, though intimidating, will forfend much existential angst."
Part of me, however, doubts that this is a very good idea, and so I can only say that I and the BRGSJS faculty and staff genuinely welcome you as you begin or continue your studies here.  Put 'er there, pal!  
INSTRUCTIONS FOR WEB REGISTRATION 
Go to www.yu.edu/myyu
Click on "Faculty, Students and Staff"
Your User ID will begin with the number "8" or "9".
Your PIN is:
If this is your first time logging on: you should have received an email with your new random pin.  You will be prompted to change your PIN once you access the system. The PIN will need to be 6 numbers. You cannot use 123456 or 111111 as a PIN.  If you did not receive an email – please feel free to contact Bannerweb@yu.edu
If you have previously logged on: use whatever numbers you chose your first time logging on.
If you need a new pin: please follow the directions for resetting a pin and one will be emailed to you.
If you forgot your pin: but remember your security question follow those directions under Forgot Pin?
Click on "Student and Financial Aid."
Click on "Registration."
Click on "Add/Drop Classes."
Choose Term
Proceed through the screens. Once you have entered all the CRNs, remember to click the "Submit Changes" button.
Have a GREAT semester! 
Dear YU Graduate Student,
To assist students in avoiding unanticipated medical costs, Yeshiva University requires all graduate students who are enrolled in programs that require or include attendance at the university (I.e. fully on-line students are exempt) and who are  taking one (1) or more credit hours as part of the required Masters or Doctoral  degree program be covered by a health insurance plan. This includes students receiving one (1) or more credits in class, practical training, internships, student teaching, counseling or working on their dissertation. Academic HealthPlans has been selected to administer the student health insurance plan, underwritten by United Healthcare for the 2017-2018 academic year. For details regarding the benefits offered by the plan please visit yu.myahpcare.com/
Students will be automatically enrolled in the student health insurance plan, and premium charges will be billed automatically to their student account.  For Spring 2018, you will be billed $1,699. If you wish to enroll in the student health insurance plan, there is nothing further you need to do. 
Students who have their own health insurance coverage can waive out of this plan using the instructions below. Waiver requests must be submitted online no later than February 28, 2018, at 11:59 p.m.  Unfortunately, no deadline extensions or exceptions can be granted. 
Online Insurance Waiver Process:
Have your insurance card ready
Go to yu.myahpcare.com/waiver
Enter your Student ID information to log in
Enter your date of birth as the Password (MMDDYYYY)
Complete the waiver form and submit your insurance information
Once you have successfully submitted your waiver request you will receive an automated email confirming receipt of your request. Please make sure you have received a submission confirmation email, and print it for your records. Should there be any problems with your waiver, you will need this confirmation email and your waiver request ID number. This automated email does not constitute granting of a waiver; a separate email as to whether your waiver request has been approved will be sent from Academic HealthPlans in approximately one week.
Those students who are granted a waiver will have the health insurance fee removed from their Yeshiva accounts. Please note that it is the student's responsibility to follow up on the status of their waiver request and to ensure that all information is received by AHP prior to the waiver deadline. 
If you wish to enroll your spouse and/or dependent, please go to yu.myahpcare.com/enrollment and select the 'Enroll Online' link to submit the enrollment and payment.
Thank You