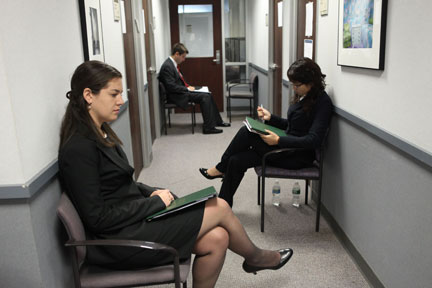 Position Posting
You may post full-time, part-time, or internship positions with The Shevet Glaubach Center for Career Strategy and Professional Development by submitting directly to the YU CareerLink system.
On-Campus Recruiting
We offer on-campus interviewing opportunities during the fall and spring semesters for internship and full-time positions. We typically schedule formal on-campus recruiting activities from late September through late November, and from early February through early April.
Job Offer Guidelines for Employers and Students (PDF)
Information Sessions
We invite you to host information sessions at Yeshiva University prior to your on- or off-campus recruiting date. You may use these sessions to inform students about your organization, and you may send recruiting material to our office in advance. We assist you in reserving appropriate space.
Career Fairs
The Shevet Glaubach Center (SGC) produces one large Multi-industry Fair in the Spring Semester, and a number of industry-specific events throughout the course of the academic year.  Past industry-specific events have included targeted forums in Accounting, Finance, Communications and Marketing, Allied Health, Not-for-Profit opportunities and year-long service programs.  If you are interested in being included on the mailing lists for any of these events, contact the SGC at (646) 592-4090.
Company Site Visits
We partner with student clubs and organizations to coordinate site visits to companies. These visits occur during the fall and spring semesters and include small groups of students. They give you an opportunity to expose students to your organization, its work, and its people.