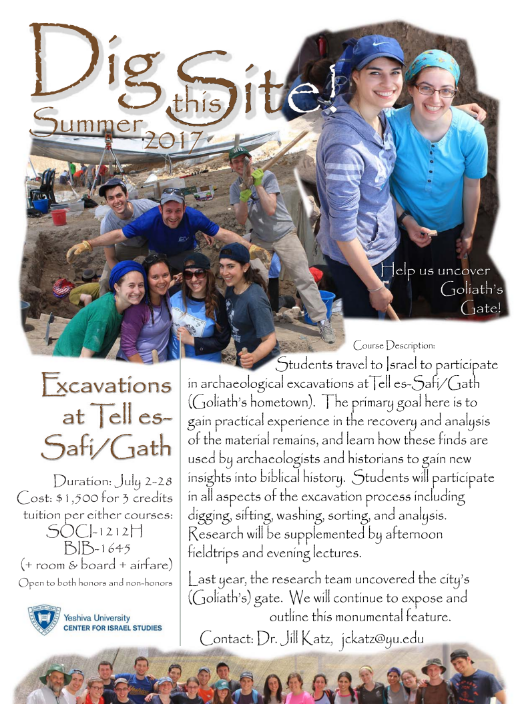 Summer in Israel
The YU Summer Israel Experience uses the State of Israel as a laboratory and classroom. In its first year, 2007, more than 30 students studied the history and archaeology of the Land of Israel, excavated the biblical city of Gath and engaged in internships throughout the Jerusalem area—all for academic credit. This was coupled with intense Torah study, visits with prominent scholars and leaders and behind-the-scenes experiences.
Archaeological Dig at Gath
The YU Summer Israel Experience continues with excavations at Gat!  Our students, led by Jill Katz (Stern, Sociology, YC, Jewish History), will participate in the archaeological excavations at Gath, joining an international team organized by Bar-Ilan University. For more information see below.
The S. Daniel Abraham Honor's Program Travel Course
Summer Archaeology Fellowship
A competitive fellowship to participate in archaeological excavations in Israel. In summer, 2011, Jill Joshowitz, a junior at Stern College, attended the archaeological field school at the Khirbet Hammam excavations directed by Uzi Liebner of the Hebrew University Institute of Archaeology. The fellowship was made possible in part by a generous donation by David and Clair Kahane.