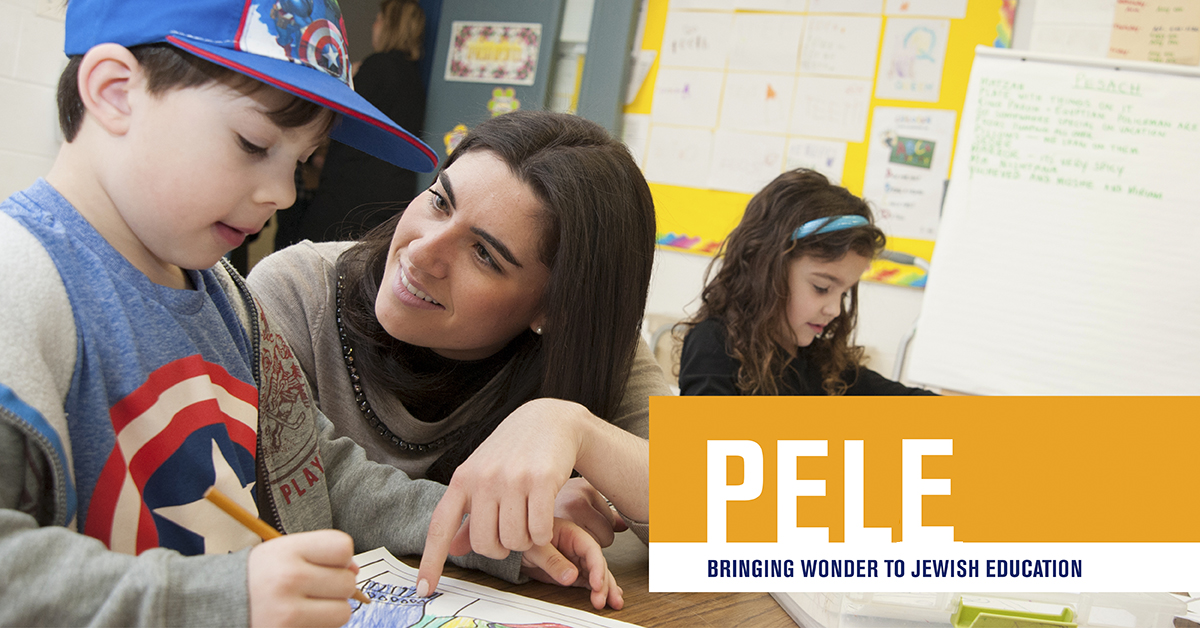 ♦♦♦♦♦APPLICATION DEADLINE April 15♦♦♦♦♦
Introducing Wonder Into Jewish Education
The PELE Fellowship is a collaboration between Azrieli and the Kohelet foundation to offer a one-year fully funded Master's degree in Constructivist Approaches in Jewish Education.
What is the PELE Fellowship?
The PELE (Progressive Education Laboratory Experience) fellowship is an exclusive one-year Master's degree program. It provides tuition remission, a $7,000 stipend, and a variety of rich educational experiences combining coursework, seminars, school visits, and student teaching. The program is staffed by Azrieli faculty and a cadre of extraordinary practitioners who teach and mentor. A maximum of 10 fellows are accepted in each cohort.
What is Constructivism?
Constructivism is an educational approach built on the philosophy and theory that individuals learn best when they actively construct knowledge and build understanding and meaning. Synthesizing the research on child development, learning science and related areas, constructivist educators facilitate individualized opportunities for student growth. Constructivist educators believe in engendering intellectual curiosity and celebrating students' intrinsic interests and motivations.
Who Can Apply?
New, emerging and experienced educators interested in learning to employ progressive, student centered approaches in Jewish studies settings should apply. A Bachelor's degree or equivalent is required.
What Will the PELE Chinuch Fellows Do?
PELE Fellows complete an Azrieli Master's Degree in Jewish Education, participating full time for one year. Their coursework is tailored to focus on constructivism and best practices in teaching Jewish studies. Participation requires a full time commitment. PELE fellows may not hold other employment positions during the program.
The fellowship begins with a week-long orientation in late Summer. During Fall and Spring terms, fellows spend two days each week on the YU Washington Heights campus in New York, participating in Azrieli classes and constructivism-focused seminars. The other three days each week, fellows complete their student teaching in progressive classrooms. Approximately once a month fellows embark on field experiences at progressive settings to see their coursework and seminar discussions actualized.
Chief among such destinations is the Yeshiva Lab School and Kohelet High School in Philadelphia. While most observations will be completed in one day, four multi-day visits are scheduled each year, with meals, travel and lodging arranged by the fellowship.
PELE fellows benefit from close mentorships with leaders in the field. Their professional growth is served both through participation with peers and interaction with the larger Jewish educational network.
What are the financial arrangements?
PELE Chinuch fellows receive a full scholarship for their Azrieli coursework and a stipend of $7,000. They are responsible for Yeshiva University registration ($65 per term), technology ($125 per term) and any other relevant fees as determined by Yeshiva University*.
*University fees subject to change
How do I apply?
Interested individuals should apply on-line here. The application deadline is April 15th, 2019.  Once the on-line application is received, including the required letters of recommendation, candidates who are being considered will be invited for an in-person or on-line interview.  Please make sure to use the PELE Letter of Recommendation form.