News and Events
The Arch of Titus Project
From June 5-7, 2012, an international team of scholars organized by the YU Center for Israel Studies assembled at the Arch of Titus and scanned the bas reliefs for evidence of its ancient colors. For more information, click here: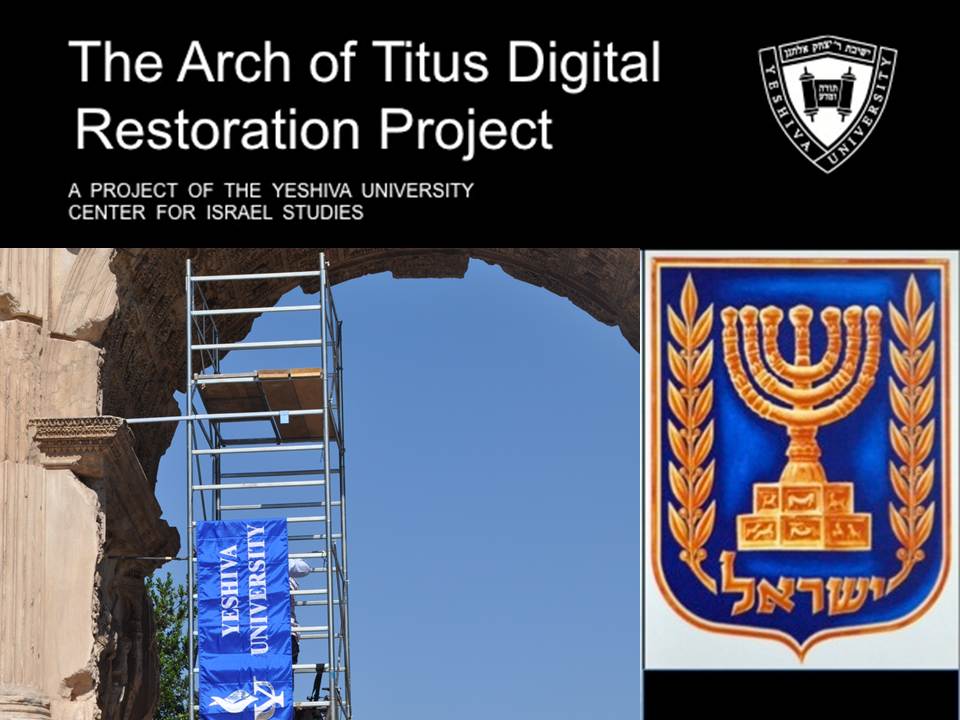 ----------------------------------------------
----------------------------------------------
The newest publication of the CIS, based upon our 2011 conference:
Talmuda de-Eretz Israel: Archaeology and the Rabbis in Late Antique Palestine brings together an international community of historians, literature scholars and archaeologists to explorehow the integrated study of rabbinic texts and archaeology increases our understanding of both types of evidence, and of the complex culture which they together reflect. This volume reflects a growing consensus that rabbinic culture was an "embodied" culture, presenting a series of case studies that demonstrate the value of archaeology for the contextualization of rabbinic literature. It steers away from later twentieth-century trends, particularly in North America, that stressed disjunction between archaeology and rabbinic literature, and seeks a more holistic approach. http://www.degruyter.com/view/product/204 
Table of Contents
 Contents
 Steven Fine and Aaron Koller 
 Preface v
 Shawn Zelig Aster 
 Mishnah Baba Metsia 7:7 and the Relationship of Mishnaic Hebrew to
 Northern Biblical Hebrew 1
 Jonathan Milgram 
 Mishnah Baba Batra 8:5 – The Transformation of the Firstborn Son from
 Family Leader to Family Member 19
 Noa Yuval-Hacham 
 Mishnah Avodah Zarah 4:5 – The Faces of Effacement: Between Textual and
 Artistic Evidence 29
 Joshua Weistuch and Ben Zion Rosenfeld 
 Tosefta Ma'aser Sheni 1:4 – The Rabbis and Roman Civic Coinage in Late
 Antique Palestine 53
 Yonatan Adler 
 Tosefta Shabbat 1:14 – "Come and See the Extent to Which Purity Had Spread"
 An Archaeological Perspective on the Historical Background to a Late
 Tannaitic Passage 63
 Uzi Leibner 
 An Illustrated Midrash of Mekilta de R. Ishmael, Vayehi Beshalah, 1 –
 Rabbis and the Jewish Community Revisited 83
 Lawrence H. Schiffman 
 Jerusalem Talmud Megillah 1 (71b–72a) – "Of the Making of Books":
 Rabbinic Scribal Arts in Light of the Dead Sea Scrolls 97
 Alexei Sivertsev 
 Jerusalem Talmud Sanhedrin 2,6 (20c) – The Demise of King Solomon and
 Roman Imperial Propaganda in Late Antiquity 111
 Burton L. Visotzky 
 Genesis Rabbah 1:1 – Mosaic Torah as the Blueprint of the Universe –
 Insights from the Roman World 127
 R. Steven Notley 
 Genesis Rabbah 98:17 – "And Why Is It Called Gennosar?" Recent
 Discoveries at Magdala and Jewish Life on the Plain of Gennosar in the Early
 Roman Period. 141
 Galit Hasan-Rokem 
 Leviticus Rabbah 16:1 – "Odysseus and the Sirens" in the Beit Leontis
 Mosaic from Beit She'an 159
 Steven Fine 
 Babylonian Talmud, Sukkah 51b – Coloring the Temple: Polychromy and the
 Jerusalem Temple in Late Antiquity 191
 Sacha Stern 
 Babylonian Talmud, Avodah Zarah 16a – Jews and Pagan Cults in Third-
 Century Sepphoris 205
 Steven D. Fraade 
 The Rehov Inscriptions and Rabbinic Literature: Matters of
 Language 225
 Stuart S. Miller 
 "This Is the Beit Midrash of Rabbi Eliezer ha-Qappar" (Dabbura Inscription)
 Were Epigraphical Rabbis Real Sages, or Nothing More Than Donors and
 Honored Deceased? 239
 Laura S. Lieber 
 The Piyyutim le-Hatan of Qallir and Amittai: Jewish Marriage Customs in
 Early Byzantium 275
 Afterwords
 Eric Meyers 
 The Use of Archaeology in Understanding Rabbinic Materials:
 An Archaeological Perspective 303
 Daniel Sperber 
 The Use of Archaeology in Understanding Rabbinic Materials: A Talmudic
 Perspective 321
CIS at the Metropolitan Museum of Art!
Members of the CIS community were deeply involved in a groundbreaking Metropolitan Museum of Art exhibition, Byzantium and Islam Age of Transition, 600-900 , March 14-July 8, 2012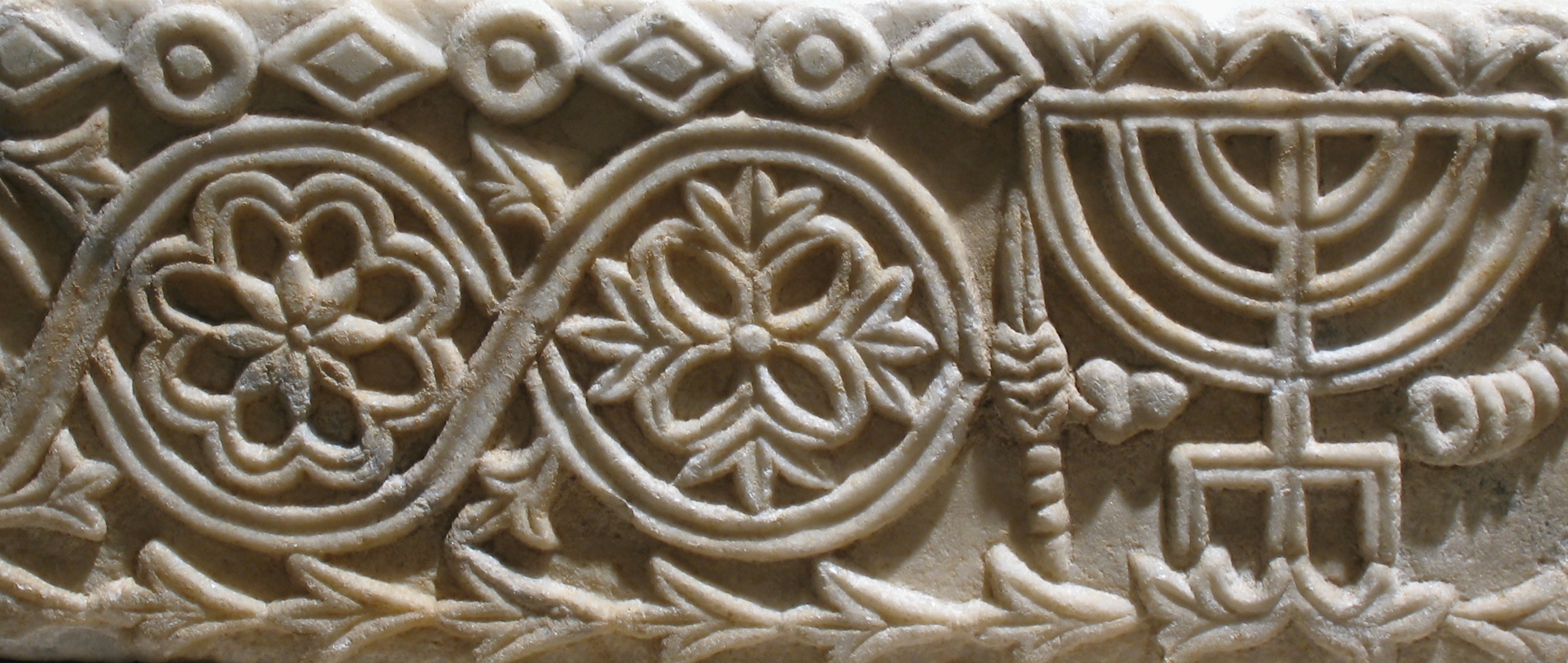 -Fragment from the ancient Synagogue at Ashkelon. 4th-7th century. Stone. Deutsches Evangelisches Institut, Jerusalem. One of the objects that appeared in Byzantium and Islam 
See the YU News coverage of the CIS' participation Byzantium and Islam below:
- "Contextualizing a Culture" (May 15, 2012)
- "YU Meets the Met" (March 14, 2012)
- "Byzantium and Islam Behind the Scenes Tours" (April 29, 2012)
About the Exhibition
The Eastern Mediterranean, from Syria across North Africa, comprised the wealthy southern provinces of the Byzantine Empire at the start of the seventh century. By that century's end, the region was central to the emerging Islamic world. This exhibition will be the first to display the complex character of the region and its exceptional art and culture during the era of transition—from its role as part of the Byzantine state to its evolving position in the developing Islamic world. The dialogue between established Byzantine and evolving Islamic styles and culture will be shown through images of authority, religion, and especially commerce. Iconoclasm as it emerged during that period among the Christian, Jewish, and Islamic communities of the region will be addressed.

Steven Fine, director of the Center for Israel Studies, wrote a major catalog entry, "Jews and Judaism between Byzantium and Islam," and was instrumental in the choice and interpretation of artifacts that illustrate the Jewish experience at this important crossroads.  He presented the Jewish artifacts at a symposium for scholars at the Met.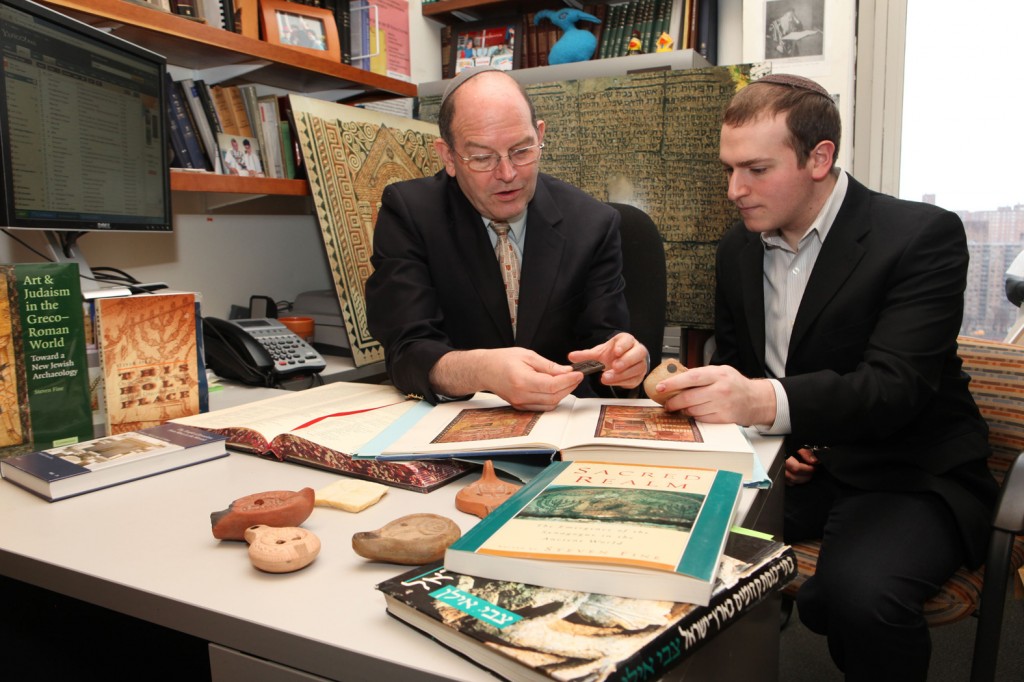 -Dr. Fine and Mr.Schwartz at work 
CIS Programming and Tours
Dr. Fine delivered a major lecture at the Met, "Jews and Samaritans in an Age of Transition," which wass open to the general public, on Sunday, March 18, 2012.  For further information, visit the Metropolitan Museum of Art's  website for the exhibition. Yitzchak Schwartz (YC 2011), Research Associate and Coordinator at the CIS, has spent the last year as a Met intern in the Department of Medieval Art working on this exhibition, co-writing a number of catalog entries with Professor Fine.

Dr. Fine and Mr. Schwartz led special  Behind the Scenes Tours of Byzantium and Islam for the YU community, for YU students on Sunday, May 6, 2012, and for faculty and staff on Wednesday, May , 2012.
Joint Metropolitan Museum of Art and CIS Conference
The YU Center for Israel Studies co-sponsored Perspectives on Byzantium and Islam, an international conference at the Metropolitan Museum of Art, on Tuesday, March 20, 2012. For more on the program, see the Perspectives on Byzantium and Islam website. See below for full the full program and schedule:
Perspectives on Byzantium and Islam:
Noted scholars expand on issues related to perceptions on the use of images in works related to the time frame of the exhibition Byzantium and Islam: Age of Transition.
An international conference at the Metropolitan Museum of Art, 
Tuesday, March 20, 1:00–4:00 p.m.
The Grace Rainey Rogers Auditorium Show 


- Tenth century decorative "Carpet page" from a Biblical codex. Pigment and gold leaf on parchment. Firkovich Compilation, National Library of Russia, St. Petersberg.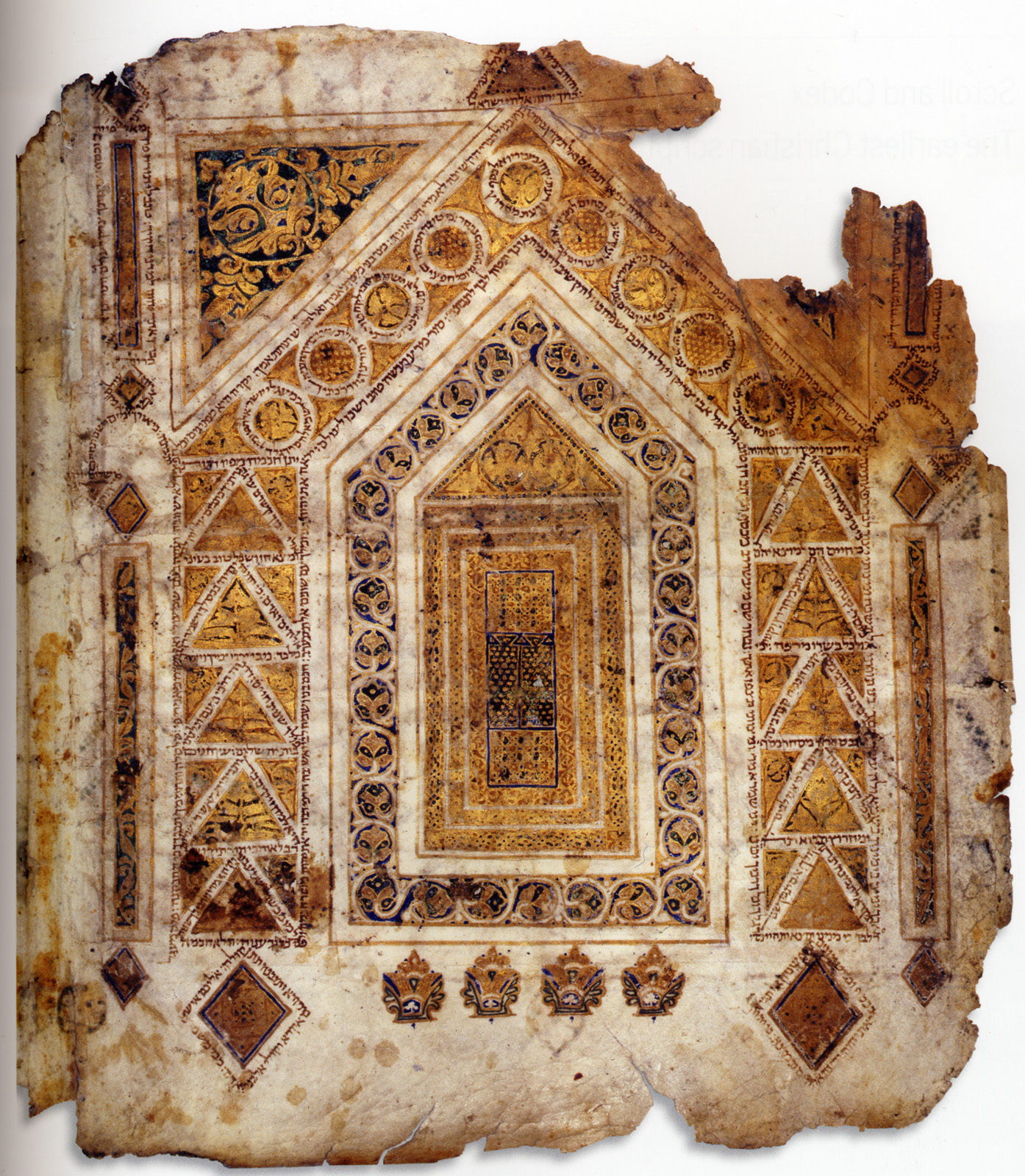 1:00 p.m.
The Destruction of Images in Eighth-Century Palestine
Robert Edwin Schick, Research Fellow, American Center of Oriental Research, Amman, Jordan

1:30 p.m.
Untidy History: The Cairo Geniza Documents and Inter-Confessional Contacts
Arnold E. Franklin, Assistant Professor of History, Queens College, The City University of New York

2:00 p.m.
Images in the Heartland and Images in the Southern Periphery of the Byzantine Empire
Gabriele Mietke, Curator for Byzantine Art, Skulpturensammlung und Museum für Byzantinische Kunst, Staatliche Museen zu Berlin—Stiftung Preußischer Kulturbesitz

2:30 p.m.
Transmission of Images in the Mediterranean
Annie Labatt, Chester Dale Fellow, The Metropolitan Museum of Art

3:00 p.m.
New Interpretations of the Entrance Facade at Qasr al-Mshatta, Jordan
Claus-Peter Haase, Director Emeritus, Museum für Islamische Kunst, Staatliche Museen zu Berlin—Stiftung Preußischer Kulturbesitz, and Honorary Professor of Islamic Art and Archaeology, Freie Universität Berlin

All symposia are free with Museum admission; reservations and tickets are not required. Seating is available on a first-come, first-served basis.

This program is made possible by gifts in honor of Froso Beys and by Mr. and Mrs. John Bilimatsis.

This program is organized by The Metropolitan Museum of Art and Yeshiva University Center for Israel Studies.
----------------------------------------------
----------------------------------------------
August, 2012:
Folktales of Israel Videos Now Online!
Enjoy footage from our Fall 2011 conference Folktales of Israel: A Festival Honoring Professor Peninnah Schram, now available online:
---------------------------------------------------
---------------------------------------------------

Sunday, April 22:
Religious Zionism in America: A Yom Iyyun Honoring Professors Bernard Rosensweig and Sol Roth
The CIS invites the YU community and the public to a Yom Iyyun exploring the history and thought of Religious Zionism in America. The Yom Iyyun will honor longtime YU Professors and leaders in the YU community Rabbi Dr. Bernard Rosensweig and Rabbi Dr. Sol Roth.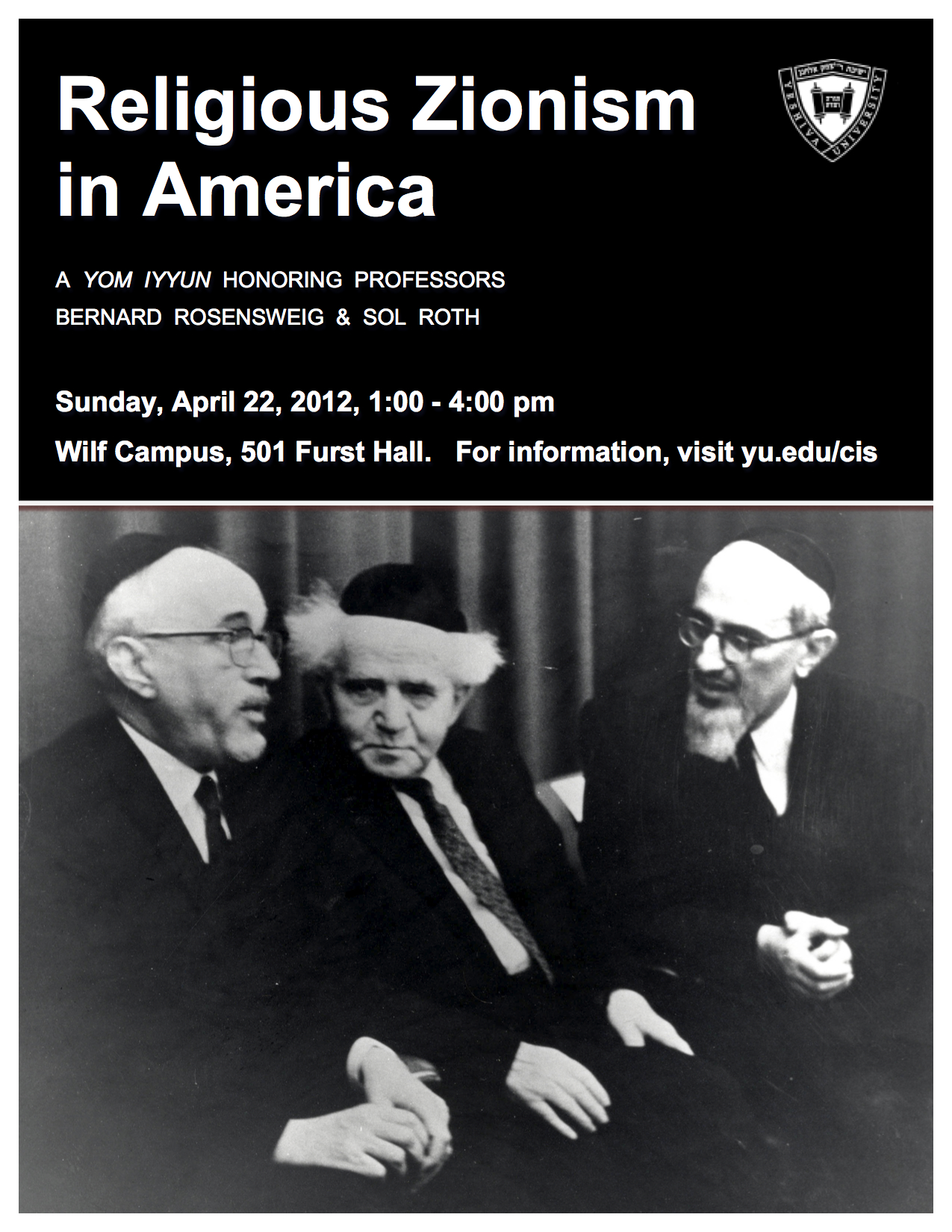 Sunday, April 22, 1:00 - 4:00 pm
Yeshiva University Wilf Campus,
Furst Hall 501
Speakers include:  
Rabbi Yosef Blau, Mashgiach Ruchani, YU and RIETS
-"The Beginnings of American Religious Zionism: The Early Years of Mizrachi in America, 1903-1925"
Rabbi Shalom Carmy, Professor of Jewish Philosophy, YU
-"Art and Philosophy in Zionist Thought"
Dr. Jess Olson, Assistant Professor of Modern Jewish History, YU
-"The Agudah Comes to America: Misunderstandings and the creation of Politicized Orthodoxy"
Rabbi Dr. Michael Rosensweig, Rosh Yeshiva, YU and RIETS
-"Zionism in American Halakhic Writings"

For questions about the event, contact the CIS at israel.studies@yu.edu.
---------------------------------------------------
--------------------------------------------------- 
Wednesday, April 18:
What is a Sephardi? Three Approaches from Contemporary Israel
A presentation by Dr. Joseph Ringel (Drew University)
Come learn about three different ways in which Sephardic rabbis in Israel are reviving and reinterpreting traditional Sephardic philosophy, poetry, methods of learning, and halakhic values, and find out how they are making them a leading force in Judaism today. Examine for yourselves new books and commentaries not widely available in the US, and be prepared for a lively and fun discussion!
Wednesday, April 18, 2012, 8:00 pm
Wilf Campus, Furst Hall 535
---------------------------------------------------
---------------------------------------------------
Past YU News Coverage of CIS Events
The Center for Israel Studies hosts numerous conferences and seminars that are open to the public, and that bring together academic and political leaders around the world. Below are links to press coverage of some of  our events:
The Temple of Jerusalem: From Moses to the Messiah
Israel and India: A Relationship Comes of Age
U.S.-Israel Relations in the Era of Obama and Netanyahu
Zionism on the Jewish Street: Urban Geography and Nationalism at the Turn of the 20th Century
Israel and Iran: From Cyrus the Great to the Islamic Republic
Talmuda De'Eretz Yisrael: Archaeology and the Rabbis in Late Antiquity
Michael Satlow Summary and Review of Talmuda De'Eretz Yisrael
Folktales of Israel: A Festival of Jewish Storytelling Honoring Professor Peninnah Schram