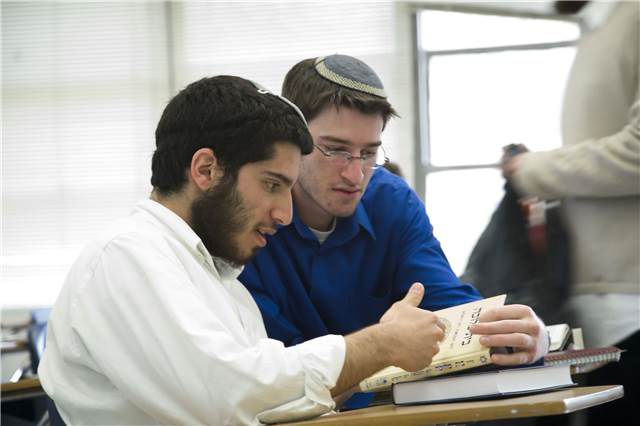 New Students
Welcome to Undergraduate Torah Studies! You will have the opportunity of learning from the finest Talmidei Chachamim and building a personal connection with Torah.
To make things easier, here are a few important pointers.
Each of the four Torah morning programs has a unique character and each works well for different needs. Please find the welcome letters for each program at:
Seating
MYP, RIETS and BMP shiurim primarily learn in two Batei Midrashot– the Harry Fischel Beit Midrash (the old "Main Beit Midrash") and the Glueck Beit Midrash. Please consult the Shiur Location List below for a complete list of shiur locations. Each MYP Rosh Yeshiva and his shiur has a designated learning area within a beit midrash. Seats will be assigned by the Shiur Assistant (see bottom of this webpage for a listing of shiur assistants) of your shiur or by your Rebbe if there is no designated Shiur Assistant. BMP seating is assigned by the Rebbe. Please consult the charts and diagrams below (Glueck first floor, Glueck second floor, Fischel) to familiarize yourself with your shiur's location and the name of your Shiur Assistant. When you arrive in your beit midrash please find your shiur's location and introduce yourself to your Rebbe and or Shiur Assistant. He will be happy to help you settle into a makom. Please keep in mind that there are no chazakot on seats from previous semesters.

Fischel Seating Chart 
Glueck First Floor Seating Chart
Glueck Second Floor Seating Chart  
In addition, to make it easier to find where you specific shiur will be meeting, please review the following:
Shiur Location List
Learning Opportunities
There are many opportunities for learning outside the shiurim and classes you take here at YU. Please take a look at the many Chaburot which take place throughout the week
Here for You
We are here for you. Please let us know how we can help. There are Mashgichim who are here to help you and be there for you. In MYP, you have access to a shiur assistant for almost every shiur you attend.
For almost every Israel Yeshiva you attend there is a Madrich whose job it is to connect with the chevra here from that Yeshiva and to host events for you. Your Madrich will be reaching out to you. To make it easier to connect, be sure to find out who your Madrich is.