UPS Campus Ship
UPS Campus Ship Now Available to Yeshiva University Departments At Discounted Rates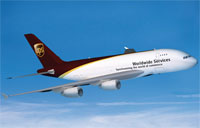 UPS Campus Ship is a Web-based, UPS-hosted shipping system for Next Day Air, 2 day Air, Ground and World-Wide Express. You can use it wherever you are, whether in your office or on the road. Shipping and tracking is quick and easy. From your desktop computer, you have everything you need to prepare shipments, ship and track packages, even alert recipients that a package is on its way, all in just a few clicks.
Other Benefits
Central control, departments can designate an individual for processing all packages, view all items shipped and access tracking numbers.
An address book with auto-complete function reduces entry time and mailing lists may be imported.
Address validation reduces address correction costs.
Data from handwritten paper forms entered into system by UPS that cause billing errors will be reduced.
Paper forms will eventually be obsolete.
Data export and reporting - provides the ability to sort, query, export history by dates, users, or recipients
Please Note: Commercial overnight carriers do not deliver to post office boxes. For overnight service to a PO box, you must use U.S. Postal Service's Express Mail Next Day Service.
International Shipping
UPS CampusShip can generate and print international documentation based on origin and destination information of the shipment. In addition to CampusShip, departments have the option of using The United States Postal Service for international mail. For more information click on our USPS International Mail page.
UPS Campus Ship Links
The following link provides detailed information on UPS Campus Ship:
https://www.ups.com/us/en/services/shipping/campusship.page 
CAMPUS SHIP LOGIN:
https://www.campusship.ups.com/login?reasonCode=-1 
UPS PACKAGE TRACKING:
http://www.ups.com/tracking/tracking.html 
NEW CAMPUS SHIP ACCOUNTS:
If you would like to open a Campus Ship account, please contact Bill White at: production@yu.edu