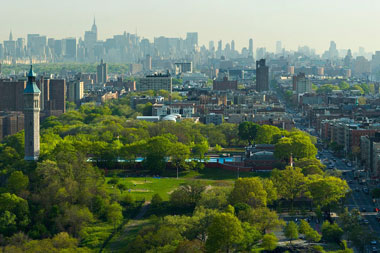 Batei Midrashot: New York
Talmidim can envelop themselves in the Kol Torah of the main beit midrash or choose one of the more intimate settings of the satellite batei midrashot. Roshei yeshiva, sganei mashgichim and shoalim u'meshivim are always on hand for questions and assistance.
With the recent opening of the Jacob and Dreizel Glueck Center for Jewish Study (dedicated in September 2009), RIETS is now proud to have a state-of-the-art central beit midrash seating for 500 students.
Connected to the Mendel Gottesman Library through the Nagel Family Atrium and Student Commons, the Glueck Center encompasses six floors and lower-level archives that house:
A two-story, 500-seat beit midrash
Two lecture halls
Nine classrooms
Three conference rooms and a seminar room
Three student lounges
A faculty lounge, dean's suite and 50 faculty and administrative offices
Library archival space
A patio and gardens
The Glueck Center is equipped with state-of-the-art technology, which offers flexible and versatile spaces for classes, lectures and events, meetings, conferences, symposia and group study. It is an exceptional environment for study and scholarship.
Resources
Libraries: Yeshiva University's Mendel Gottesman Library of Hebraica-Judaica—a six-story, blocklong central library building at the Wilf Campus—houses one of the world's greatest Judaic research collections. The library's holdings are particularly strong in the areas of Bible, rabbinics, Jewish history, Jewish philosophy and the Hebrew language.
RIETS' reference collections are also housed in the Harry Fischel Synagogue-Study Hall, the Rabbi Hyman Muss Torah Learning Center and Beit Midrash Complex, the Ben Zion Study Hall and the Furst Hall Beit Midrash. The main reference collections are open to RIETS students 24 hours a day, year-round. Students can access these works on the honor system any time they please, and the students themselves maintain these libraries.
The Landowne-Bloom Library is a social work collection that includes materials on aging and social welfare. Holdings also include such resources as Sephardic studies collections, archival records of Jewish communities in Eastern Europe and New York, and rare books and manuscripts
Museum: The Yeshiva University Museum in the Chelsea neighborhood of Manhattan is a prominent cultural enterprise conveying Jewish history and the artifacts of Jewish ritual and observance. It presents innovative exhibits reflecting Jewish life through the humanities, art, architecture, music, literature, science, history and anthropology. It fulfills its mission as a teaching museum through community outreach programs, satellite galleries, and cultural events, including crafts festivals, concerts and children's workshops.
Get to Know the Wilf Campus Neighborhood
YU's Wilf Campus, in the northern Manhattan neighborhood of Washington Heights, provides RIETS students with many benefits and convenient facilities and services.
Shabbatot feature ruach-filled meals in the University cafeteria, a packed beit midrash of mitpalelim, and shiurim by roshei yeshiva and guest lecturers. These inspiring shabbatot help define the yeshiva experience.
The YU Eruv Web site includes links to community mailing lists and information about neighborhood news and services.