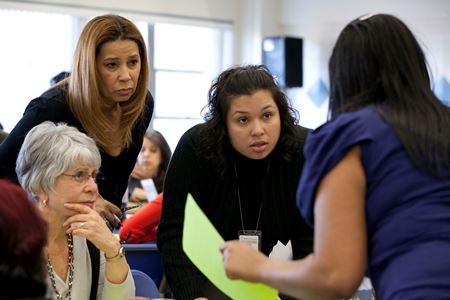 The University provides a variety of cutting-edge Internet services to simplify our students' academic work. Because the services come from different Internet providers, most will require different user names and passwords. Please write down all user names and passwords in a safe place; if you lose them, replacing them will involve time and effort.
Please take a moment and read the Student Bill of Rights.
Student Government Association (SGA)
Wurzweiler students are represented by a government association comprised by Wurzweiler students.
Contact wsswsga@yu.edu with any questions or needs applicable to SGA.
YU Student E-mail Address
Important Information about Accessing and Using YU Student Email Addresses.
My YU
The location on the web where you can access all your student information is www.yu.edu/myyu.
You can view information pertaining to your admission to the program, requirements and forms from the Registrar's Office and your tuition/bill. You can also log in to My YU to update your contact information, marital status, etc. First-time users will need to create an account by designating a login ID and PIN.
E-RESERVES
Access full text copies of most of the "on reserve" articles for a course from your home computer. You will need Adobe Acrobat to use this service. Your professor will provide you with a password.
The Office of Disability Services
The Office of Disability Services assists students in obtaining reasonable accommodations for documented disabilities including physical, emotional, visual, hearing, learning disabilities, ADHD and temporary disabilities.
If you believe that you are in need of a disability related accommodation, please complete an Intake Form and return it to ODS, attention Abby Kelsen (akelsen@yu.edu) as soon as possible so that your request can be reviewed. For additional information regarding reasonable accommodations and documentation guidelines, please refer to the Office of Disability Services website.
Student Parking
Please fill out and submit the application form linked below to apply for student parking. Please notify Yeshiva University Wilf Campus Security at parking@yu.edu with any adjustments to your parking account. These include vehicle or scheduling changes. Student parking charges will be assessed via your student account.
Student Nights and Shabbos Parking Application (PDF)
Please be aware that student cars must be moved from University lots by 8:00AM Sunday through Friday. Failure to remove your car may result in violation charges and/or towing as required as well as the revocation of your parking permit.There are also street parking available and numerous independent local paid parking garages.
International Student Arrangements
For information regarding international student arrangements, contact the Yeshiva University Office of International Students at:
Web: https://www.yu.edu/student-life/resources/international
Email: OISS@yu.edu
Phone: 646.685.0394