Undergraduate Colleges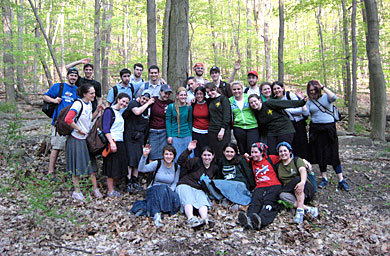 Environment/Energy Club
Visit the Environment/Energy Club on Facebook!
The Yeshiva University Environment/Energy Club, which includes students from Stern College for Women, Sy Syms School of Business and Yeshiva College, has several goals:
to initiate discussion of the relationship between living green and Halakhah as well as to promote energy efficient living
to encourage the reduction of the free world's dependence on Middle eastern oil, thereby putting both the United States and Israel in better positions of national security
to create awareness among students about the detrimental effects of excess waste and use of non biodegradable products
to encourage the slogan Reduce, Reuse, Recycle in order to make a greener and cleaner tomorrow for generations that succeed ours
Club History
The Yeshiva University Environment/Energy Club, founded in 2007, began with a few individuals who had a common interest: The environment. They informally discussed the efforts that each had taken to green their communities but believed that their combined efforts could affect YU on a much larger scale.
Now, the Club coordinates all of the student-run environmental efforts taking place on the Wilf (Washington Heights) and Beren (Murray Hill) Campuses of Yeshiva University.
Through funding from the Student Council, the Environment/Energy Club has increased awareness and heightened understanding on the ecological issues that affect our planet today.