Recycling Programs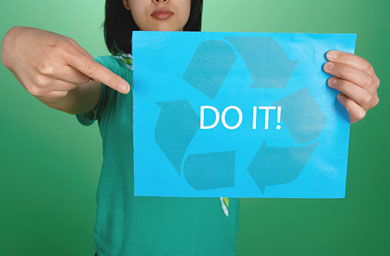 RecycleMania
RecycleMania is an international recycling competition for colleges and universities to promote waste reduction activities. Every year over a ten week period (usually between January and March), schools weigh their trash, recycling and even compost weekly to win a variety of different contests.
For more information about the RecycleMania competition, go to https://recyclemania.org/.
Recycling on Campus
Wondering what exactly is recyclable on our campuses? Learn about our different waste streams below.
Working with the NYC's Department of Sanitation we recycle:
phone books, newspapers, cardboard, paper bags, mixed paper (junk mail with or without window envelopes, wrapping paper, magazines, scrap paper).
Working with the NYC's Department of Sanitation we recycle:
Plastic bottles and jugs without caps, yogurt containers, and rigid plastic: plastic take out containers, cups and utensils; glass bottles and jugs without caps; cans, jar lids, foil, scrap aluminum, pots, wire hangers, curtain rods, aerosol cans, paint cans dried out without lid and bulk metal.
Though Yeshiva is not composting campuswide, OES and Food Services has partnered with New York Restoration Project (NYRP) in the past on the wilf campus, composting over 300 pounds of waste a week. We are now working to partner with the NYC Department of Sanitation in their composting pilot project to collect even more. Also, be sure to check out where you can compost in NYC.
Printer Cartridges and Toner
With the help of Staples, YU is now running a printer cartridge and toner recycling program campuswide. Drop-off collection boxes can be found at the following locations:
Wilf
Mendel Gottesman Library, Room 405
Belfer Hall, 5th Floor, around the corner from Room 501
Furst Hall Student Accounts, Room 121
Beren
215 Lexington,12th Floor, Career Services
All dorm downstairs waste collection areas
Batteries and Fluorescent Light Bulbs
Yeshiva University's Environmental Health and Safety team works diligently with Veolia, a chemical waste vendor, to dispose of our batteries and fluorescent light bulbs. Lithium, lead acid, rechargeable and all other batteries can be recycled along with Compact Fluorescent Light (CFL) bulbs. Contact
Patricia Turner
in
Environmental Health and Safety
or
Facilities
at your campus to learn how properly to dispose of used batteries and fluorescents.
For more information on recycling Compact Fluorescent Light (CFL) bulbs in your local community call the Council on the Environment of NYC at 212.788.7989 or visit its website.
Annual clothing drives are run at the end of the year to collect unwanted clothing, shoes and goods. At Einstein, we partner with Wearable Collections to recycle all used clothing. Bins are now located in 1925 and 1935 Eastchester Road as well as the Forchheimer Lobby (off to the side).
Other options can be found at CENYC's Clothing website.
Partnered with Staples and Penmate, Yeshiva recycles plastic pens that will be recycled through Terracycle into new Staples products. Not only that, but for every pen recycled, the Energy and Environmental Club will receive $0.02. Collection bins are located at all printer cartridge locations. If your office is interested in collecting them, please contact our Office.
All Electronic Waste is recyclable on campus. Manhattan campuses recycle through Curb Recycling while other campuses use private carters. Contact ITS's Help Desk at #6123 to learn how to dispose of all of your electronics waste.