Facilities
YU's different campuses feature many naming opportunities. Naming a building, office, classroom, laboratory, dorm room, or other facility is a wonderful and timeless way to memorialize or honor a loved one. We invite you to speak to us about naming opportunities that may be right for you and your family.
Below, we have highlighted two such facilities that present numerous naming opportunities.
The Jacob and Dreizel Glueck Center for Jewish Study
The Jacob and Dreizel Glueck Center for Jewish Study was formally dedicated on September 13, 2011. This transformative, six-story, 60,000-square-foot state-of-the-art building—the first new building on the Wilf Campus in more than 20 years—houses a beautiful two-story beit midrash [study hall], administrative and faculty offices, and the Nagel Family Atrium and Commons, a light-filled facility with an in-house cafe, Nagel Bagel, wireless Internet access and a comfortable lounge for students to study, relax and spend time with friends between classes.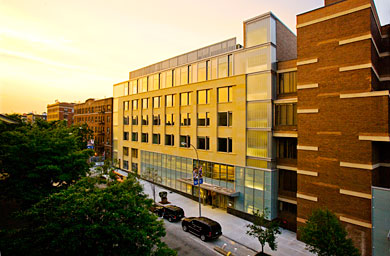 The centerpiece of the building, the beit midrash, is a stunning construct that seats more than 500 students, in addition to two larger lecture halls.
We invite you to be a part of this extraordinary enterprise and to explore a variety of dedication opportunities, ranging from a chair in the beit midrash to a conference room to an entire floor.
For more information, contact Genene Kaye at gkaye@yu.edu or 212.960.0137. Make an online donation directly to the Glueck Center.
The East 36th Street Residence Hall for Undergraduate Women
In fall 2000, Stern College for Women acquired a building at 151 East 36th Street. The five-story, 30,0000-square-foot walk-up building, fully renovated, houses our upperclassmen and contains single and double occupancy rooms with a capacity for 100 residents. Each room is air-conditioned and wired for Internet access. Students have an intimate courtyard garden behind the building; other amenities include a laundry and exercise room. A student lounge on the first floor is a comfortable and attractive area for students to study or spend time with friends.
A gift to name the East 36th Street Residence Hall will enable Yeshiva University to sustain its commitment to provide state-of-the-art residential facilities for our undergraduate women that match the quality of the academic program.
For more information, contact Joan Apple at apple@yu.edu or 917.326.4951.