Leah Larson
Leah Larson, a Wohl Scholar, Continues Path of Greatness at Stern College for Women, Thanks to Gift of Diane and Howard Wohl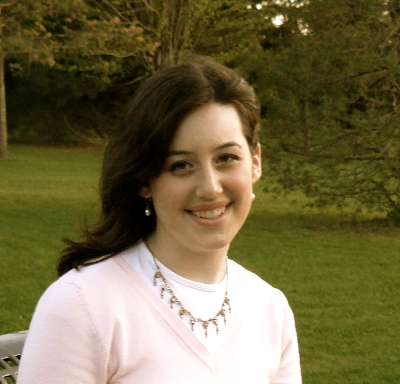 Many students at Yeshiva University achieve incredible things while at YU. They perform heroic academic feats, participate in meaningful service learning projects, or find another way to leave a permanent impact on the lives of individual Jews and the greater Jewish community. For Leah Larson, currently a sophomore at Stern College and a Wohl Scholar, leaving that lasting mark on the Jewish community began when she was twelve years old.
In 2004, Leah looked around for a magazine with quality Jewish reading material, only to find none that could offer her age group healthy and clean content appropriate for an Orthodox Jewish girl.
"I figured there must be other girls looking for the same thing and decided to create that material myself," explains Leah. Leah, who hails from Sharon, MA, founded and published her own quarterly magazine for Jewish girls called YALDAH, "for Jewish girls, by Jewish girls". The first issue sold out fast, and by the following year, subscriptions had doubled. Leah formed an editorial board of 26 girls, and shortly afterwards established a camp called the Jewish Girls' Retreat.
"Six years later, I'm still motivated by the feedback I get from girls around the world about how YALDAH has impacted their lives, inspired them, and increased their knowledge about Judaism," says Leah.
A $100,000 Wells Fargo Bank grant in December 2008 facilitated YALDAH's continued expansion, which now includes a Jewish book imprint.
When it came time for college, Leah knew she wanted to attend Stern because it was the only place that could offer her the type of environment that would both nurture her strong religious inclinations, as well as her academic and creative development. Leah, who spent last year learning in Israel in Yeshiva University's S. Daniel Abraham Israel Program, is majoring in English Communications with a concentration in PR. She was recently honored as a Point of Light at YU's annual Hanukkah Dinner for exemplifying the ideals of the YU community - the youngest honoree there and one who was at Stern College for only three months prior to the dinner.
She is able to attend Stern College thanks in part to the generosity of Diane and Howard Wohl, longtime friends and supporters of YU President Richard M. Joel.
"We both know Richard through Hillel. I became involved with Hillel during Richard's presidency and I continue to be a member of both Hillel's Board of Directors and Board of Governors," explains Diane. "I heard him speak not long into his tenure as President of Hillel and was immediately taken with his intellect, charisma, and enduring passion for the Jewish community."
The Wohls support many worthy causes, especially Jewish education, and are actively involved in charitable and educational boards.
In honor of President Joel's fifth anniversary at the helm of Yeshiva University, Diane and Howard made a meaningful gift to the President's Society, joining a group of dedicated alumni, friends, parents and other supporters who give $5,000 or more to the Annual Fund at YU.
The President's Society provides indispensable dollars to meet immediate, ongoing, critical needs, such as scholarships (the number one priority), and support for faculty, academic programs, facilities, libraries, and other day-to-day operational needs.
"Without a doubt, our family is totally committed to Jewish education, Jewish continuity and providing the best possible future for today's Jewish kids," declare Diane and Howard. "The bottom line is we want all our children and grandchildren to be proud of their heritage and to have the knowledge and passion to become the future leaders of their communities. Jewish education is the best way to achieve that, and that's why we give to YU, to further President Joel's mission to instill in YU students leadership qualities and Jewish values."
Leadership qualities and Jewish values? Leah's got both of them.
Leah's dream for the future involves continually inspiring young Jewish girls around the globe. "I see myself continuing to expand and improve YALDAH, and to make it more than a magazine," she says. "YALDAH's mission has always been to connect Jewish girls and encourage them to become leaders by developing their own unique abilities. In the future I would love to start a high school specifically for girls who want to grow religiously and have little Jewish background, where they could internalize Judaism through their talents, and where each girl would be nurtured to grow at her own pace."
If her early activities are any indication, this Wohl Scholar will have accomplished that lofty goal by age 25.