Sophia Gordon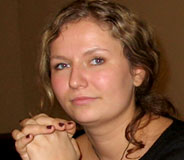 When I emigrated with my younger brother and my mother from Russia to Germany, we stayed at a Jewish camp for politically persecuted refugees. While there, I overheard others talking about us and saying that we must be Jewish, too. That made me very scared. When I asked my mother, she told me that I must keep this secret once we left the camp. In the former Soviet Union our family had suffered very much because of their Jewishness. To me, it seemed being Jewish meant pain and persecution.
But after a time I became curious about Judaism. Unbeknownst to anyone, especially my mother, I began to attend the local synagogue. Some months later I moved to Frankfurt where I attended the first Midrasha in Germany after the Holocaust, led by a graduate of Yeshiva University, Rabbi Bini Kraus. My teachers at the Pesach Seminar as well as in the seminary were girls from Stern College who took a year off after graduating and came to Germany to teach Judaism.
Today, I love being at Stern. The opportunity to combine a great secular education while studying Jewish subjects and continuing my spiritual development is very exciting. Thanks to my Stern College teachers, I am not seduced by the temptation of assimilation. Without the Wilf Scholarship, I could not be here. Thank you for your gift and the immeasurable impact it has had on my life.