Our Commitment to STEM Education
and Professional Development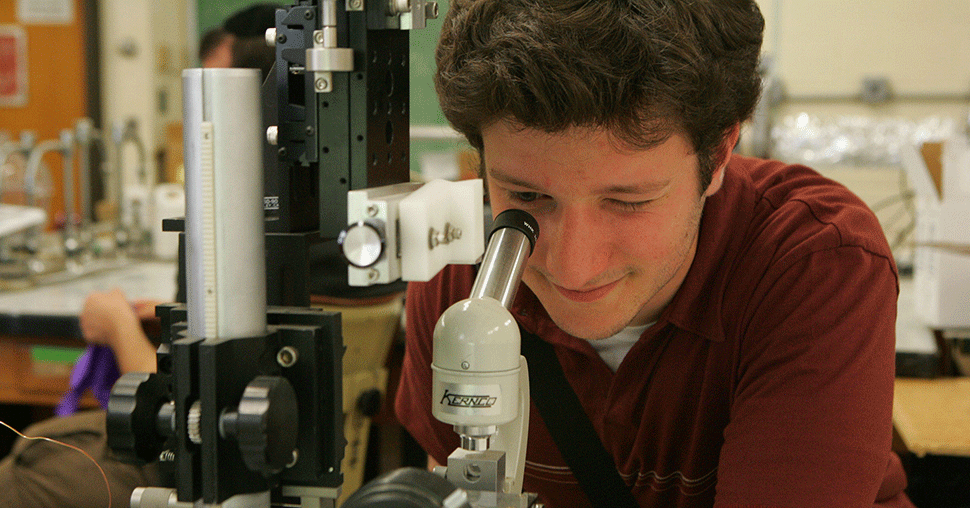 The Departments of Biology, Chemistry/Biochemistry, Physics, Psychology, and Speech  Pathology/Audiology each unique in its specific discipline, share a proactive approach in promoting the academic success of students at Stern College for Women (SCW) and in helping them achieve their career goals. The spectrum of career choices in the biomedical, health, natural sciences, physical sciences, and behavioral sciences is varied, with our students entering graduate programs in medicine, dentistry, osteopathy, optometry, veterinary science, psychology, physical therapy, occupational therapy, physician assistant, nursing, genetic counseling, pharmacy, nutrition, speech pathology/audiology, education, social work, and law; masters programs in biotechnology, public health, engineering, architecture, and bioinformatics; and doctoral programs in the biomedical sciences, chemistry, physics, neuropsychology, clinical psychology, and school psychology. Education in biology, chemistry, physics and engineering sciences are stepping stones toward careers in research and education in technology-oriented fields, including nanoscience and nanotechnology.
The Departments of Biology, Chemistry and Biochemistry, Physics, Psychology, and Speech Pathology/Audiology direct students to stretch beyond the classroom experience by involvement in scientific research. Both in the academic year and in the summer, students may work one-on-one with on-campus faculty. In the Summer, 2011, a collaborative interaction between Bar Ilan University and Yeshiva University enabled SCW and Yeshiva College (YC) undergraduates to intern in research laboratories in Bar Ilan University and, thereby, to spend a summer in Israel. In the summer 2017, 16 SCW undergraduates participated in this summer laboratory experience, now termed the Bar Ilan Summer Research Program. The science faculties actively encourage the science majors to apply for competitive undergraduate research internships, locally, nationally, and internationally. In the summer of 2017, an additional 30 SCW students were involved in research in a variety of laboratory facilities, including at SCW, Albert Einstein College of Medicine (AECOM), Montefiore Medical Center, Stony Brook University, Boston Children's Hospital, Northwestern University, and NYU Fertility Center, as well as in the Health Careers Opportunity Program at the Rusk Institute for Rehabilitative Medicine.
The Jewish Foundation for the Education of Women (JFEW) Science Fellowship Program was inaugurated in the 2009-2010 academic year, with ten participating students. Each subsequent year, an additional nine to ten students, all with interests in the sciences, joined the program. Most recently, the Foundation has renewed a grant to support additional cohorts through the 2021 academic year. Highlights of the JFEW Science Fellowship Program include a partial scholarship, a stipend for a summer research internship as well as travel funds, a stipend to support scientific conference attendance, one-on-one mentoring with a science faculty member, and an enrichment program, providing workshops to aid students in their academic and professional development. This year, the JFEW Fellows have obtained internships, either in clinical or biomedical wet-lab research, in fields of research including psychology, cancer cell biology, veterinary medicine, neurobiology, and molecular biology. The Fellows have interned in prestigious institutions, including University of Chicago, Emory University, AECOM, The Rockefeller University, Johns Hopkins University, Harvard Medical School, Rutgers University, New York University, Yale University, Barrow Neurological Institute, Hadassah Hospital, Bar Ilan University, Tel Aviv University, and in industry, Citromax. Several of the JFEW students have taken leadership roles in forming and/or leading the Neurobiology Club, the Genetics Club, the Optometry Club, and the Medical Ethics Society. Graduates of the Program are currently pursuing careers in various science and health-related fields: medicine, dentistry, physical therapy, occupational therapy, nursing, public health, biomedical engineering, math education, food science, psychology, and veterinary medicine.
The Department of Psychology offers an Honor's Research Seminar for upper-level psychology majors. As part of this seminar, students are involved in ongoing research projects, either at SCW or at off-campus sites, such as the Ferkauf Graduate School, NYU Medical Center and Mt. Sinai School of Medicine, among others, and are supervised by an on-site investigator for 6 hours/week for 12 weeks. The primary requirement for the course is a comprehensive literature review and/or scientific report of the students' research projects, as well as a class presentation. The combination of internship and seminar allows the students to gain practical experience in literature review, data collection and management, and scientific writing and oral presentations. Students attending graduate programs in Clinical Psychology have identified the research seminar as being particularly helpful in preparing them for graduate school.
To meet growing student interest in the neurosciences, programs in neurobiology were instituted by a collaborative interaction between the Department of Psychology and the Department of Biology. In these programs, students complete a prescribed combination of courses in biology and in psychology (with each Department emphasizing its own requirements) and upon successful completion of the program, the designation "concentration in the neurosciences" is included on the college transcript.
The Speech Pathology/Audiology Department provides the academic and pre-clinical experiences to begin graduate studies, either for an M.S. in speech pathology or a Ph.D. in audiology. As part of the "extra-curricular" activities of the Department, students edit, manage and publish a journal, reflecting either a unique research project or a literature review. The topics include speech language pathology, audiology, or speech and hearing science. Some students participated in a research project involving dysphagia and dysphonia associated with anterior cervical spine surgery. These students were part of a project conducted at the North Shore Hospital, reviewing patient data and research materials. The Speech Pathology/Audiology Club hosted renowned professionals to address clinical experiences, research projects, and career issues.
A specific objective of the science departments at SCW, in addition to nurturing the highest level of academic achievement, is to provide students with opportunities for leadership roles. Upper-level students may be appointed to positions as Teaching Assistants (TAs) for laboratory sections and as Recitation Instructors to review materials for the lecture sections of the science courses. Student-led clubs, such as the Biology Club, the Chemistry Club, the Physics Club, the Psychology Club, the PreMed Club, the PreDent Club, the Occupational Therapy Club, the Pharmacology Club, the Nutrition Club, the Global Health Club, Pre-Engineering Club, the Nutrition Club, the Bikur Cholim Club, etc., provide opportunities for students to gain skills in organizing events and in coordinating social functions. The 2010-2011 academic year saw the birth of four new clubs, the Nursing Club, the Genetics Club, the Optometry Club, and the Neuroscience Club. The Public Health Club was launched during the 2011-2012 academic year; beginning in the fall semester 2016, the college instituted a minor of public health. Our newest club, the Physician Assistant Club, was started in the 2012-2013 academic year in order to spur interest in an increasingly popular field. These clubs often invite outside speakers to lecture and to conduct question-and-answer sessions on a variety of interesting topics. The Nursing Club held a number of particularly well-attended events, including an information session with admissions officers from the nursing programs at NYU, Columbia University, and Pace University. It also organized a guided tour of the NYU College of Nursing. These student-run clubs provide students with the opportunity to develop the social and professional skills needed to succeed in their future careers and provide networking opportunities with Stern College alumni already in the field.
SURGE, the Student Undergraduate Research Group Exchange, is a faculty-sponsored, student-led club that gives students the forum to present their research as a seminar before their colleagues and the science faculty. The goals of this faculty-initiated club are to encourage and foster research and the exchange of research information.  Meetings are held once a month, usually with two or three students presenting PowerPoint professional seminars.  Faculty members also use these meetings to inform students of upcoming internships and fellowship opportunities. In the 2016-2017 academic year, the following students presented seminars at SURGE meeting:
SURGE Meetings, Fall 2016
SEPTEMBER 2016

| Name | Research Title | Program/Location |
| --- | --- | --- |
| Hilla Katz and Julia Fisher | "The Role of Transcription Factors in Working Memory" | Mt. Sinai School of Medicine |
| Gabriella Shankman | "Redox-Sensitive Fluorescent Proteins as New Tools for Curing Neurodenegerative Diseases" |   |
| Stephanie Roffe | "The Effect of Human Milk Fortifier on pH, Osmolality, and Probiotic Bacteria Growth" | Feinstein Institute |
NOVEMBER 2016

| Name | Research Title | Program/Location |
| --- | --- | --- |
| Hannah Piskun | "The FMT Trial: Can it Cure IBS?" | NYU |
| Ilana Karp | "Refolding Hui1 for Study of KcsA through NMR Spectroscopy" | Bar Ilan University |
| Yael Arshadnia | "Transcription Regulation" | Bar Ilan University |
DECEMBER 2016

| Name | Research Title | Program/Location |
| --- | --- | --- |
| Briana Friedman | "Establishing a New Technique for Generation of Human Peripheral Sensory Neurons for Study of Varicella Zoster Virus" | Bar Ilan University |
| Jordana Gross | "The Effect of Beta Catenin Inhibitors on the Growth of Vascular Smooth Muscle and Endothelial Cells" | AECOM |
| Tehilla Sollofe | "The Efficacy of Trichodesmium in Oligotrophic Waters" | Bar Ilan University |
SURGE Meetings, Spring 2017
MARCH 2017

| Name | Research Title | Program/Location |
| --- | --- | --- |
| Amanda Rubin | "The Role of Double Negative CD4- CD8- T-cells in Pancreatic Adenocarcinoma Progression" | New York University |
| Avigayil Dietz | "The Role of an Intron on the Balance Between Daytime Sleep and Foraging for Food During the Day" | Rutgers University |
| Batsheva Reich | "The Effect of Hypoxia on Gabaergic Neurons in the Mouse Prefrontal Cortex" | The Rockefeller University |
APRIL 2017

| Name | Research Title | Program/Location |
| --- | --- | --- |
| Lior Levy | "The Effect of Male Sex Hormones on Arginine Transport in Human Endothelial Cells through the Modulation of Cationic Amino Acid Transporter-1" | Tel Aviv Sourasky Medical Center |
| Daniella Miller | "Examining Pharyngeal Apparatus Development in Tbx1-Cre/+;Foxi3f/f Mouse Embryos to Explain Thymus and Parathyroid Defects" | AECOM |
MAY 2017

| Name | Research Title | Program/Location |
| --- | --- | --- |
| Miriam Saffern | "The Role of IL-17a in Fecal Microbiota Transplant Medicated Clearance of C. difficile Infection" | Sloan-Kettering Medical Center |
| Shayna Goldstein | "The Effect of Future Priming on Environmental Attitudes" | Bar Ilan University |
| Adina Wakschlag | "Characterizing iPLA2 in Drosophila" | Yeshiva College |
Each Fall semester, the science departments jointly sponsor a poster presentation contest. Students present their work and discuss the research with attending faculty. The posters, and more importantly the student's understanding of the project and the extent of her hands-on participation, are evaluated by the science faculty. Winners are selected to present at a national meeting of the American Chemical Society. The costs of attending the meeting, including transportation and hotel, are underwritten by the Dean's Office, SCW, and by faculty research grants. In the Spring semester of 2017, Lior Levy (poster title, "Male sex hormones regulate human endothelial nitric oxide synthase system through the modulation of cationic amino acid transporter-1) and Miriam Saffern
(poster title, "Role of IL-17a in fecal microbiota transplant mediated clearance of C. difficile infection") at the 253rd National Meeting of the American Chemical Society, San Francisco, CA, April. The SCW Chemistry Club, a student affiliate chapter of the American Chemical Society (ACS), was awarded a travel grant to subsidize student travel to the spring ACS national meeting in San Francisco. 
SCW graduates attending AECOM for their medical education are eligible to apply for Anne Scheiber Fellowships. This unique award provides up to full tuition scholarships based on need for four years of medical training (see "Anne Scheiber Fellowship").
Students considering careers in the various allied health fields (for example, occupational and physical therapy) or in engineering may wish to consider one of our several combined degree programs with other universities. In the spring term of 2009, Yeshiva University entered into a cooperative agreement with the NYU Steinhardt School of Culture, Education, and Human Development, designed to expand opportunities for students to prepare for a career in teaching math and science at the elementary and high school levels. During the fall of 2012, Stern College signed an articulation agreement to implement a combined program with the NYU College of Nursing. Students interested in this program pursue a shaped major that leads to the completion of the necessary prerequisites within five semesters for those who study for a year abroad in Israel (or seven semesters for those who come directly to Stern College after high school). If they are accepted to the program, they will receive a B.A. from Stern College upon completion of their first semester at the NYU College of Nursing. Once they have successfully completed the 15-month accelerated program at NYU, they will be awarded a BSN from their nursing school. This exciting new program has already admitted two classes of SCW students and  should be the basis of a productive and long-term partnership between Stern College and the NYU College of Nursing" (see "Combined  Programs"). The largest class yet, with 16 admitted students, entered NYU via the joint program in January, 2016.For students interested in nutrition, a shaped major option exists.  Students in their senior year may take up to 12 credits in approved nutrition courses at NYU towards their shaped major.  These courses will also count toward the DPD sequence requirements at NYU should the student continue in that program after completing her BA degree.
An important focus of SCW is to educate the next generation of Jewish women for leadership positions in their professions and communities.  Our commitment to the YU mission of Torah U'Madda is mirrored in the daily lifestyles of our students and thereafter in their future roles as professionals.  Stern College students have academic strengths in both general and Jewish studies; the fusion of these worlds is evident in the student publication, Derech HaTeva, a Journal of Torah and Science. This SCW publication is distributed nationally and internationally and has received much praise for its level of Torah/science scholarship (see "Derech HaTeva," for a listing of articles that appeared in volumes 1 through 21).
Specific faculty members are assigned roles to provide an intensive involvement in guiding students with their career choices and specifically in assisting with the application process. Dr. Brenda Loewy, director of the Office of PreHealth Advisement, has recently been joined by Dr. Chaya Rapp, to assist those students interested in careers in medicine, dentistry, optometry, veterinary medicine, and pharmacy. Mr. Jeff Mollin's focus is those students interested in careers in physical therapy, occupational therapy, physician assistant, and nursing and Dr. Harvey Babich assists those interesting in a career in genetic counseling.
In the Fall semester, 2012, SCW alumni, now medical students in AECOM, initiated The Stern-Einstein Mentorship Program (affectionately known as the "Big Sister Mentor Program"). The intent of this program was to connect pre-med or pre-health undergraduates with SCW alumni at AECOM, who will guide the undergraduates in the medical school application and interview processes, as well to be available to answer simple questions that will save time and prevent unnecessary frustration. This program is now beginning its third year and has met with much success.
Dr. Loewy organized several seminars in which the guest speakers provided valuable insights into the various professions, as well as information on the admissions process to their graduate and professional programs. This past year, the SCW and Yeshiva College (YC) pre-med clubs organized the annual Medical School Fair in which admission directors and officers from allopathic and osteopathic medical schools, as well as from American medical student programs in Israel, attended. The location of the annual fair is alternated between the Wilf Campus (YC) and Beren Campus (SCW); this past year it was held at the Wilf Campus. Each medical school had its own booth, thereby allowing students to approach the representative and to ask questions and gain insight into the school.  The following schools were present at the fair: representing the American Allopathic Medical Schools were Hofstra, Cornell, Quinnipiac, and Jefferson the Commonwealth Medical College; representing the American Osteopathic Medical Schools were Philadelphia College of Osteopathic Medicine and Rowan University School of Osteopathic Medicine; representing the Israel American Medical Student Programs were Sackler, Technion, and Ben Gurion. Also in attendance were Touro College of Pharmacy and New York College of Podiatric Medicine.
In the 2011-2012 academic year, Dean Karen Bacon initiated the "Deans' Scholars Academic Enrichment Program." This Program offers those outstanding students in Yeshiva University's undergraduate schools an opportunity to participate in one of three cooperative programs. The program of particular interest to science majors is the "Frontiers in Biomedical Science: Theory and Practice." This project is under the direction of Dr. Edward Burns, Executive Dean of the Albert Einstein College of Medicine. The seminar meets six Fridays during the semester at AECOM and features leading biomedical scientists and their research. A second program, "Frontiers in Contemporary American Law," is under the direction of Vice Dean Melanie Leslie of Yeshiva University's Benjamin N. Cardozo School of Law. This exciting enrichment program meets at Cardozo School of Law six Fridays during the Spring semester for two hour sessions and is led by Cardozo faculty. Scholars discuss the ways that the U.S. legal system resolves disputes and addresses fundamental questions of justice through legal reasoning and processes. The third program is Frontiers in Psychology. This enrichment program, organized in conjunction with Dean Lawrence Siegel of Yeshiva University's Ferkauf Graduate School of Psychology, is an undergraduate program at the Ferkauf Campus. Scholars attend two-hour Friday seminars six times during the semester, led by Ferkauf faculty during the Fall semester on campus. The program aims to expose students to a spectrum of fields and specialties within psychology and to show students how the field's practitioners evaluate and address current societal issues using the science of psychology.