Insurance Certificates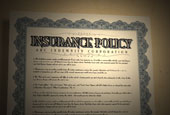 Certificate of Insurance Request from Others
When entering into various contract and agreements with others you may be asked to provide proof of insurance. The request for proof of insurance will be provided for all Yeshiva University related matters by issuing a Certificate of Insurance. In order to minimize the university risk of legal liability all contracts, permits and agreements must be reviewed and approved by the Office of General Counsel and the Purchasing Department prior to requesting proof of insurance. Absolutely No Exceptions!
Please refer to the following procedures:
Obtain Approval from the Office of General Counsel and the Purchasing Department
Complete the "Request for Certificate of Insurance from Others" form and direct it to the Risk Management Department at riskmgmt@yu.edu.
Please allow for 5 working days processing time, as certificates are process off-site. The original copy is automatically sent to the certificate holder, and a copy will be forward to the university directly. If there is an "urgent request'', please note this on the form. If all necessary supporting material is included, urgent requests will be processed within 24 working hours, ahead of the normal processing.
In some cases, the party requesting proof of insurance asks to have the University insurance coverage changed to meet their requirements. The most common request is to add them as an Additional Insured to our policy. Should such change in the coverage be requested then a legible copy of the contract, agreement, or permit must be attached to the Certificate Request Form. If it is a long document, you only need to send the pages that discuss the ''insurance requirements'', ''hold harmless and/or indemnification clauses'' and the page that shows the names of the parties, time period involved limits of insurance amount, and the activity description.
Please note that changes to the existing insurance coverages can result in an Additional Premium amount, which will be charge to the department requesting the change(s).