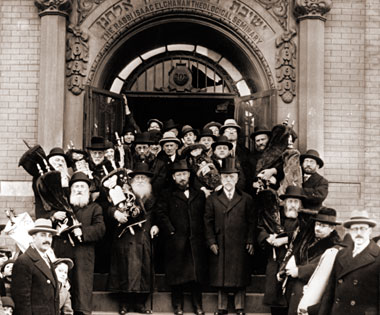 A Tree of Life
The seeds for the perpetuation of the Jewish heritage in the United States were planted in 1886 by a group of immigrants who founded Yeshiva Eitz Chaim in a tenement on New York's Lower East Side. For these trailblazing rabbis, clothes dealers and publishers—part of that era's great influx of Eastern European Jewry—the elementary day school at 44 East Broadway safeguarded their children's identity through the study of Torah and the observance of mitzvot.
Critical needs remained for advanced Torah study, for educated laymen and for rabbis to lead the community in the United States. In 1896, RIETS, the first high-level yeshiva gedolah in the United States, was established in memory of Rabbi Isaac Elchanan Spektor of Kovno, Lithuania, one of the outstanding rabbinic scholars of the 19th century, who had passed away that year.
Chartered on March 20, 1897, by the New York State Board of Regents, RIETS obtained its own building in 1904 at 156 Henry Street. It held its first ordination ceremonies in 1906, with semikha granted to three graduates.
In 1915, Dr. Bernard Revel (1885–1940) was appointed president and rosh yeshiva of RIETS. It was in that year that Yeshiva Eitz Chaim merged with RIETS under the latter's name. An outstanding talmid hakham like his successors, Dr. Revel was a celebrated ilui at the European yeshivot he attended and, after coming to the United States, received a PhD from Dropsie College in Philadelphia, the first awarded by that school.
Dr. Revel guided the young institution in its development as a center of Torah leadership and was instrumental in RIETS' move in 1929 to its current architecturally splendid Washington Heights home.
After Dr. Revel's death in 1940, Dr. Samuel Belkin (1911–76), a young, prominent RIETS rosh yeshiva and a noted scholar who taught Greek at Yeshiva College, was named dean of the seminary; in 1943, he was elected president of the institution then known as RIETS and Yeshiva College.
Dr. Belkin studied at the yeshivot of Radin and Mir, and received a PhD from Brown University. Under his stewardship, the institution experienced great physical and academic expansion. Dr. Belkin's tenure saw the arrival at RIETS of Rabbi Joseph B. Soloveitchik, ''the Rav,'' a seminal figure in 20th-century Judaism.
On February 20, 1970, RIETS was restructured with its own Board of Trustees and granted a new charter. Dr. Belkin retired as president in 1975, when he was invested as chancellor.
Dr. Norman Lamm (1927–) was elected president and rosh HaYeshiva in 1976—the first native-born American to head the nation's oldest and most comprehensive Jewish institution of higher learning—following Dr. Belkin's death that year. He served as president until 2003. A musmakh of RIETS, Dr. Lamm is an alumnus of Yeshiva College and the Bernard Revel Graduate School of Jewish Studies, where he earned his PhD.
A distinguished rabbi, philosopher, educator and author, Dr. Lamm has upheld the noble traditions of his predecessors and led RIETS to new levels of scholarship and service to the community. He retired as chancellor and rosh HaYeshiva in 2013.