HARAV HAGAON R. SHRAGA FEIVEL PARETZKY ZT"L
1915-1993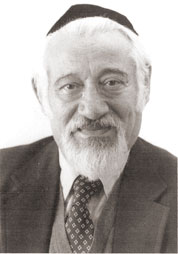 Rabbi Paretzky was born in Brozhnik, Lithuania. At age ten, he studied at the yeshiva in Bialystok and continued his learning in Kobrin. He developed a close relationship with Rabbi Shlomo Mattis zt"l, who was a rebbe in the yeshiva there.
Although he was still young when he left to learn at the Yeshiva in Radin, Rabbi Paretzky was already known as an extraordinary scholar, as well as an innovator, and had developed a close relationship with the rosh yeshiva, Rabbi Mendel Zaks zt"l, the son-in-law of the Chofetz Chaim zt"l.
Before coming to America in 1939, Rabbi Paretzky spent a short time at Yeshivat Beit Yosef, Navardok, Bialystok. There, he was inspired by the unique personality of his cousin Rabbi Nisson Posochinsky zt"l, one of the heads of the yeshiva. He received semikhah from Rabbi Shimon Yehudah Hacohen Shkop zt"l, the rosh yeshiva in Grodna, as well as other distinguished rabbanim.
When he arrived in America, Rabbi Paretzky studied in the Rabbi Isaac Elchanan Theological Seminary and became close with Rabbi Moshe Soloveitchik zt"l. At the end of 1939 he was appointed rabbi of the Young Israel of Tremont in the Bronx, where he served for nearly 30 years and where he struggled to influence the practices of the new generation who were distanced from Torah and authentic Judaism.
Rabbi Paretzky assisted and supported many yeshivot, as well as other organizations of Torah and chesed. In 1964, he returned to the Rabbi Isaac Elchanan Theological Seminary as a rosh yeshiva and assistant bochen. After the passing of Rabbi Mendel Zaks zt"l, he was appointed bochen for the yeshiva.
He was greatly influential in the lives of his students. Many of his writings remain in their original form and, G-d willing, will be published in the future.