HARAV HAGAON R. EPHRAIM MORDECHAI STEINBERG ZT"L
1898-1971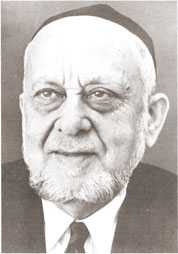 Rabbi Steinberg was born in Ostrolenka, Poland. He studied at yeshivot in Lomza and Slobodka, and was among the outstanding students of Rabbi Dovid Tavil Meltcher zt"l and Rabbi Raphael Volozhiner zt"l. He received semikhah from Rabbi Shimon Shkop zt"l and again, in this country from Rabbi Yosef Rosen zt"l of Passaic, New Jersey.
He arrived in the United States in 1921 and was immediately appointed a rosh yeshiva at Rabbi Isaac Elchanan Theological Seminary. There he taught Torah to hundreds of students until 1970.
He authored two seforim: Degel Machane Ephraim volume one and Degel Machane Ephraim volume two in 1970 (on the first yahrzeit of his wife z"l). The second volume was lost in the mail before it was published. The author rewrote the entire sefer from memory and it was posthumously published.