HARAV HAGAON R. CHANOCH HENOCH FISHMAN ZT"L
1913-1965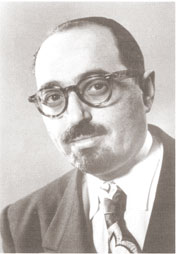 Rabbi Fishman was born in Boroza, Poland. He studied at the yeshiva in Baronowitz under the guidance of Rabbi Elchanan Wasserman zt"l, with whom he learned bechavrusa for one full year. From Baronowitz, he went to the yeshiva in Mir and then Brisk, where he studied under Rabbi Yitzchok Zev Soloveitchik zt"l for one year.
During World War II, he escaped with the Mir yeshiva to Shanghai.
When he reached America, he taught in Yeshivas Rabbi Yisroel Salanter and held several rabbinical posts. In 1953, he was appointed a rosh yeshiva at Rabbi Isaac Elchanan Theological Seminary where he taught until his death, revered by his students.