Student Mail Guidelines
Production Services would like to ensure secure and accurate delivery of letter mail and packages to Yeshiva University students. Please read carefully and inform your relatives, friends and business correspondents of the proper address formats for receiving letter mail and packages at Wilf Campus. If you have any questions or concerns, contact Production Services at 212-960-5240 or e-mail production@yu.edu
Note: In order to ensure proper email notification, the student name must be written exactly how it appears on the student's Univeristy ID card.
University Housing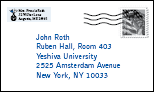 For students residing in residence halls, use the same address for both letter mail and packages.
Student Name
Residence Hall & Room No.
2525 Amsterdam Avenue
New York, NY 10033
Receiving Packages
Packages are scanned into our internal tracking system. Students will receive an automatic e-mail notification to their university e-mail address advising them that they have a package ready for pick-up at Belfer Hall. Once notified, students can pick up their package. The control/tracking number listed in the e-mail is required to claim your package.
If the student cannot pick up the package in person, e-mail us at production@yu.edu and provide us with the following: "I designate "persons name" to pickup my package." The designee will be asked to show a valid University photo I.D.
Most parcels are kept for a maximum of 15 days. If not picked up within 15 days, the package will be returned to sender unless the student contacts  Production Services to make other arrangements.
Independent Housing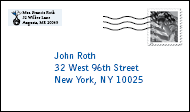 U.S. Letter Mai, UPS, Fed Exp, DHL. Parcel Post, etc. are to be delivered directly to your off campus location.
Student Name
Street Address, Apt. No.
City, State, Zip-code