Endorsements
The endorsement instructs the U.S. Postal Service where to deliver a mail piece if the address is incorrect or the recipient has moved. The options are to return or to forward a mail piece.
Use one of the following endorsements:
Return Service Requested
"Return Service Requested" will return the mail to you and is the most cost-effective endorsement. The First Class and/or Non-Profit mail piece is returned to the department with the recipients new address or reason for non-delivery. There are no additional fees for returning First Class Mail. A single-piece postage rate fee is charged for Non-Profit mail. Depending on the quality of the mailing list this service can be very expensive.
Address Service Requested
"Address Service Request" will forward the mail to the addressee for twelve months following a move. A separate notice of the new address is sent to the department and charged a 70 cents per piece fee for First-Class and Non-Profit mail. After twelve months or if the First-Class piece is undeliverable the mail is returned to the department with the new address or reason for non-delivery at no charge.
No Endorsement
No address correction sent; mail piece disposed of by the USPS.
Endorsement Locations
There are four locations on the envelope that endorsements may be printed:
Under the return address
Above the delivery address
To the left of the postage area
Or below the postage area
See illustration below for text placement options on a standard business envelope. The endorsement must be in 8-point type with a ¼ inch clear zone around all sides.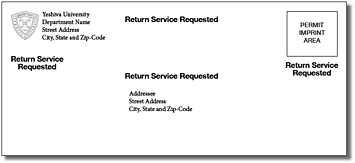 It should be noted that the University goes to great expense maintaining its lists. Therefore, the use of these endorsements are allowed only upon the express written consent of Production Services.